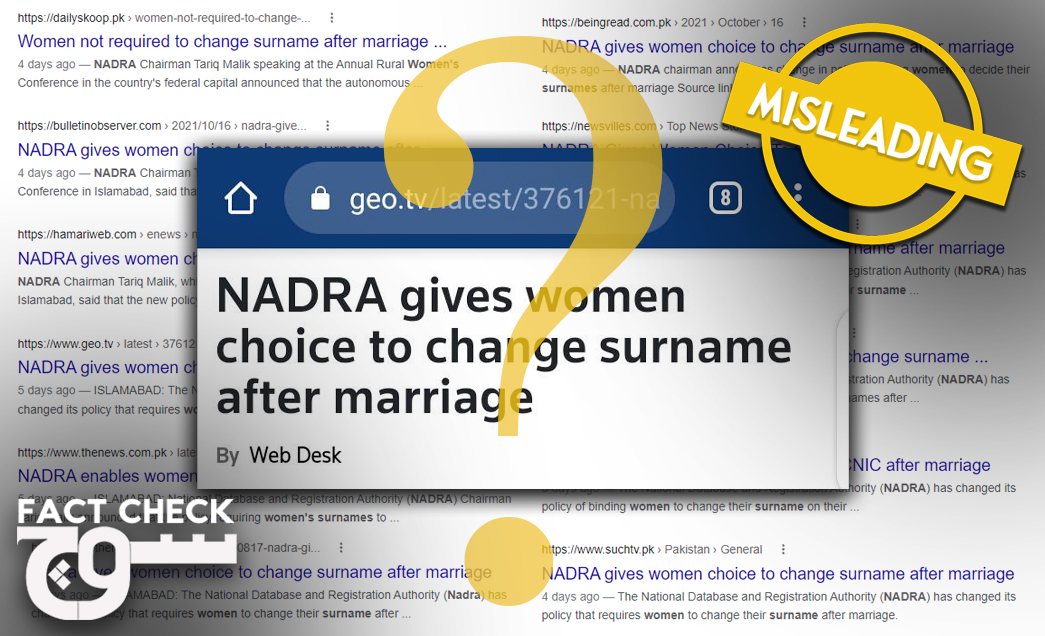 Reports about NADRA allowing women to retain their surnames after marriage are misleading. Here's what's really changed
Pakistani women now have a choice to replace father's name with husband's on CNIC
Claim: The National Database and Registration Authority (NADRA) has changed its policy requiring women to adopt their husband's names as surnames after marriage.
Fact: Women were previously not required to change their surnames but it was a practice encouraged unofficially. Rather, under the previous policy, women had to include their husband's name in a mandatory field on their ID cards, replacing their father's name. As per NADRA's new policy, women can choose if they wish to replace their father's name with that of their husband's on their ID cards.
On 15 October 2021, Geo News reported that NADRA had announced a new policy, enabling "women to choose whether to replace their father's name with their husband's name after marriage". Geo News appeared to base its report on NADRA Chairperson Tariq Malik's address at the Annual Rural Women's Conference.
Other media outlets were quick to pick up on the story — particularly given the report's connection to women's empowerment — but failed to accurately state the facts of the new policy.
A combined search of keywords in English and Urdu such as "NADRA women surname," "نادرا عورت," and "نادرا خاتون" on CrowdTangle revealed that posts on the topic have received a whopping 103,757 interactions. The results included posts from Facebook, Twitter, and Instagram, most of which are misleading.
Among the Instagram pages that shared the misleading news is 'The Snazzy Report,' an account with 187,000 followers owned by Pakistani website Mangobaaz. This is the second time that 'The Snazzy Report' has published dubious content. The same can be said for the Bulletin Observer, which has also posted misleading content in the past.
A journalist who tweeted inaccurate information about the new policy received a response from NADRA's official Twitter account, clarifying the development.
Two other users (here and here) with large followings who shared an image-based news report on the topic — which appears to have been made by The Sunday Times given its template — also seemed confused about the specifics of the policy. One person highlighted the lack of awareness surrounding the news and another noted that the story was "reported so poorly".
Soch Fact Check observed how quickly the misleading news about the policy spread — aided in part by a report in The News — and decided to verify the information with NADRA Public Information Officer (PIO) Faik Ali Chacahar.
"There's no confusion, it's very clear. [The new development] is that [earlier, when] a woman would come to the NADRA to register her marriage, to change her marital status, a new identity card would be issued to her and her father's name would be replaced by her husband's name. This was mandatory," Ali said.
"[However,] we have now done away with that obligation and given the opportunity to women to continue [keeping] her father's name on the identity card or have her husband's name entered on it; it's her choice. That's all, that's the change, nothing else.
"We have now provided the option to women whether they wish to continue with their father's name or have their husband's name added to their identity cards," he added.
The NADRA representative further confirmed to Soch Fact Check that there was previously no formal policy requiring women to change their surname to their husband's name. "That's always been women's choice since the start … It was their choice earlier as well," he said.
Conclusion: While the new policy announced by NADRA is certainly a step in the right direction, news reports by various media outlets were misleading. A representative for NADRA clarified that women could always decide whether to change their surnames; what is different now is that women can choose whether to include their husband's name in a mandatory field on their ID cards, replacing their father's name.