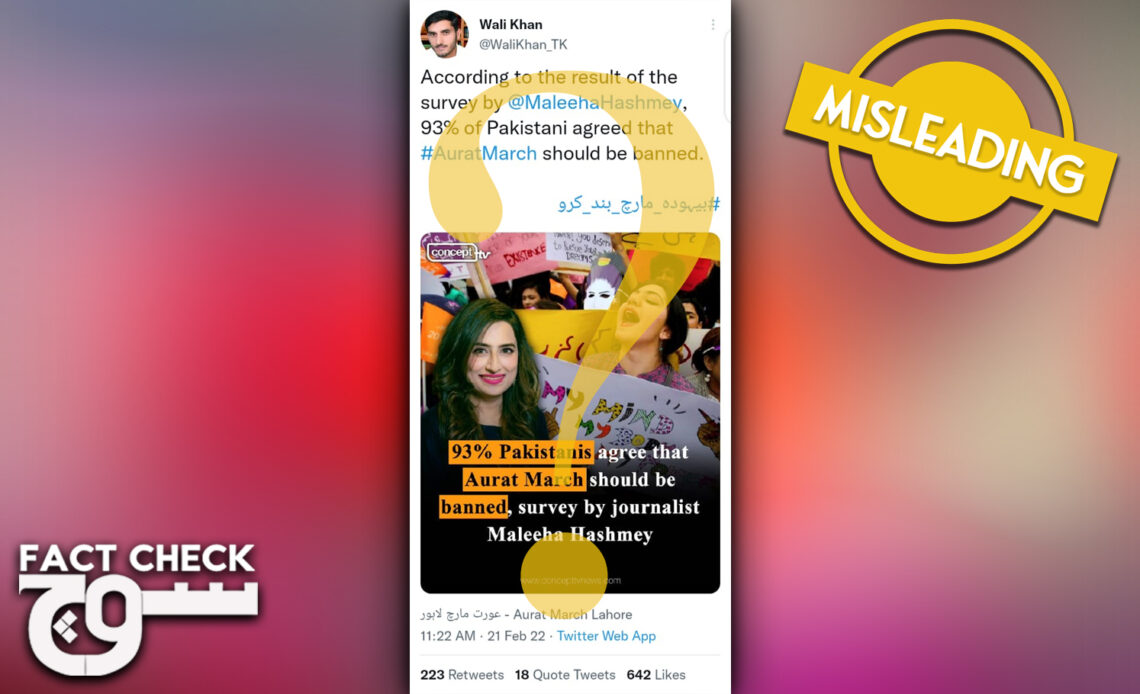 No, a majority of Pakistanis do not think Aurat March should be banned
Twitter poll by right-wing talk show host passed off as authentic survey
Claim: A large majority of Pakistanis believe that Aurat March should be banned, according to a survey.
Fact: A Twitter poll about Aurat March carried out by talk show host Maleeha Hashmey, who is known for her right-wing, conservative views, is being shared as a representative survey by various news outlets. The poll cannot be considered truly indicative of national sentiment surrounding Aurat March as just 13,206 people participated. Additionally, the poll lacked defined methods, a representative sample size, and compliance with proper research guidelines. The time period for the poll was just 24 hours and variables pertaining to smartphone ownership and Internet access were not accounted for.
On 21 February 2022, Twitter user @WaliKhan_TK tweeted a pictorial news card that read, "93% Pakistanis agree that Aurat March should be banned, survey by journalist Maleeha Hashmey."
The tweet was captioned as follows: "According to the result of the survey by @MaleehaHashmey, 93% of Pakistani agreed that #AuratMarch should be banned."
The survey in question was conducted ahead of Aurat March 2022, the women's march that is frequently the target of disinformation campaigns that fuel backlash against the event.
Soch Fact Check has debunked multiple claims about Pakistan's Aurat March and its organisers, including in reports on a quote by Prince Charles about women's rights and Islam, allegedly blasphemous banners and slogans, doctored posters, and a rally by a group of religious parties alongside Aurat March 2020 in Islamabad.
Fact or fiction?
Soch Fact Check searched for the survey in question and found a poll on right-wing talk show host Maleeha Hashmey's Twitter profile (archived here). Twitter Polls are "designed to collect feedback and give people the chance to weigh in on questions".
News stories claimed the survey indicated that a majority of Pakistanis believed Aurat March should be banned. However, the survey was, in fact, an online poll created by Hashmey on her Twitter account. In her post, the talk show host said she wanted to "gauge public sentiment" and then "show the result of the poll in my show" called 'Power Show With Maleeha Hashmey' on Public News.
Despite claims that Hashmey's poll represented public sentiment across Pakistan, only 13,206 people participated in the poll, with 12,255 responding with 'yes' to the question of whether the women's march should be banned. 
As of January 2022, Pakistan has a total population of over 227 million people, according to DataReportal. Data aggregated by the World Bank indicates that women make up approximately 49%, or 111 million, of this total. In terms of Internet access, Pakistan's penetration rate stands at 36.5%, which means that nearly 83 million people have access to the web. Of this number, approximately 71 million people are on social media, as of January 2022, according to DataReportal's 'Digital 2022: Pakistan' report, and approximately 27% of these social media users are female. Further, just 7.7% of social media users are on Twitter, as of February 2022, according to StatCounter.
As such, there are just 5.5 million Twitter users in Pakistan (7.7% of 71 million total social media users). The 13,206 people who participated in Hashmey's poll make up just 0.24% of total Twitter users. If 92.8% (12,255) voted in favour of banning Aurat March, this cannot be described as a majority of Pakistanis.
Are Twitter polls accurate indicators of public sentiment?
It is also important to note that Twitter polls are not accurate indicators of public sentiment and cannot be considered good replacements for authentic surveys. This is due to the fact that there are no defined survey methods, a representative population is not ensured, sample size is often nonexistent, proper research guidelines are not followed, there is no data on the participants, and the time period for the survey is usually very limited — in this case just 24 hours. Additionally, variables pertaining to smartphone ownership and Internet access are not accounted for.
Furthermore, Hashmey's followers on Twitter — as well as those who may have come across the poll due to retweets or social media algorithms — do not accurately represent Pakistan's various demographics. It is likely that the poll results were heavily skewed by Hashmey's right-wing following, and the presence of troll farms and political social media teams, among other variables. It is also likely that more men participated in the poll than women, given that only three of every 10 social media users are women, as per Statista.
In general, a poll conducted over a 24-hour period on Twitter cannot replace authentic research, which generally takes time, resources, and effort.
Based on the above, Soch Fact Check finds the news reports in question to be misleading.
Virality
Soch Fact Check conducted a CrowdTangle analysis using the search term, "93% Aurat March banned survey," for the past 30-day period. The analysis turned up almost a dozen posts on Facebook that together received more than 1,200 interactions.
The misleading report was shared by various Facebook pages such as 'Vision Pakistan', 'Counter Narrative', and 'Republic of Buzz'. Two websites — Pakistan Frontier and Republic of Buzz — also shared the news story.
On Twitter, various users shared the same pictorial news card, such as here and here, as well as similar posts with different images, such as here and here. An account called Vision Pakistan (@thevisiontvpk) — which describes itself as "working to glorify the positive image of Pakistan" — also shared a similar visual.
Conclusion: The claim that 93% Pakistanis believe Aurat March should be banned is misleading as it is based on a Twitter poll and not a survey as it is claimed to be. The Twitter poll is not indicative of national sentiment as just 13,206 people participated in it and there were a number of methodological issues, as explained above. The poll was carried out on Twitter by talk show host Maleeha Hashmey, who is known for her conservative, right-wing views.