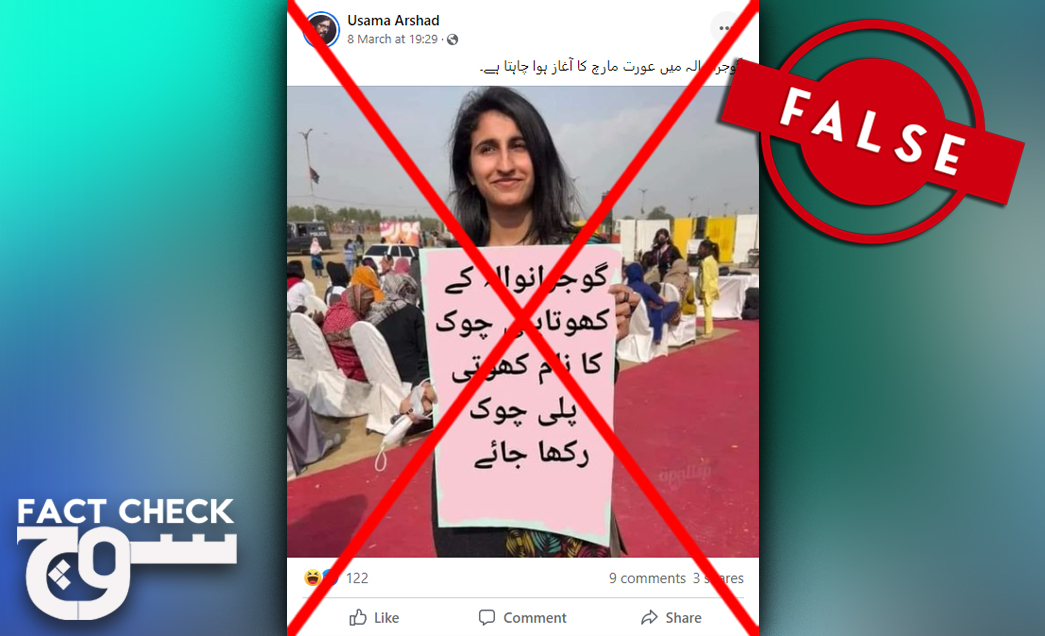 Poster from Aurat March edited with joke about Gujranwala
Original text on poster is a meme that highlights gender pay gap
Claim: A picture shows a young woman at the Aurat March sporting a poster that, when translated from Urdu to English, says, "Khota Puli Chowk in Gujranwala should be renamed to Khoti Puli Chowk."
Fact: The text on the poster is doctored. The actual text is in Roman Urdu and translates to, "This is me, this is my salary, and I can't have a 'pawrry' with it."
On 8 March 2022, Facebook user Usama Arshad shared a picture in 'Apna Gujranwala – Group', a public group with more than 11,000 members. The image shows a young woman at the Aurat March holding a poster with an Urdu text, which is as follows:
"گوجرانوالہ کے کھوتا پلی چوک کا نام کھوتی پلی چوک رکھا جائے
[Khota Puli Chowk in Gujranwala should be renamed to Khoti Puli Chowk]"
'Khota' is an Urdu word for donkey, while 'khoti' refers specifically to a female donkey or jennet. At least one user in the post's comments believed the image is real, writing, "اس کو لا کے باندھ دو پھر نام رکھ سکتے ہیں کتی پلی [Bring her here and tie her up, then we can rename it 'Kutti Puli']."
The Aurat March is an annual event held in major cities across Pakistan on the International Women's Day. The demonstration, which comprises a rally as well, is often targeted with disinformation campaigns that fuels backlash, putting the lives of those associated with or participating in it at risk.
Soch Fact Check has previously debunked numerous claims about Pakistan's Aurat March, including viral posts claiming that a majority of Pakistanis agree the march should be banned, reports on a quote by Prince Charles about women's rights and Islam, images of allegedly blasphemous banners, slogans and other doctored posters, as well as news of a rally allegedly held by a group of religious parties alongside Aurat March 2020 in Islamabad.
While some of these claims can be dangerous, there are some that are satire or intended only as a joke.
Fact or fiction?
Soch Fact Check used Google Reverse Image Search and TinEye Reverse Image Search to investigate the source of the image.
While TinEye did not turn up any results, Google led to the profile of Hum News journalist Syed Sibte Hassan Rizvi.
تنخواہ والا مسئلہ تو مشترکہ ہے!! #AuratMarch2022 #AuratAzadiJalsa2022 #AuratAzadiMarch #WomensDay2022 pic.twitter.com/WufA5BorFE

— Syed Sibte Hassan Rizvi (@SibteHR) March 8, 2022
Rizvi documented the Aurat March Karachi and shared the picture with the original caption.
The picture was also shared elsewhere by numerous other media outlets, Facebook and Instagram pages, and social media users.
The actual caption, in fact, reads as follows, "Ye mein hun; ye meri salary hei; aur isse mein 'pawrry' nai kar sakti." It is in Roman Urdu and translates to, "This is me, this is my salary, and I can't have a 'pawrry' with it."
The phrase is a play on the popular 'Pawri' meme and is a comment on the gender pay gap. It was published here, here, here, 
We also found a picture of the same woman and her poster taken from another angle by Mashion, a platform aimed at the "new age Pakistani woman".
View this post on Instagram
Soch Fact Check, therefore, concludes that the viral image is doctored and the text on the poster does not mention anything about Gujranwala.
Virality
Soch Fact Check conducted a CrowdTangle analysis for a 30-day period with the following search terms:
"گوجرانوالہ میں عورت مارچ کا آغاز ہوا چاہتا ہے۔"

"گوجرانوالہ کے کھوتا پلی چوک کا نام کھوتی پلی چوک رکھا جائے"
While the second search term did not yield any results, the first turned up two posts on Facebook that received more than 250 interactions.
Various users shared the authentic image but with sarcastic captions as well; some of these are here, here, and here.
Conclusion: The viral image is doctored in that the text on the poster the woman is holding does not mention anything about Gujranwala. The original text is, in fact, highlighting the gender pay gap.