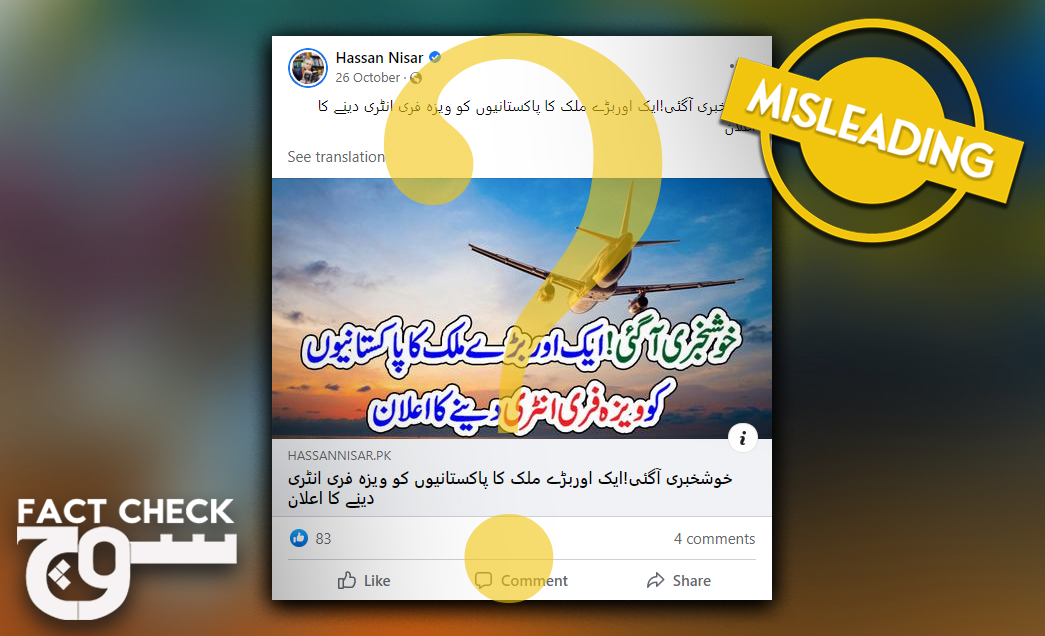 Visa-free entry for Pakistanis into Belarus comes with prerequisites
The European country recently announced a change in the visa system for Pakistanis
Claim: Belarus has announced visa-free entry for Pakistanis.
Fact: Belarus has introduced a new visa system for Pakistanis. To qualify, Pakistanis traveling to Belarus must have a valid multiple-entry visa of one of the European Union or the Schengen Area countries, as well as return tickets through airports in any of six specific cities, at least €10,000 medical insurance coverage, and assets worth Br58*, or PKR 3989, for each day of stay. At present, visas are not being issued in light of the COVID-19 pandemic.
On 17 November 2021, Soch Fact Check received the link to a news story with the headline: "Another major country announces visa-free entry for Pakistanis." The report, published by The Urdu Time, was shared on Facebook on 14 November 2021.
Quoting 92 News, the news story states that the Belarusian foreign ministry announced visa-free entry for stays up to 30 days for people from 76 countries, including Pakistan. The news report went on to list some additional requirements for travelers, such as monetary coverage and insurance, and provided a list of airports through which passengers could allegedly travel.
Soch Fact Check investigated the claim and found it to be misleading as it omits key details. Additionally, Soch Fact Check was unable to find any such news story on 92 News' website or Twitter account.
It is important to note that there is a distinction between visa-free entry and an on-arrival visa system for travellers. According to Passport Index, the former "refers to the ability to travel to a foreign country without the need for a travel visa [but] a valid passport is required for entry and exit purposes", while the latter means "travellers must obtain a visa in order to enter the destination country but it can be obtained upon arrival".
News-gathering websites — which Soch Fact Check has previously written about — also carried the story in question.
On Facebook, posts containing the misleading news have garnered close to 4,000 interactions across over 70 posts since 1 October. The first post appears to have been shared on 26 October by the verified page of columnist Hassan Nisar, while posts by 'Urdu Times' and a page called 'Funny' respectively have received most reactions and are outperforming other similar posts.
On 21 October, Pakistan's Ambassador to Belarus Sajjad Haider Khan announced on Twitter that the European country "has included #Pakistan in the list of 76 countries, for on arrival visa starting wef 17 October" and shared a graphic that included relevant information.
#Belarus has included #Pakistan in the list of 76 countries, for on arrival visa.starting wef 17 October. Pakistani nationals holding multiple entry Schengen Visa with one entry stamp in schengen zone can visit for 30 days by air. For details please see the chart/ photo attached pic.twitter.com/jl8JhuNI9P

— Sajjad Haider Khan (@kachosajjadFSP) October 21, 2021
Travelers are required to arrive through airports in the following cities: Minsk, Brest, Vitebsk, Gomel, Grodno, and Mogilev. They are also obligated to have medical insurance coverage worth at least €10,000, as well as assets equivalent to Br58, or PKR 3989, according to the Travel section of Belarus' country website.
An additional requirement for Pakistani travelers is that they "must have a valid document for traveling abroad with a valid multiple-entry visa of one of the European Union member states or the Schengen Area member states bearing a European Union or Schengen Area entry stamp".
The same information is available on the website of the Belarusian Embassy in Pakistan and in a video titled "Visa-free travel to Belarus" on the Belarusian foreign ministry's YouTube account. Tickets with confirmation of departure within 30 days from the entry date are compulsory, the Belarusian Foreign Missions website adds.
The move came following discussions on the "liberalization of the visa regime" between authorities of Belarus and Pakistan. It is important to note that the Belarus has kept Pakistan on the list of 'Red Zone Countries' — travelers from these states are advised to "be ready for increased attention and control and keep in mind that [they] will have to self-isolate if [they] arrive from the countries where COVID-19 cases were reported".
A staff member at the Belarusian Embassy in Pakistan informed Soch Fact Check that the European country is currently not issuing visas to travelers due to the ongoing COVID-19 pandemic.
Soch Fact Check also searched through two websites about visas around the world — Passport Index and Visa Index — and neither has been updated to reflect the changes for Pakistan and Belarus.
Conclusion: Pakistanis traveling to Belarus must have a valid multiple-entry visa for one of the European Union or the Schengen Area member states bearing an entry stamp to one of these countries countries, as well as return tickets through airports in Minsk, Brest, Vitebsk, Gomel, Grodno or Mogilev, at least €10,000 worth of medical insurance, and assets worth at least two base amounts for each day of stay (base amount is Br29). Under these conditions, travelers from Pakistan will be eligible for visa on arrival. However, no visas are currently being issued to travelers in light of the COVID-19 pandemic.
*[1 Belarusian Ruble equals 68.77 Pakistani Rupee]