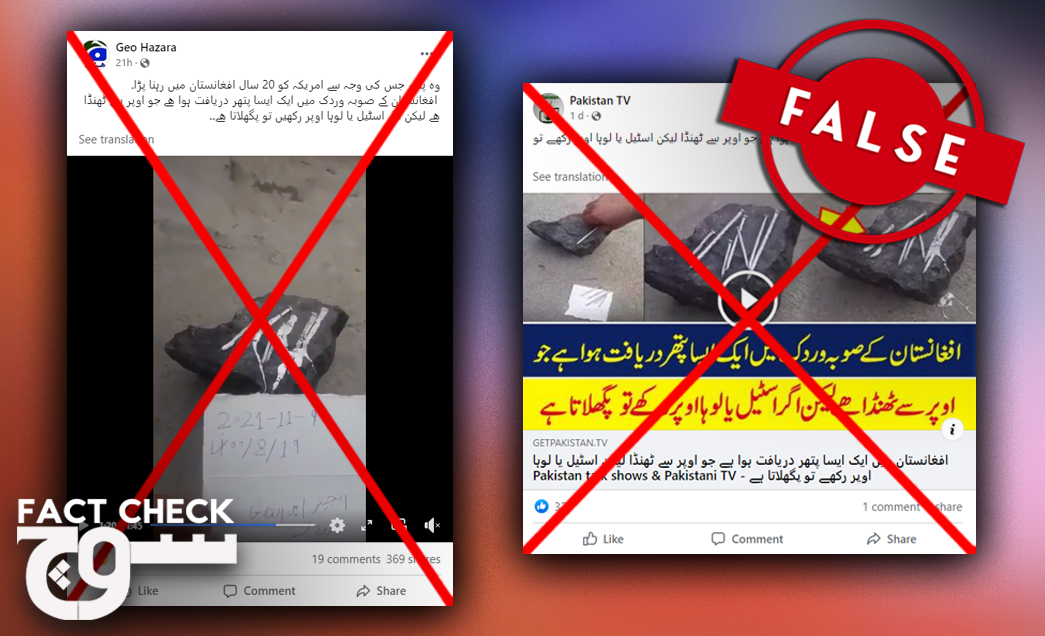 Viral video of 'magic' stone melting iron nails is actually gallium at high temp
Gallium, with a melting point of 29.76°C, is one of four metals that turns liquid at room temperature
Claim: Viral video shows 'magic' stone from Afghanistan's Wardak province that can melt metal.
Fact: The video, in fact, shows nails made of gallium — a metal with a melting point of 29.76°C — melting moments after coming into contact with a rock, which was likely warm due to the hot weather.
On 28 November 2021, a video emerged on social media showing a person placing silvery nails on a black-coloured stone, which appears to be approximately the size of two fists put together. The nails start melting shortly afterwards and at the end of the clip, the individual holds up a small piece of paper with handwritten text that says in Urdu, "انجینر امین الله خان وردگ [Engineer Aminullah Khan Wardak]", along with "2021-11-9" — perhaps the date, 9 November 2021 — and three more numbers that appear in date format as well, "400 / 8 / 19".
The video was also shared as a chain message on WhatsApp, with the caption — translated into English — stating, "A rock has been discovered in Wardak province of Afghanistan that is cold on the surface but melts steel or iron if [they are] placed on top [of it]. Which stone can it be?"
Soch Fact Check ran an analysis on CrowdTangle using different search terms in English, Urdu, and Pashto, such as:
● "stone afghanistan steel"
● "stone discovered afghanistan"
● "پتھر افغانستان سٹیل"
● "پتھر افغانستان لوہے"
● "پتھر افغانستان ٹھنڈا"
● "انجنیر امین الله جان وردګ لخوا ثبت شوې لیدل کیږي"
According to the results of the analysis, there have been approximately 365 posts containing one or more of the search terms above. These posts received 14,000 interactions cumulatively, with more than half of these in response to posts with Urdu captions. The top 10 videos in terms of views have been watched more than 50,000 times, while the top 10 videos in terms of number of shares have been shared close to 1,700 times.
The same video shared by the Facebook page 'Afghan Voice' garnered over 26,000 views. Its caption, in Pashto, is as follows:
"د افغانستان د وردګو ولایت کې داسې ډبره کشف شوې ده چې په خپل حالت کې سړه ده ولې فولاد وېلې (ذوب) کوي، په ویډیو کې چې د نومبر په لومړئ نېټه د ۲۰۲۱ کال د انجنیر امین الله جان وردګ لخوا ثبت شوې لیدل کیږي چې څو فولادي مېخونه پرې ږدي او په محدود کم وخت کې مېخونه وېلې (ذوب) کېږي"
[A rock has been discovered in Wardak province of Afghanistan which is cold in its condition. Why does steel melt? The video, recorded on November 1 by engineer Aminullah Jan Wardak, shows him dropping several steel nails and melting them in a limited amount of time.]
There were multiple different captions associated with the video but mostly conveyed the same message. However, one particularly viral and misleading caption, translated into English, read as follows:
"وہ پتھر جس کی وجہ سے امریکہ کو 20 سال افغانستان میں رہنا پڑا۔"
[The rock due to which the United States had to stay in Afghanistan for 20 years.]
The aforementioned caption was used by numerous Facebook pages, such as 'Geo Hazara,' 'Fun Time,' 'Hazara Media News Room,' 'Haripur Ke Awaz,' and 'Geohazara.net'.
Some users also superimposed their own watermarks onto the video despite the piece of paper with handwritten text which states who originally made the video.
Soch Fact Check found that the claim the video shows a "magic stone" dissolving steel or iron nails is false. First, the melting points of steel and iron are between 1,371-1,540°C and 1,482-1,593°C, respectively. Second, both metals typically glow orange-red before melting and transforming into liquid states. This is unlike the bright silvery shine visible in the video in question.
Moreover, the video depicts a fairly common science trick in which gallium or mercury are used to create an illusion. Soch Fact Check also found that searching "gallium nail melt" on YouTube turns up a short video titled, 'Liquid Metal Nails | Making A Gallium Nail,' which shows how to create gallium nails.
Interestingly, Soch Fact Check also found a 2018 Snopes article about a very similar video showing silvery nails melting on a rock. In that case, the video's caption was in the Thai language and the clip racked up "nearly 8 million views in four days".
Therefore, the claim that the black rock seen in the picture magically turns traditional steel or iron nails into liquid is false. The nails are most likely made of gallium.
Conclusion: The nails shown in the video are likely made of gallium, which is a metal that melts at 29.76°C. This is also supported by the fact that steel or iron would glow red hot before melting.