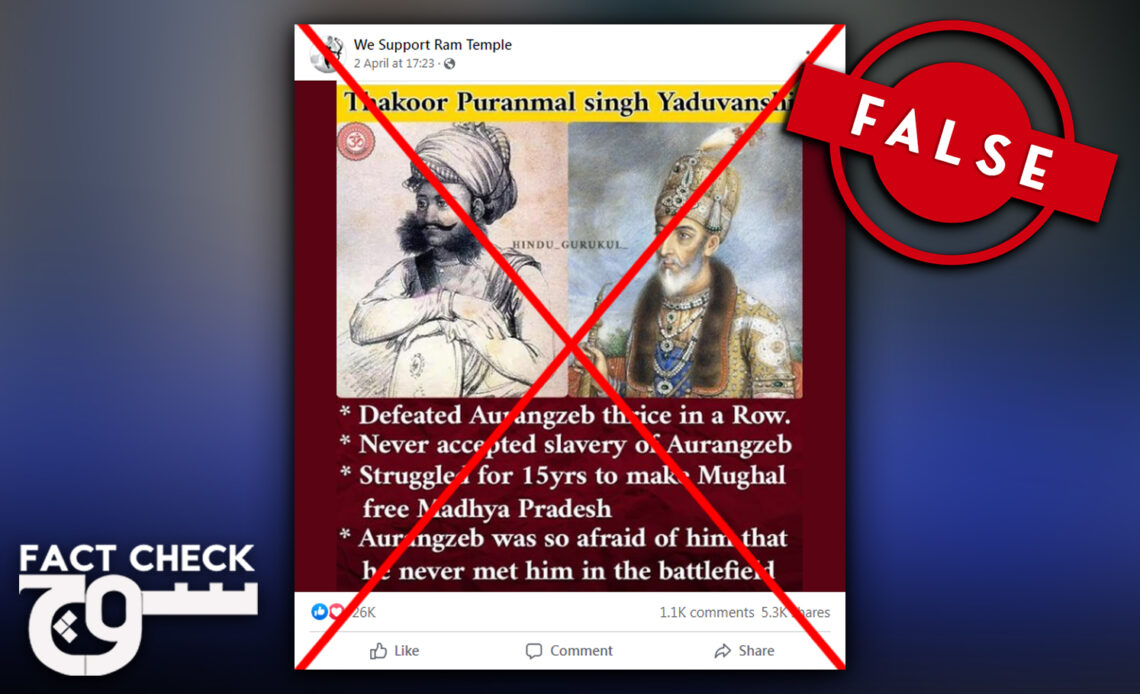 Viral post about rivalry between Puran Mal and Aurangzeb Alamgir is false
Collage of pictures accompanied by claim that Rajput ruler defeated Mughal emperor thrice
Claim: An image of Rajput ruler Raja Puran Mal and Mughal emperor Aurangzeb Alamgir is being shared with the claim that the former defeated the latter "thrice in a row" and that the latter "was so afraid" of the former "that he never met him in the battlefield".
Fact: The claim is factually incorrect as Aurangzeb was born more than 50 years after Raja Puran Mal.
On 2 April 2022, Facebook page 'We Support Ram Temple' posted a pictures showing Puran Mal and Aurangzeb, claiming that Thakoor Puranmal Singh Yaduvanshi did the following:
Defeated Aurangzeb three times in a row.
"Never accepted slavery of Aurangzeb"
Struggled for 15 year to make Madhya Pradesh Mughal free
Made Aurangzeb so afraid  that the Mughal never met him in the battlefield
The Facebook post — which has already been shared more than 5,000 times — was brought to the attention of Soch Fact Check in a tweet by Twitter user @SRonTwt.
Fact or fiction?
Soch Fact Check used Google Reverse Image Search to verify the image claiming to show Aurangzeb.
However, the picture is, in fact, of Bahadur Shah II, or Bahadur Shah Zafar, another Mughal emperor who was born more than a century after Aurangzeb. The same image had also been used on the cover image of Urdu author Mohammad Aslam Parvez's book, 'Bahadur Shah Zafar Mughlia Sultanat Ka Akhri Tajda'.
In addition, Soch Fact Check perused 'Jaigarh, the Invincible Fort of Amber', authored by R. S. Khangarot and P. S. Nathawat, which confirms that one individual named Puran Mal died in 1534, before Aurangzeb's time. Aurangzeb was born in 1618, while the relevant excerpt from the book states:
"Prithviraj was succeeded by his son Puran Mal who ruled from 1527 to 1534. He is said to have helped Humayun's brother Hindal, in his struggle against Tatar Khan in the battle of Mandrail. Puran Mal died fighting in this battle. […] His death has been mentioned in Akbarnamah II, page 926, in the battle which the Mughals fought. Dr. H.C. Tikkiwal has also mentioned that Puran Mal adopted a policy of submission and died fighting in the army of Hindal in the Battle of Mandrail which was fought in 1534."
Soch Fact Check also found references to this Puran Mal in 'A History of Rajasthan', a book written by Dr Rima Hooja, a historian, archaeologist, and academic currently working as the consultant director of the Maharaja Sawai Man Singh II (MSMS-II) Museum in The City Palace, Jaipur.
Dr Hooja writes: "A period of internecine struggle for the throne seems to have followed the death of Prithviraj [a ruler in the Indian Subcontinent]. Prithviraj had nominated his second son, Puranmal (r. 1527-1534), as his successor."
According to historian Harbans Mukhia, whose area of focus is mediaeval India, there was another leader named Puran Mal, who ruled Chanderi and was defeated by Mughal emperor Sher Shah Suri in 1545 — also before Aurangzeb was born. In his book 'For Conquest and Governance', Mukhia writes: "Jahangir himself mentions a couple of cases of conversion of Princes without giving details. One convert was a descendant of the brother of Puran Mal, once ruler of Kalinjar, whom Sher Shah had defeated in 1545, though the Afghan King himself died of a rebound of his artillery shot."
This version of events is confirmed by historian Nandini Chatterjee, professor of South Asian History at the University of Exeter.
"In Sher Shah's violent battle in Raisin in 1543 against the Chanderi raja, Puran Mal, there was a certain amount of spectacular carnage directed against this powerful clan, justified by an alim who offered a convenient fatwa justifying the breaking of safe-passage promises and the slaughter of infidels Soon afterwards, however, Sher Shah was able to detach a section of the Rajput followers of Maldeo, the ruler of Jodhpur, prior to a crucial battle," Professor Chatterjee writes in her book, Negotiating Mughal Law.
A third leader named Puran Mal has been identified by The Logical Indian, a fellow signatory of the International Fact-Checking Network (IFCN). According to The Logical Indian, there was a Puran Mal who was the Ahir chief of Malwa from 1714 to 1716. However, the publication made clear that this Puran Mal ruled after Aurangzeb's death, stating that, "It is to be noted that Aurangzeb died in 1707 which is 7 years before Puranmal become the Ahir chief of the Malwa region. Puranmal Ahir or 'Thakoor Puranmal Singh Yaduvanshi' never fought any battle against Aurangzeb."
Soch Fact Check, therefore, concludes that the claim in question is false as the first two individuals named Puran Mal were before Aurangzeb's time and the third one ruled seven years after Aurangzeb's death in 1707.
Virality
Soch Fact Check conducted a CrowdTangle analysis for the past 12-month period using the search term, "Thakoor Puranmal singh Yaduvanshi."
On Facebook, there were more than 100 posts that gained 108,483 interactions, while the analysis turned up over half a dozen Instagram posts that received 37,406 interactions. The top Facebook posts are available here, here, here, and here, while the top Instagram posts are here, here, and here.
Conclusion: Rajput ruler Raja Puran Mal did not defeat Mughal emperor Aurangzeb Alamgir  "thrice in a row" as per the viral image circulating online. Soch Fact Check concludes that the claim in question is false as two historical figures named Puran Mal were before Aurangzeb's time and the third one identified ruled for seven years after Aurangzeb's death in 1707.