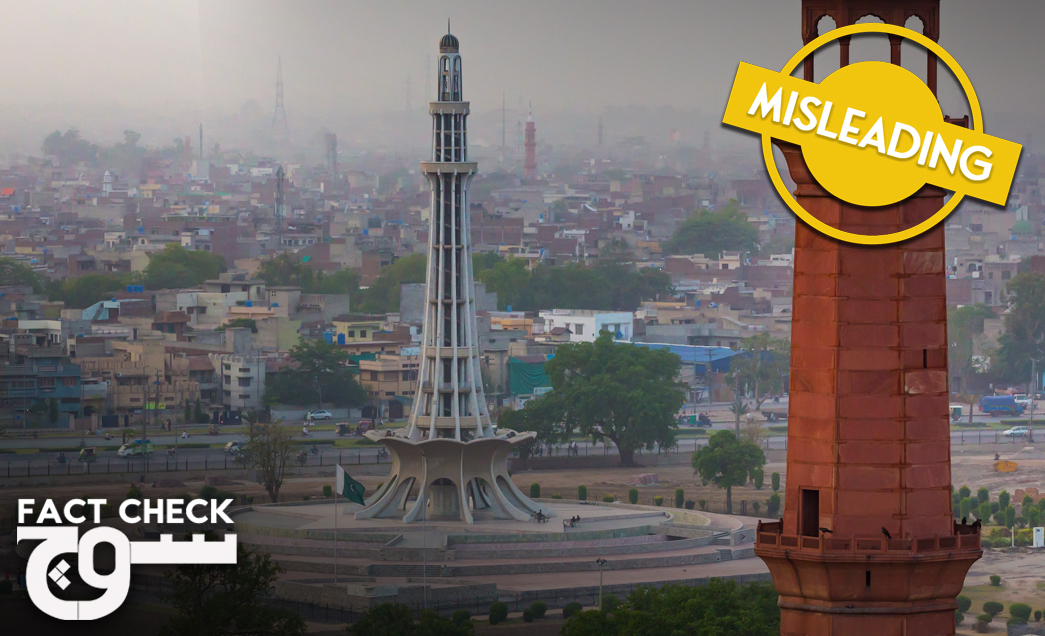 Punjab has not banned entry of TikTokers and YouTubers in parks … yet
Media reports on ban on entry of TikTokers & YouTubers in Punjab's parks misleading
Claim: Punjab has banned TikTokers and YouTubers from entering parks.
Fact: An official of the Parks & Horticulture Authority (PHA) Lahore has submitted a list of recommendations to the body's director-general suggesting that TikTokers and YouTubers be banned from entering parks. However, no such ban has been imposed yet as several approvals are required — including from the PHA's Board of Directors and Punjab Chief Minister Usman Buzdar — before it can be implemented.
On 23 August, reports started circulating on social media that the Punjab government had imposed a ban on the entry of TikTokers and YouTubers at public parks following a mass groping incident on 14 August — Pakistan's Independence Day — that led to countrywide outrage and protests.
Videos of the horrific assault went viral on social media just days after 14 August, leading to condemnation from the civil society, celebrities, and politicians, including one who called for men to "be banned from public spaces". Local police had subsequently registered a first information report (FIR) against "300 to 400" suspects, while two male reporters spoke to the survivor in a video interview after tracking her down.
Soch Fact Check observed conflicting news reports and comments on social media about the letter in question, which circulated earlier today. In addition, many social media users also raised questions about the authenticity of the reports of a ban on the entry of TikTokers and YouTubers at public parks in Punjab.
Multiple news outlets — including major ones such as Geo TV and ARY News — reported that the government of Punjab has already imposed the ban. So much so that the Indian media outlets such as India Today, Republic World, DNA India, and Indian News Republic also picked up the 'news'.
Soch Fact Check decided to verify if the reports were true or false and spoke to relevant officials in this regard.
The letter in question was penned by Hafiz Zeeshan Rasheed, the vice chairperson of the PHA's Board of Directors who confirmed to Soch Fact Check over phone that had indeed submitted the same to his higher-ups, including the body's chairperson, Yasir Gillani.
In his letter, Rasheed said the PHA Lahore "condemn[ed] any unethical content and any disrespectful attitude for anyone especially women" and "planned to review the policy" for video shoots at public parks.
The VC, in addition, recommended to the PHA Lahore's Board of Directors that YouTubers and TikTokers should seek "permission" and share contents of their planned video shoots beforehand. Only families, he added, "should be allowed to enter in Greater Igbal park", while "a permanent police chowky" would be set up and the space's security handed over to Pakistan Rangers.
Speaking to Soch Fact Check, Rasheed — the PHA official who wrote the letter — clarified that the document contained "some recommendations for a better society in light of that recent incident [at Minar-e-Pakistan] in the Greater Iqbal Park".
Through his letter, he said he has "asked the relevant body to have a debate on the code of procedures and send [the recommendations] to the government of Punjab for a decision".
(Hafiz Zeeshan Rasheed's conversation with Soch Fact Check)
"The DG [director-general] will put it forward to the Board of Directors, which will then make a decision about it. Our laws suggest that when the Board arrives at a decision, the minutes of the meeting are sent to the CM [Chief Minister of Punjab] for a filter or final approval," he said.
"Please note that these are still only recommendations. This is in a very positive way. […] For these TikTokers [to make videos], how will they do it, and what are the standards" would be determined should the Board decide to move forward with the proposals, he added.
In addition, Soch Fact Check also obtained comments from Yasir Gillani, the PHA's top official and a member of the ruling PTI.
Gillani also clarified that "no such decision has been taken" and that the letter included "some suggestions from different people, our associates, media, and civil society".
The proposed ban "is in the context of overall rush days and taking mobile phones inside" for video shoots, he said. "No decision has been made and no notification has been issued; someone has just submitted suggestions in written [form]."
(Yasir Gillani's conversation with Soch Fact Check)
When asked if people can make videos at the moment, Gillani responded in affirmative, telling Soch Fact Check that the PHA has made efforts to make its staff vigilant in case "someone is creating content that's obscene or violates our social and moral values".
"We have made our staff and other [park administration present] people there vigilant and [asked them to] remain alert," he added.
Asked if people could make videos in public parks on public holidays and days of observances, Gillani said, "The main issue is exactly this, for these days, when there's festivity; for example, national holidays or Eid or Christmas or other festivals, when it's expected that there would be thousands of people at five or six of our major parks."
Visiting parks was the citizens' right and a majority of the people are "good and sensible", he added, noting that the PHA was focusing on "peace and balance and that nothing of that sort happens".
"We are making efforts for videos and preventive measures [in this regard]."
Fake News

No such decision taken so far by Govt

Currently TikTok is banned in Pakistan https://t.co/W64ZUPgksb

— Azhar Mashwani (@MashwaniAzhar) August 23, 2021
On the other hand, Azhar Mashwani, the focal person on digital media to CM Buzdar, responded to a news report tweeted by Geo News Urdu, terming it "Fake News".
"No such decision [has been] taken so far by [the] Govt. Currently TikTok is banned in Pakistan," he wrote.
Separately, a media outlet called Independent News Coverage Pakistan, or INCPak, was among the first ones to report on 23 August stating that the Punjab government had already imposed the ban but later published a "fact check" mentioning that the "notification states something entirely different" but still misreported that "filming in such public places will require permission from concerned authority".
Conclusion: A proposal to impose a ban on the entry of TikTokers and YouTubers in Punjab's parks has been submitted to the PHA's Board of Directors. The body's vice chairperson, Hafiz Zeeshan Rasheed, penned a letter that included the list of recommendations. If the Board approves, the suggestions would still be subject to greenlight from Punjab Chief Minister Usman Buzdar before implementation. In short, a ban is not yet in place and it's unclear if any such ban would be approved in the future.