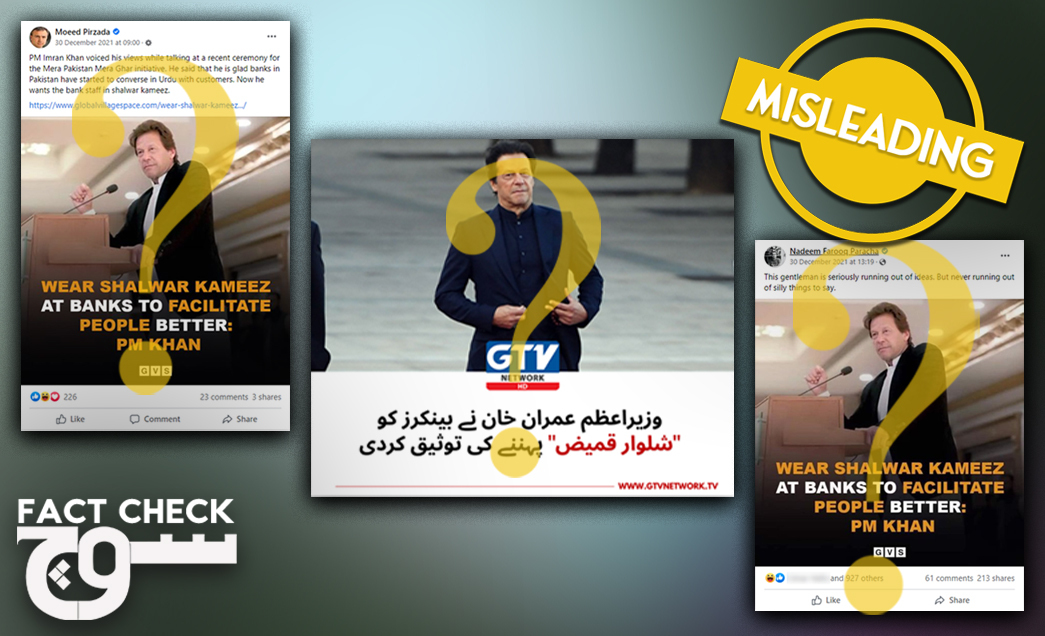 PM Imran Khan's joke about bankers' attire misrepresented as directive
Khan's comment was taken from a speech at an event organized by the NAPHDA
Claim: Prime Minister Imran Khan has ordered banks to implement a 'shalwar kameez' dress code.
Fact: Khan made the comment informally, perhaps as a joke, and did not issue any orders or endorse the idea in any official capacity.
On 30 December 2021, Pakistani news website Global Village Space (GVS) published a report headlined, "Wear shalwar kameez at banks to facilitate people better: PM Khan." The website also uploaded Prime Minister Imran Khan's picture alongside the quote in question on its social media.
The visual was shared and uploaded as a standalone post by multiple people and pages and soon went viral on social media.
Among those users who initially shared the image and played a key role in boosting it on social media was Pakistani commentator Moeed Pirzada, the chief executive and editor of GVS. Pirzada had previously been flagged by Soch Fact Check for sharing a doctored cover of The Economist.
Fact or fiction?
The quote in question is from an event marking the approval of housing construction loans by private banks under the 'Mera Pakistan, Mera Ghar' Housing Scheme.
Soch Fact Check viewed multiple videos of the Naya Pakistan Housing & Development Authority's (NAPHDA) event where Khan spoke and found that the posts attributing the quote in question to Khan are missing important context.
The prime minister, in fact, said, "Once again, I pay tribute to our bankers specially that a change came into effect this quickly, that they have started talking in Urdu for the common person, now if they [banks] have their employees wear shalwar kameez, then it would become easier [for the common person]."
The exact quote can be heard between 13:34-13:57, 8:50-9:13, 8:42-9:05, and 8:42-9:05 on the YouTube channels of Public News, Hum News, Samaa TV, and Prime Minister's Office Pakistan, respectively.
Virality
Soch Fact Check used CrowdTangle to conduct an analysis on the virality of the post using the following search terms:
"Wear shalwar kameez at banks to facilitate people better: PM Khan"

"shalwar kameez banks imran khan"

"شلوار قمیض بینک عمران خان"
The analysis revealed that the first search term garnered more than 1,700 interactions across a dozen Facebook posts over the past 30 days, while, on Instagram, four posts received over 5,300 interactions over the same time period. The second search term gained upwards of 4,500 interactions on 21 Facebook posts and close to 20,000 interactions on a dozen Instagram posts, whereas the third search term attracted more than 7,800 interactions across nearly two dozen Facebook posts and over 5,400 interactions on just two posts on Instagram.
Interestingly, the claim also went significantly viral on Twitter, with many users deriding Khan's comment. Popular accounts with a considerable number of followers that tweeted the image included journalists Nadeem F. Paracha, Maida Farid, Absar Alam, Naila Inayat, Sabin Agha, and Mubashir Zaidi.
Khan has previously spoken about how "speaking English and wearing Western clothes" in what he claimed was an attempt to win approval from the West was "inferiority complex"
Conclusion: Imran Khan did say that bankers should be made to wear shalwar kameez. However, the comment was made informally, perhaps as a joke. It was neither an order nor a formal directive. No policy is being made to mandate a new dress code for bankers.