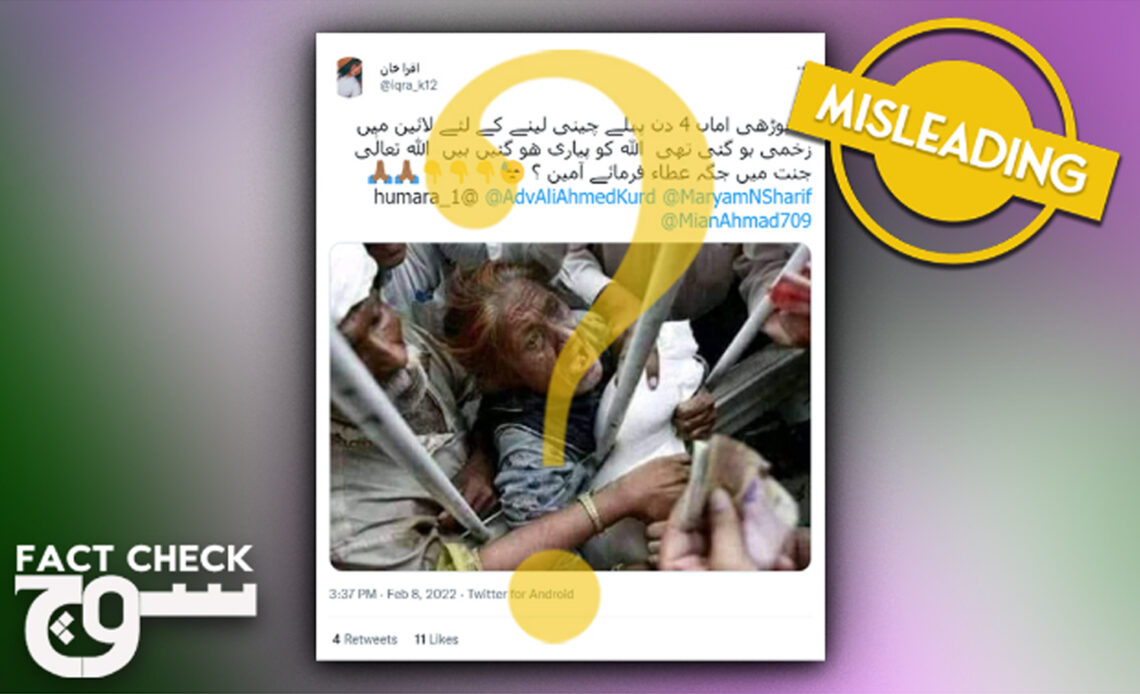 Picture of distraught elderly woman in line to buy sugar is actually from 2009
Photo likely reshared due to rising inflation at present in Pakistan
Claim: An elderly woman on February 4 died after being injured in a crowd of people lined up to get sugar.
Fact: The photo of the elderly woman is, in fact, from 2009.
On 4 February 2022, Twitter user @iqra_k12 shared the picture of an elderly woman holding a white bag while standing in a crowd waiting for groceries. The woman's arms can be seen intertwined with metal rods of what appears to be the counter of a utility store and men are seen surrounding her as she looks upwards and shouts.
The Urdu caption accompanying the photo, translated to English, is as follows: "This old lady was injured [while standing] in a line [to get] sugar four days ago. She has now passed away. May Allah grant her a place in heaven. Ameen."
The caption included three emojis — 'folded hands', 'downward pointing hand', and 'cold sweat' — and the user tagged well-known Pakistani lawyer Advocate Ali Ahmad Kurd and Pakistan Muslim League-Nawaz (PML-N) Vice President Maryam Nawaz, as well as two others.
Fact or fiction?
Since the image attached in the tweet is of low quality — at 480×328 pixels — Soch Fact Check used a longer process than normal. The photo was enhanced using Adobe Photoshop's 'Sharpen' tool and 'Grain' filter.
Soch Fact Check then used Google and Reverse Image Search and TinEye Reverse Image Search to find the source of the image. We found three results, one on British stock photography company Alamy, another on Adobe Stock website, and a third on Asra Iran, a media outlet launched in 2006 by Iranian journalists. The Adobe link has expired.
The picture on Asra Iran is captioned in Persian and translated to English as follows: "Pakistani Muslim woman fight to buy a bag of flour during Ramadan in Karachi."
We also found the image on ahap.mihanblog.com, the Fresh Urdu Poetry blog, and Facebook, where it was edited to include a phrase in Urdu:
"چھان مارے ہیں فلسفے سارے
دال روٹی ہی سب پہ بھاری ہے
[We have searched all philosophies
But meals are the heaviest on everyone's pockets]"
Two more images turned up through the reverse image searches: at 1200 x 858 pixels and 1300 x 981 pixels.
The Alamy link — archived here — revealed that the image was taken in Karachi in August 2009 by Athar Hussain, a photographer associated with Reuters, and captioned on the stock photo company as follows:
"A woman queues to buy a 10kg bag of wheat flour for a subsidized rate of 100 PKR ($1.03) at the Ramadan Bazaar in Karachi August 25, 2009. REUTERS/Athar Hussain"
Therefore, Soch Fact Check concludes that the recent claim associated with the image is false.
Virality
This is not the first time that the image has surfaced on social media with misleading claims. It made the rounds online in 2018 and 2021 as well.
Soch Fact Check conducted a CrowdTangle analysis for the period since 1 Jan 2018 — the year Prime Minister Imran Khan came into power — to date using the following search terms:
"ایک کلو چینی کے لیئے لائن میں پھنسی بوڑھی عورت پی ٹی آئ کے حامیوں کے منہ پر تماچہ ھے"

"ایٹمی مُلک کی عوام سستی چینی کیلئے در بدر"
The first search term turned up two posts with eight interactions and the second one revealed eight posts with 163 interactions.
We also searched manually on Facebook and found that the image was posted here, here, here, here, here, here, here, here, here, here, here, here, here, here, here, here, here, here, here, here, here, here, here, here, here, here, here, here, here, here, here, here, here, here, and here. One of the most popular posts was shared 60 times.
On Twitter, Soch Fact Check found the image shared here, here, here, here, here, and here. One of the most popular tweets by @Shamylaroy was in response to a post by Maryam Nawaz, the PML-N leader who, while referring to Prime Minister Khan, said, "This cruel and ruthless person has turned people into beggars. Does he buy sugar like this?"
Twitter user @Shamylaroy wrote:
"آپ کو یاد ھو گا اس ظالم نے کہا تھا میں نے غریب کوئی چھوڑنا نہی۔ اب غریب کی عزت نفس مکمل مجروح  ھو چکی ھے۔ اب چینی کے لیے لمبی قطاریں۔ اس تصویر کو دیکھ کر دل پسینج گیا۔
[You should remember that this tyrant [Prime Minister Imran Khan] had said he won't leave anyone poor. Now the self-esteem of the poor has been completely damaged. Now there are long lines [to get] sugar. It is heartbreaking to see this picture.]"
Conclusion: The image of the old woman is not recent; it was taken at a Ramadan Bazaar in Karachi in 2009.