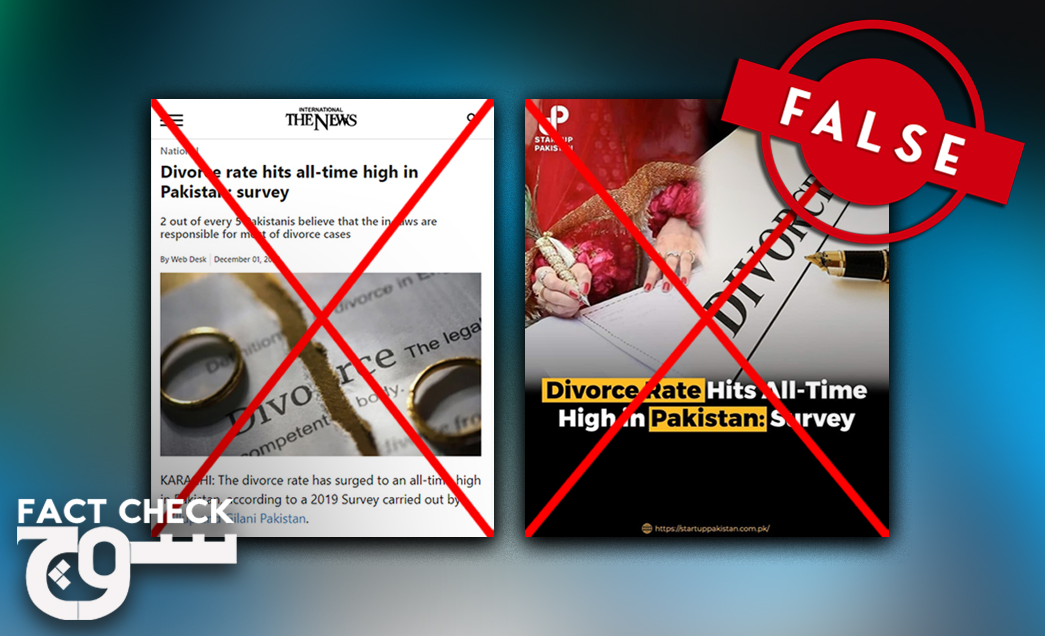 Pakistan's divorce rate has not hit an all-time high
Data From Two-Year-Old Survey Of Opinions On Divorce Rates Wrongly Run As Latest News
Claim: The divorce rate in Pakistan has hit an all-time high, according to a recent survey.
Fact: The divorce rate in Pakistan in 2021 has not hit an all-time high; the survey by Gallup & Gilani Pakistan cited in the news reports in question dates back to 2019. Moreover, that survey was based on the views of respondents on whether divorce rates were increasing or decreasing, not actual statistics on how many divorces occurred in 2019, 2020 or 2021.
On 1 December 2021, a news story on divorce rates in Pakistan started going viral on social media. The headline, 'Divorce Rate Hits All-Time High in Pakistan: Survey', was included in a visual shared on the Twitter account of the website 'Startup Pakistan', which Soch Fact Check has previously flagged for a separate false claim.
The most viral tweet was by user @aliqasim, who captioned the image as follows: "According to you, what's the reason?" The tweet was posted at 5:34 PM on 1 December 2021 and was shared more than 1,000 times. Shortly afterwards, two accounts with the same name but different Twitter handles — @PakStartup and @StartupPak1 — also shared the tweet.
Soch Fact Check carried out a CrowdTangle analysis, which showed that over the past seven days, the search term "divorce rate pakistan" received 15,668 interactions across 65 posts on Facebook and a whopping 112,878 interactions across 36 posts on Instagram.
A post by Zahra Stores (@zahrastores.pk) containing the same image — and also including the phrase "2021 Survey" in its caption — has been performing almost 13.5 times better than other similar ones on Instagram. Similarly, on Facebook, a post in the group 'Vakeel Online Community' performed 7.5 times better than its counterparts. User @saeen_to_saeen's post on Instagram received the most comments, as well as over 9,600 likes, while another by 'People Magazine Pakistan' on Facebook was shared close to 200 times. The highest number of likes — over 33,000 — was seen on DIVA Magazine Pakistan's post on Instagram.
Soch Fact Check traced what appears to be the first such report to The News, which published its story titled, 'Divorce rate hits all-time high in Pakistan: survey' on 1 December at 11:36am. The story was then picked up by Startup Pakistan, which published its report at 1:16pm the same day.
Soch Fact Check found that the questions for the most recent survey conducted by Gallup & Gilani Pakistan were fielded in September 2019, while the survey results were released on 11 October 2019. Researchers had found through the 2019 poll that three out of every five people, or "58% of Pakistanis, believe that divorce rates in Pakistan have increased".
An article by the Pakistan Press International (PPI) published in October 2017 cited the results of yet another survey conducted by Gallup & Gilani Pakistan earlier that same year. That article was published under the following headline: "4 In 5 Pakistanis Opine That The Divorce Rate Has Spiked In Pakistan."
Soch Fact Check also observed through Google Trends that searches for "divorce rate" and "divorce pakistan" experienced a 50-75% spike between 1 December and 3 December 2021.
It is crucial to understand that the 2019 survey is perception-based, which means that the poll asks respondents to share if they believe divorce rates in the country are going up or down.
In an email to Soch Fact Check, Amna Ahmed from Gallup Pakistan wrote: "We'd like to clarify on our part that this survey is around two years old, having being fielded in September 2019 (and released in October 2019) and there has been no recent survey on divorce."
"It was the representative sample's opinion that the divorce rate is going up – it doesn't necessarily mean whether it is going up or down," Ahmed said in the email, adding that it is very hard to calculate the divorce rate in Pakistan because there is no established method to do so , divorce registrations are limited, and there is no central database containing the relevant records.
When asked about a PSLM report regarding patterns of divorce in which Gallup & Gilani Pakistan appeared to have concluded that there was an increase in divorce rates, Ahmed clarified that the report's conclusions were drawn using the results of a survey conducted by the Pakistan Bureau of Statistics (PBS). That survey only concerned marital status and did not explore whether people had remarried, among other factors.
"These findings are not based on a Gallup Pakistan survey," Ahmed wrote about the PSLM report.
Conclusion: The claim being made in recent news reports about divorce rates hitting an all-time high in Pakistan is false. The cited survey is two years old and is being misrepresented as new. The survey was based on respondents' perception of divorce rates rather than any actual statistics or data on divorce in the country.