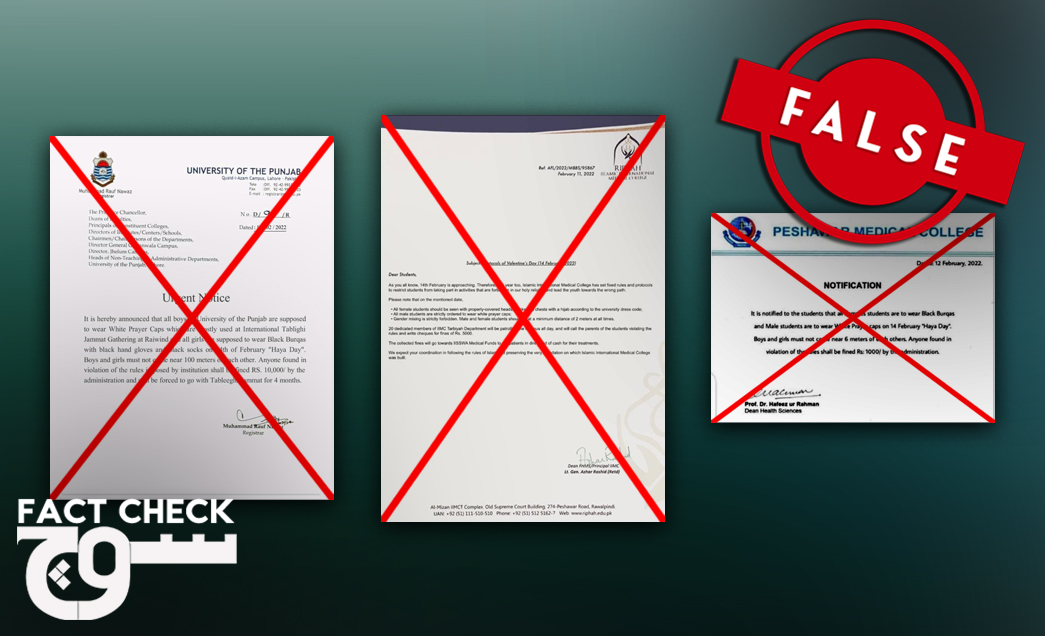 Valentine's Day notifications by Pakistani universities are fake
All universities confirm no Valentine's Day instructions issued
Claim: Three Pakistani universities issued guidelines for Valentine's Day, directing male students to wear caps and female students to cover their heads, as well as forbidding "gender mixing".
Fact: All three universities in question have confirmed the notifications are fake.
On 12 February 2022, copies of notifications allegedly issued by three Pakistani universities — Riphah Islamic International Medical College (Riphah IIMC), University of the Punjab (PU), and Peshawar Medical College (PMC) — began circulating on social media. The notifications appeared to contain guidelines for students for 14 February, celebrated around the world as Valentine's Day but described in the alleged notifications as "Haya Day", or the Day of Modesty.
The notifications stated that female students should wear burqas, or cloth covering the entire body, while male students were advised to wear white caps usually worn while offering Islamic prayers. Any student who violated the rules would be fined heavily, the notifications said.
The notification issued by PU further went on to advise students that "boys and girls must not come near 100 meters of each other" and that violators would be "forced to go with Tableeghi Jammat for 4 months". Tablighi Jamaat, which roughly translates as the Party of Preachers, is a Sunni Islamic missionary movement that has a significant presence across Pakistan.
Fact or fiction?
Soch Fact Check reached out to all three universities for a comment on the veracity of the notifications.
Speaking to Soch Fact Check, PU Public Relation Officer (PRO) Dr Khurram Shehzad confirmed that the notification was "fake". The university also made this clear in a statement on its verified Facebook page.
Riphah IIMC, also stated the notification was fake on its Facebook page, saying the document "should be considered misinformation".
The PMC Executive Director's personal assistant, Abdullah Jan, told Soch Fact Check over phone that the notification is "fake". "No such notification has been issued by the Dean," Jan said.
Virality
Soch Fact Check investigated the virality of the notifications in question and found that the one allegedly issued by PU was shared here, here, here, here, here and here between 13 and 14 February 2022 on Facebook.
The notification allegedly issued by Riphah IIMC went even more viral and was shared here, here, here, here, here, and here.
Soch Fact Check also conducted a CrowdTangle analysis for the last seven-day period using the following search terms:
"valentine's day Prayer Caps"

"valentine's day riphah"

"Female students to wear hijabs, male students to cover heads with white prayer caps; University in Rawalpindi imposes dress code for Valentine's Day"
The first search term turned up 10 Facebook posts that received close to 100 interactions and one Instagram post that garnered 1,373 interactions. Similarly, the second search term received more than 3,000 interactions across 15 posts on Facebook and nearly 39,000 interactions across eight posts on Instagram. 
The third search term received almost 7,000 interactions across 71 Facebook posts and nearly 50,000 interactions across 23 posts on Instagram.
Interestingly, news regarding the Pakistani universities' alleged instructions for Valentine's Day was picked up by numerous Indian media outlets, including ABP News, News 18 Urdu, India TV, News Now Bangla, Opoyi, News Star, and Current News, as well as Ophelia Santhaselvi, a Chennai-based radio jockey and television show host better known as Imsai Arasi or RJ Ophelia.
Conclusion: The images allegedly depicting notifications issued by Riphah IIMC, PU, and PMC containing instructions for Valentine's Day are fake, as has been confirmed by all three universities.