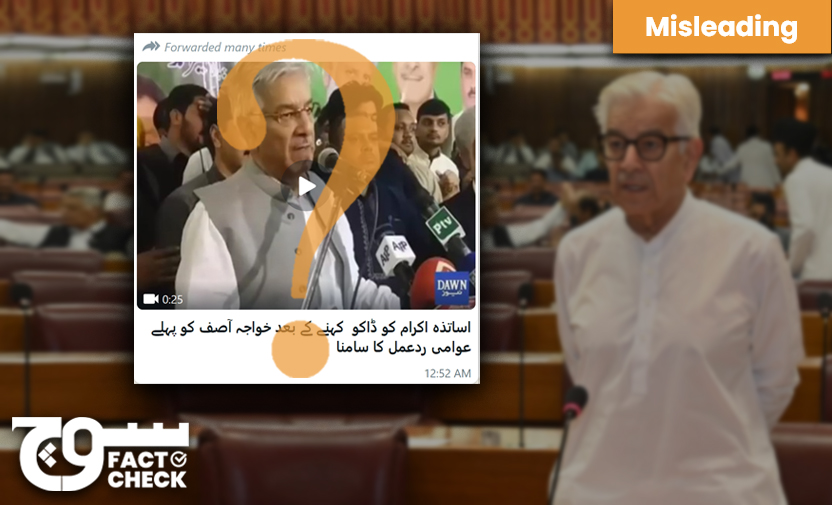 Old video of ink incident rehashed over Khawaja Asif's 'dacoits' comment
Video unrelated to Asif's recent comments; incident actually occurred in 2018
Claim: A video claims to show Khawaja Asif facing the first public backlash as a man throws ink on his face during a speech after "calling teachers dacoits".
Fact: The video does not show the public's reaction to Khawaja Asif "calling teachers dacoits". The clip is, in fact, from 2018 and is not related to the defence minister's comments.
On 20 June 2023, Soch Fact Check received via WhatsApp a video showing a man throwing ink on Defence Minister Khawaja Asif's face as he addressed a public event. The clip is captioned as follows:
"اساتذہ اکرام کو ڈاکو  کہنے کے بعد خواجہ آصف کو پہلے عوامی ردعمل کا سامنا
[Khawaja Asif faces first public backlash after calling honourable teachers dacoits.]"
Khawaja Asif, a member of the ruling Pakistan Muslim League-Nawaz (PML-N) party, came under fire recently when, while addressing the National Assembly on 15 June 2023, he had accused the "vice-chancellors of some universities [of becoming] billionaires through fund embezzlement" and said "dacoits were teaching" the country's youth, according to a Dawn report (archive).
The Associated Press of Pakistan (APP), the state news agency, reported (archive) on 16 June that the defence minister "offered his sincere apologies to the Vice Chancellors for his use of an inappropriate word".
Fact or Fiction?
Soch Fact Check found through reverse image search using keyframes from the video that it is, in fact, from 10 March 2018, when Khawaja Asif was at a PML-N workers event in Sialkot.
Journalist and YouTuber Asad Ali Toor (archive), as well as several other users such as this and this, tweeted the video taken from different angles. Major media outlets, including Express Tribune and Geo News, also reported on the ink-throwing incident.
Highly condemnable act somebody throws ink on foreign minister @KhawajaMAsif.. Beware it is a dangerous/unfortunate start to pull up the tussle/confrontation/rivalry among political parties!#KhawajaAsif #PMLN #PTI #DemocracyDemonetised #PPP pic.twitter.com/EPnlpqOuYl

— Asad Ali Toor (@AsadAToor) March 10, 2018
According to Dawn, Asif — then the foreign minister — "was addressing his party workers when an unidentified man doused him with black ink from behind". The suspect was reportedly "roughed up" by PML-N workers before being handed over to the police.
The politician "pardoned the attacker instantly and called for his release", the publication wrote.
Virality
Soch Fact Check found the video here, here, here, here, here, and here on Facebook. It was also shared here and here on Twitter.
Conclusion: The video is from 10 March 2018 and is not related to the defence minister's comments.
---
Background image in cover photo: @khawajaAsifofficial
---
To submit an appeal on our fact-check, please send an email to appeals@sochfactcheck.com