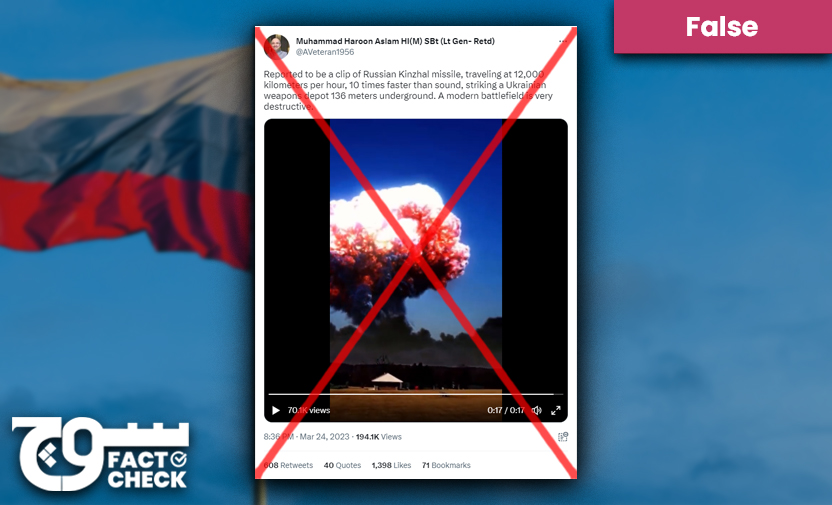 No, this video does not show Russian missile destroying weapons depot in Ukraine
Video is actually produced through VFX and was first uploaded in 2022
Claim: A video shows the Russian Kinzhal missile, which travels at 12,000 kilometres per hour, striking a Ukrainian weapons depot 136 metres underground.
Fact: The viral clip is not real; it was produced in 2022 through VFX by video editor InsanePatient2.
On 24 March 2023, Twitter account @AVeteran1956 posted a video (archive) allegedly showing a "Russian Kinzhal missile" hitting "a Ukrainian weapons depot 136 metres underground". The clip also depicts a giant cloud of fire and smoke billowing right after the impact.
@AVeteran1956 wrote: "Reported to be a clip of Russian Kinzhal missile, travelling at 12,000 kilometers per hour, 10 times faster than sound, striking a Ukrainian weapons depot 136 meters underground. A modern battlefield is very destructive."
Fact or Fiction?
Soch Fact Check used keyframes from the viral video as input in reverse image search engines to ascertain the origin and truth of the clip.
TinEye Reverse Image Search led us to a YouTube video from 28 February 2022 and uploaded by InsanePatient2.
InsanePatient2 is a visual effects (VFX) artist and video editor, according to the description under the YouTube clip, and they have listed the equipment they use, their PC setup, and the editing software, which is Hitfilm Pro.
The same video is also available on the artist's TikTok account here.
Reuters, a signatory of the International Fact-Checking Network (IFCN), reported that the artist responded to them, saying the audio in the video is "from an actual video of an explosion". They further stated, "I am in fact a CGI/VFX artist. The video is just an effect I made using HitFilm. So yes, that twitter claim is false."
The Associated Press, also an IFCN signatory, went further and sought comments from missile experts, who "confirmed it does not resemble such a weapon".
The publication quoted the University of Illinois Urbana-Champaign mechanical science and engineering professor Kelly Stephani as saying, "This video shows a projectile travelling ~1000-2000 ft to target, and took 2 seconds to impact. If it were a hypersonic missile, it would have travelled that distance in a fraction of a second."
It also cited Purdue University's School of Aeronautics and Astronautics professor Jonathan Poggie as saying, "The real missile would be so fast that it would appear as a quick streak on video — probably captured in only a single frame."
Soch Fact Check concludes that the viral video of a Russian Kinzhal missile hitting a Ukrainian weapons depot is not real but produced through VFX.
It is, however, important to note that Russia has claimed its military "fired a hypersonic ballistic missile and destroyed a big underground arms depot in western Ukraine", according to BBC, which cited the Federation's defence ministry.
Virality
Soch Fact Check found the video here, here, and here on Facebook. It was also shared here, here, here, here, and here on Twitter.
Conclusion: The viral clip is not real but was produced through VFX in 2022 by video editor InsanePatient2.
---
Background image in cover photo: Egor Filin