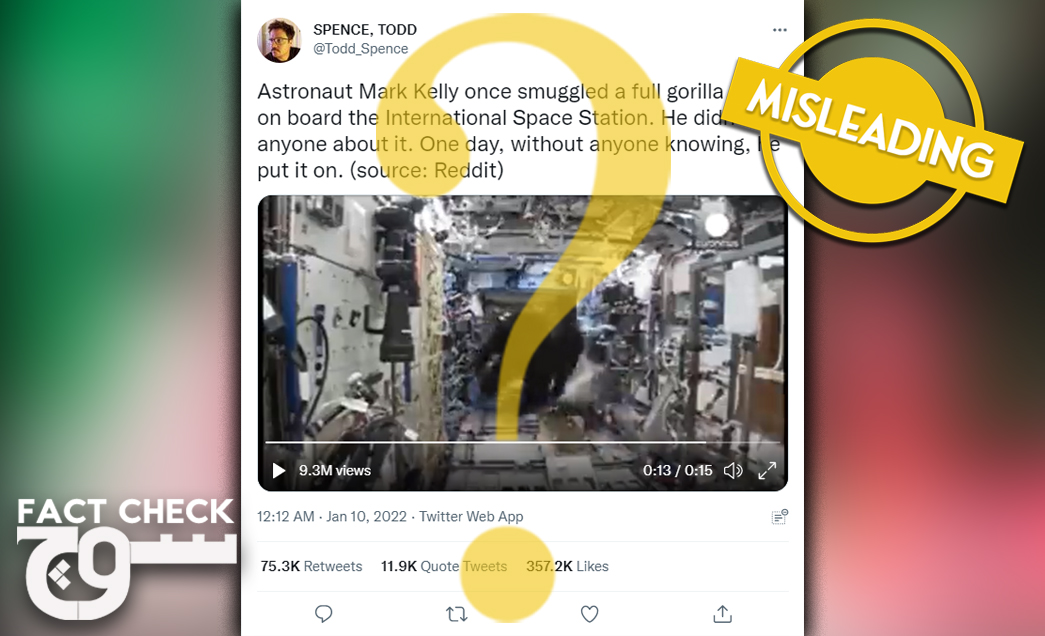 Mark Kelly did not pull the #SpaceApe prank on the ISS. It was his twin, Scott!
Astronauts and twin brothers Scott and Mark Kelly pulled off the prank in 2016
Claim: Astronaut Mark Kelly smuggled a full gorilla suit on board the International Space Station (ISS).
Fact: Mark was not aboard the ISS but on Earth. However, Mark was the one who sent the gorilla suit to his twin, Scott, who was on the space station, as a 'care package'. The brothers are former astronauts.
On 10 January 2022, Soch Fact Check received a Twitter post by actor and writer Todd Spence for verification. Spence posted the following tweet:
"Astronaut Mark Kelly once smuggled a full gorilla suit on board the International Space Station. He didn't tell anyone about it. One day, without anyone knowing, he put it on. (source: Reddit)"
Astronaut Mark Kelly once smuggled a full gorilla suit on board the International Space Station. He didn't tell anyone about it. One day, without anyone knowing, he put it on. (source: Reddit) pic.twitter.com/v7aVunL7QF

— SPENCE, TODD (@Todd_Spence) January 9, 2022
The tweet included a video of a person aboard the ISS. The individual appears to be hiding in a white box before coming out wearing a gorilla body suit and floating to another compartment to prank a crew member, who, likely not expecting a 'gorilla' on board the ISS, panics and waves his arms in a swimming motion to escape.
Fact or fiction?
Soch Fact Check found the tweet to be misleading. The prank was pulled in 2016, not 2022.
Mark's twin brother, Scott, actually wore the suit for the prank and not Mark himself. However, it was indeed Mark — who was on Earth — who sent the suit as a 'care package' to Scott, meaning that the claim that the suit was smuggled is also incorrect.
The astronaut seen swimming away from Scott in a panic is Britain's Timothy Peake, who was in on the prank. 
Scott told People magazine that the prank was "all staged" as it was the end of his year in space and he retired soon after returning to earth in 2016. "That's why he's floating around, swimming in [the] air, we wanted it to look funny," Scott said about fellow astronaut Peake's reaction. 
The National Aeronautics and Space Administration (NASA) on its website highlighted that the gorilla suit prank — arranged by Mark as a surprise — was carried out on Scott's birthday. Scott also recorded an educational video later about what happens when you cry in space while wearing the gorilla suit, according to the article.
The twin brothers are 57 years old now, with Mark currently serving as a member of the US Senate. Here is the original video posted by Scott:
Needed a little humor to lighten up a #YearInSpace. Go big, or go home. I think I'll do both. #SpaceApehttps://t.co/Ift8VdDR4C

— Scott Kelly (@StationCDRKelly) February 23, 2016
Virality
Search terms "mark kelly gorilla," "#spaceape," and #spacegorilla" on Google turned up various results. Multiple media outlets — such as IFL Science, Free Press Journal, Hindustan Times, News 18, and Wion News, among others — took up the story after Spence's 2022 tweet, which gained considerable traction.
As of reporting time, the tweet has a whopping 9.3 million views, over 87,000 retweets, and more than 357,000 'likes'. In his tweet, Spence cited Reddit, an American social news aggregation and discussion platform, as the source for the story.
Soch Fact Check combed through Reddit posts from January 2022 to identify the source. The oldest Reddit post from January 2022 was made by user u/Due-Difference3740 in the subreddit r/Unexpected — which has 5.1 million members — at 8:25 PM on 9 January 2022. It received 1,900 upvotes and 90 comments but was removed by the moderators of r/Unexpected.
Between 2016 and 2022, the oldest Reddit post about the gorilla suit appears to have been shared on 30 December 2020 at 4:48pm by user u/ayaahkhatib. This post, too, was removed by the subreddit's moderators despite receiving 103 upvotes and 19 comments.
On Facebook, between 1 January 2016 — the month before Scott Kelly originally posted his video to Twitter — and 21 January 2022 the story received over 50,000 interactions across 276 relevant posts with the number of interactions peaking twice — once on 5 January 2021 and then between 9 and 15 January 2022.
Facebook user Tiffany Sams' post about the prank, shared at 10:43 AM on 5 January 2021 in a group named 'SpaceX', received more than 6,300 reactions and over 1,500 shares, while user David King's post, shared at 6:42 PM on 30 December 2020, received a whopping 5.2 million views and was shared upwards of 139,000 times.
American film director Reginald Hudlin, as well as musician and YouTuber Jon Sudano, also shared the misleading post on their verified Facebook accounts.
Likely origin
One of the oldest posts about the prank on Facebook was shared by user Tammy Thomas in a group called 'STAR TREK UNIVERSE' at 10:39 PM on 30 December 2020. Thomas' post contained the link to a tweet about the prank by American former basketball player Rex Chapman, which itself quoted a post by the Twitter account of Canadian-origin application Goodable.
In its 2020 tweet, Goodable wrote, "Astronaut Mark Kelly once smuggled a full gorilla suit on board the International Space Station." Almost 21 hours later, the page issued a correction stating that Scott did not smuggle the gorilla suit but received it from his twin brother, Mark, as a 'care package' and it was Scott who wore it aboard the ISS, not Mark.
CORRECTION: Captain Mark Kelly was the one who smuggled the gorilla suit on board, but he sent it to his twin brother, Scott, who was the one that wore it.@StationCDRKelly @CaptMarkKelly https://t.co/ZnrNs4uyi9

— Goodable (@Goodable) December 30, 2020
It is possible that the misleading claim about the prank stemmed from Goodable's tweet; by the time the app issued the correction, the story had already gained considerable traction on social media. Interestingly, despite issuing the correction in 2020, on 14 January 2022 Goodable again tweeted the video, with the same claim alleging that Mark Kelly was responsible for the gorilla suit prank.
Conclusion: The claim that Mark Kelly smuggled a gorilla suit on board the ISS and wore the suit as a prank is misleading. Mark's brother, Scott, was aboard the space station while Mark himself was on the ground. It was, however, Mark who sent the gorilla suit to Scott, who then pulled the prank in the space station. Moreover, the suit was not smuggled but sent by Mark to Scott as a 'care package'.