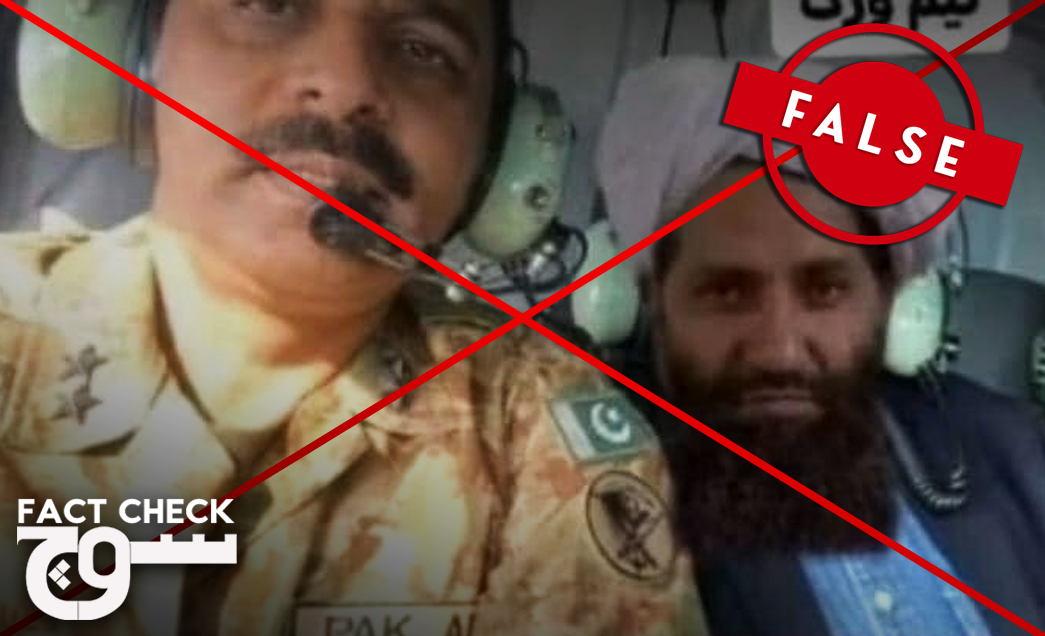 Doctored image falsely shows Pakistan Army's ex-spokesperson with Taliban chief
Picture of Major General Asif Ghafoor with two journalists doctored to include the face of Taliban Supreme Leader Akhundzada
Claim: Pakistan Army's former spokesperson, Major General Asif Ghafoor, is seen in a helicopter with Afghan Taliban's Supreme Leader Haibatullah Akhundzada, fueling the conspiracy that Islamabad is collaborating with the militant group.
Fact: The photo that purportedly shows Major General Ghafoor and Akhundzada posing together for a selfie in a helicopter was doctored; the original image was taken by Ghafoor and is of him in a helicopter with journalists Hamid Mir and Arshad Sharif.
On 7 September, an image appeared on Facebook purportedly showing Major General Asif Ghafoor in a picture with the Afghan Taliban's Supreme Leader Haibatullah Akhundzada, both posing for a 'selfie' as they sat in a helicopter.
The image went viral and was shared on Facebook more than 2,300 times by more than half a dozen accounts — mostly by pages reportedly providing updates on the 'second resistance' in Afghanistan. The doctored photo is fueling the conspiracy that Pakistan is in some way collaborating with the Afghan Taliban.
It was shared here, here, here, here, here, here, here, here, and here.
The image appears to have been shared first by Facebook user 'YaSee NeDa', with 'Ahmad Jawid Amiri' listed as one of the user's alternative names and the phrase "news reports of the second resistance" in their bio. Neda Yasee is an Iranian-Canadian Internet personality but it is unclear whether this Facebook page is operated by her; regardless, it has close to 12,000 followers. Meanwhile, Facebook yields multiple profiles for the search term 'Ahmad Jawid Amiri'.
In the doctored photo, Major General Ghafoor is wearing his uniform, complete with his name tag, and sitting in what looks like a helicopter with a headset on. On his left is a man in a suit, wearing a light blue shirt and looking towards the camera as Ghafoor takes a selfie. The man's face is that of Haibatullah Akhundzada wearing his traditional white turban.
There are some tell-tale signs that the image purportedly showing Major General Ghafoor with Akhunzada is doctored. For instance, the lighting on Akhundzada's face is from the right side, his beard is cut straight at the bottom in an unnatural fashion, and his headset is still on despite the turban. The Taliban also never wear 'Western' clothing, which is the fourth marker indicating that this photo has been doctored. The photo has two texts: "Team work" and "Ghulam Punjab [The servant of Punjab]".
By contrast, the original photo shows Major General Ghafoor with renowned journalist Hamid Mir — with the headphones resting correctly on Mir's head — as well as anchorperson Arshad Sharif, who has been fullycropped out in the doctored image.
Using CrowdTangle and Google Reverse Image Search, Soch Fact Check determined that the original image was first posted in an October 2019 tweet by Siasat.pk.
Soch Fact Check therefore concludes that the image is doctored and false.
Conclusion: An image, originally posted in October 2019, which shows Pakistan Army's former spokesperson, Major Gen Asif Ghafoor, sitting in a helicopter alongside journalists Hamid Mir and Arshad Sharif, was cropped to remove Sharif while Mir's head was replaced with that of the Afghan Taliban's top leader, Haibatullah Akhundzada, in a likely attempt to fuel conspiracy theories about Islamabad's involvement in Kabul's affairs after the extremist group toppled the government in late 2021.