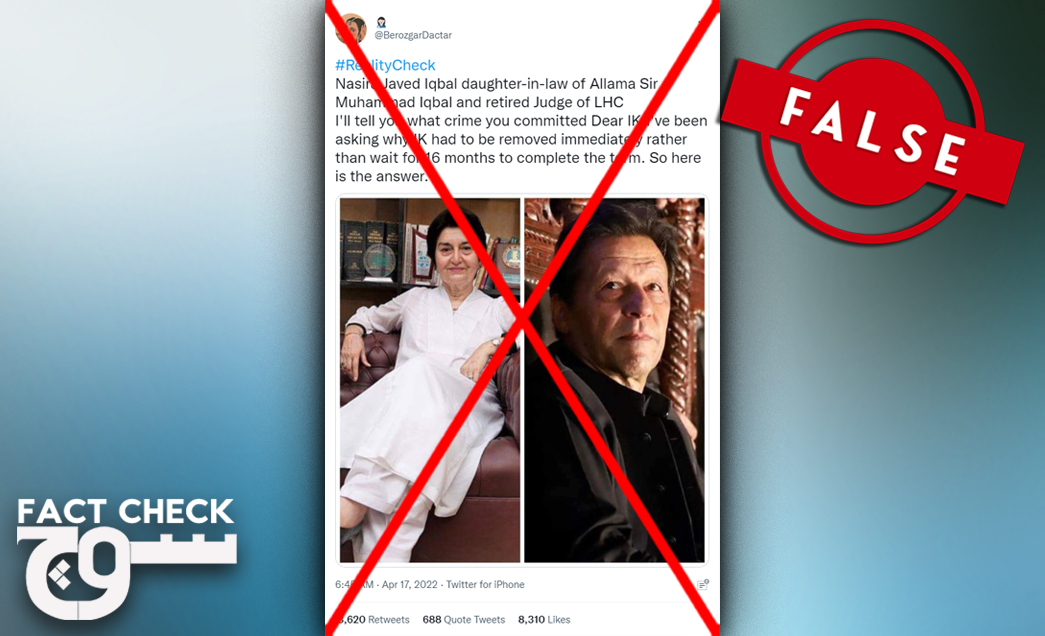 Fake write-up defending Imran Khan attributed to Pakistani jurist
Note allegedly written by Justice (r) Nasira Javed Iqbal supports Imran Khan's claims of foreign interference
Claim: According to posts online, Pakistani jurist Justice (r) Nasira Javed Iqbal wrote a note defending former Pakistani prime minister Imran Khan and supporting the claim that his removal from office was spurred by foreign interference.
Fact: Justice (r) Iqbal has refuted the claim, saying she is not on social media and has not written any such statement.
On 17 April 2022, Twitter user @BerozgarDactar posted a thread of tweets with the hashtag "#RealityCheck," which allegedly constituted a note written by Justice (r) Iqbal — Pakistani jurist, former judge of the Lahore High Court, and the daughter-in-law of poet and philosopher Allama Iqbal — in support of former prime minister Khan and his claim that his ouster was encouraged by foreign powers.
The note starts with the following text: "Nasira Javed Iqbal daughter-in-law of Allama Sir Muhammad Iqbal and retired Judge of LHC. I'll tell you what crime you committed Dear IK.I've been asking why IK had to be removed immediately rather than wait for 16 months to complete the term. So here is the answer."
The note further states that Imran Khan in 2022 was in the process of negotiating a Pakistani Rupee-Russian Ruble oil trade deal, along the lines of the Indian Rupee-Russian Rouble deal signed in 1953 and following on from the Pakistani Rupee-Chinese Yuan deal arranged in 2019. Such a deal would allow for trade payments to be settled in rupees and rubles, instead of US dollars and euros. In apparent support of Khan's claims of foreign interference, the note concludes that Khan's prospective arrangement with Russia would be a "no-no" for the western superpower as it would weaken the USD. As such, the note states, Khan "left US no choice".
The note ends as follows: "Pakistan is at a crossroads: Can end up with Iraq & Libya? Can end up with Sri Lanka? Can end up with freedom?"
Fact or fiction?
Anchorperson Abdullah Sultan asked Justice (r) Iqbal for comment on the viral posts during a segment of Geo Pakistan, the morning talk show aired on Geo News. The Justice refuted the claims, saying, "I'm not on social media at all. I've not given any statement. I do not believe in giving any political statements because I have no direct linkage to politics.
"I do not know who these troublemakers are who put up these [posts]," she continued. "And why do they drag Allama Iqbal's name in these [posts] … that Allama Iqbal's daughter-in-law said this or that? This is extremely inappropriate. I completely refute this. Whether Imran Khan's opinion is correct or not, it is not my concern."
Justice R Nasira Javeds'response to the thread being attributed to her by PTI fans on social media @geopakistantv @humaamirshah pic.twitter.com/ItO5vjggra

— Abdullah Sultan (@abdullahsultan) April 18, 2022
Her comment can be heard at the 1:36 mark of this video.
In addition, Pakistani computer scientist and academic Dr Umar Saif shared screenshots of a WhatsApp conversation with Justice (r) Iqbal, wherein the latter says, "No. It's fake. Please deny and ignore. […] It came through Facebook and I can't reply there as I don't subscribe to Facebook."
In the comments of the viral tweet by @BerozgarDactar, Twitter user @nailamaqbool shared a screenshot of a Facebook status update by Nuria Rafique-Iqbal, Justice (r) Iqbal's daughter-in-law, which states, "There is an audio clip and an article doing the rounds which claim to be by my mother in law Justice Nasira Iqbal. They are NOT. Pls don't forward."
The screenshots shared by Dr Saif were originally posted by Asra Jamshed Khan, a team member of 'Iqbal Kay Shaheen', a group focused on promoting Allama Iqbal's works. She wrote, "I have messaged justice Nasira Javed Iqbal and look at her reply. Do Not spread it and if u see it posted anywhere reply with the screenshot of my post."
Further, although the Indian Rupee-Russian Rouble payment mechanism was first conceived of as an idea in 1953, India and Russia are only now exploring the mechanism as a real option. Additionally, the Pakistani Rupee-Chinese Yuan deal between Pakistan and China was agreed upon in 2018 and not in 2019 as the viral message claims, and there is no concrete evidence of a Pakistan-Russia oil deal for 2022.
Virality
Soch Fact Check conducted a CrowdTangle analysis for the period from 15 April 2022 to date using the following search terms:
"Nasira Javed Iqbal"

"ناصرہ جاوید اقبال"
The first search term turned up more than 400 Facebook posts that gained over 38,500 interactions, while the second one garnered 14,421 interactions across 379 posts. Additionally, the first search term peaked in terms of popularity on 17 April 2022 with upwards of 18,600 interactions.
The oldest Facebook posts in English and Urdu appear here and here, respectively. The verified Facebook page of 'PTI Gilgit Baltistan' also shared the fake post.
On Instagram, the search term "Nasira Javed Iqbal" yielded two posts — by @cousinkibaatein and @fatima_khanpk — with over 8,300 interactions. The posts received more than 6,300 likes and 1,700 likes, respectively.
Conclusion: Justice (r) Iqbal did not write a note in support of Imran Khan and his claim that his ouster was supported by foreign powers. The viral note circulating on social media has been falsely attributed to the jurist, who has denied penning the note and clarified that she is not on social media.