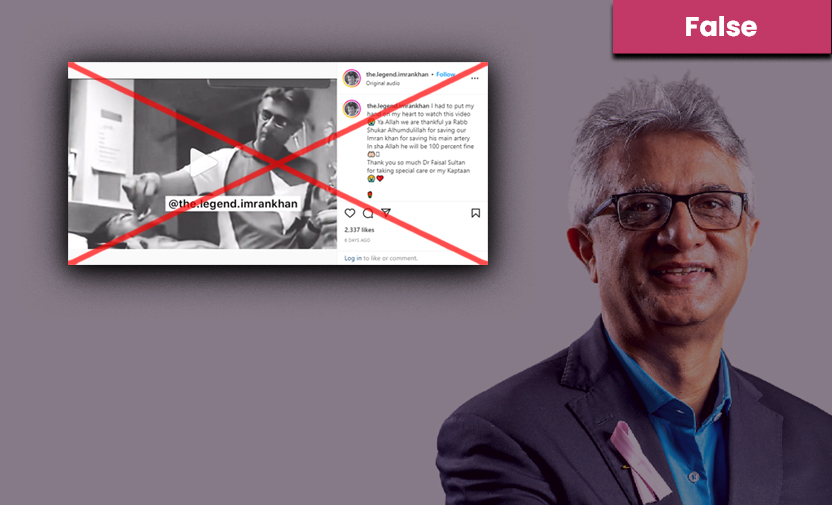 Dr Faisal Sultan did not perform surgery on Imran Khan
Dr Sultan is an infectious diseases expert, not a surgeon
Claim: Dr Faisal Sultan performed surgery on Imran Khan after the latter suffered a gunshot wound.
Fact: Dr Sultan is an infectious diseases expert and did not operate on Khan; a team of doctors comprising orthopaedic, vascular, and general surgeons did.
On 5 November 2022, Twitter user @mishikhan_pti shared a video reportedly showing infectious diseases expert Dr Faisal Sultan operating on Pakistan's former prime minister Imran Khan following a gun attack on the latter in which he was wounded in the leg.
The former chief executive of the Shaukat Khanum Memorial Cancer Hospital and Research Centres (SKMCH&RC), Dr Sultan, served as the Special Assistant to the Prime Minister for National Health Services, Regulation & Coordination from August 2020 to April 2022.
The post by @mishikhan_pti was accompanied by the following caption:
"I had to put my hand on my heart to watch this video😭 Ya Allah we are thankful, Shukar Alhumdulillah for saving our Imran khan for saving his main artery 
In sha Allah he will be 100 percent fine 🤲🏻
Thank you so much Dr Faisal Sultan for taking special care or my Kaptaan 😭❤️"
Fact or Fiction?
Soch Fact Check spoke to top officials at the SKMCH — including Medical Director Dr Asif Loya, Consultant Radiologist Dr Kashif Siddique, and Head of Communications Ahmad Ahsan Ansari — to find out more about the treatment provided to Imran Khan following the November 2022 gun attack in Wazirabad.
The SKMCH representatives clarified that it was not Dr Faisal Sultan who operated on the former prime minister but a surgery team comprising orthopaedic, vascular, and general surgeons. When shown the video in question, they stated that it was from 2013, when Khan had suffered injuries after falling from an almost 15-feet-high platform during a campaign rally in Lahore.
Furthermore, professionally, Dr Sultan is an infectious diseases expert, not a surgeon; therefore, it is not possible for him to operate on the former prime minister.
Virality
Soch Fact Check found that the video on Twitter was seen by almost 500 users, while the one on Instagram got more than 19,300 views and over 2,300 likes.
The video also appeared on Instagram here.
Conclusion: The team of doctors performed surgery on Imran Khan after he was wounded on 5 November. Dr Faisal Sultan was not on that team.