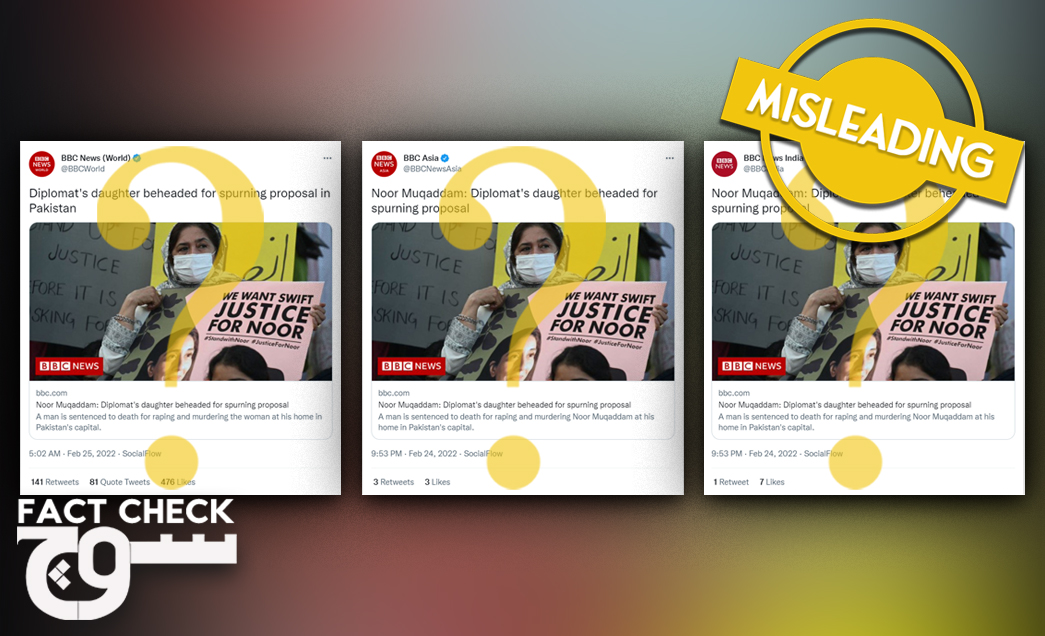 BBC News publishes story with misleading headline in Noor Mukadam case
Outlet shares headline apparently breaking the news of Mukadam's death on day of her killer's sentencing
Claim: On the day a local court handed down the judgment sentencing Zahir Jaffer to death for the murder of Noor Mukadam, BBC News published a story titled, "Noor Muqaddam: Diplomat's daughter beheaded for spurning proposal."
Fact: Noor Mukadam was found dead at Zahir Jaffer's home in July 2021. The BBC News headline is misleading because the crime in fact occurred in 2021 and the latest news in the case relates to Jaffer being sentenced.
Fact or fiction?
Noor Mukadam was, in fact, murdered on the night between 19-20 July 2021.
The 27-year-old was the daughter of Shaukat Mukadam, Pakistan's former ambassador to South Korea and Kazakhstan. Her murder caused widespread outrage and fueled protests across Pakistan. Authorities launched an investigation and criminal proceedings began against prime accused Zahir Jaffer in 2021.
Almost seven months later, on 24 February 2022, a sessions court in Islamabad sentenced Jaffer on 24 February to death for kidnapping, sexually assaulting, and beheading Noor.
That same day, BBC News published a story with the following headline: "Noor Muqaddam: Diplomat's daughter beheaded for spurning proposal." Although the body of the article did note that Zahir Jaffer had been sentenced to death that day, the headline is misleading as it suggests that Noor Mukadam's death is a new or recent occurrence. 
BBC News' story was also picked up by other smaller media outlets that ran it with the same headline.
Virality
The story with the headline in question was tweeted out by the BBC's @BBCWorld, @BBCNewsAsia, and @BBCIndia Twitter accounts and picked up by other smaller media outlets as well.
According to a CrowdTangle analysis, the link to the BBC News story received over 500 interactions on Facebook. A search using the term, "Diplomat's daughter beheaded for spurning proposal," turned up an additional 10 posts by Facebook pages, including verified ones. 
Almost 100 Twitter accounts shared posts featuring the text of the above search term or the BBC News headline. 
The BBC News story was also reshared by Yahoo! News and Bangladesh's Samakal, with credits to the original source.
Europe News carried a story with the same headline but did not credit BBC News; its report contains only the following sentence: "A man is sentenced to death for raping and murdering the woman at his home in Pakistan's capital." That link was shared multiple times, including here, here, here, here, here, here, here, here, here, here, here, here, here, here, here, here, here, and here.
Two pages with similar names and that lead to the same website, Usagovnews and Usagovnewss, also shared the story with the misleading headline, as did the websites Daily World News, Today News Network, and Desi123. The headline was also used in a YouTube video, a WordPress blog, news curation platform FlipBoard, and news aggregating website Shafaqna.
Conclusion: Noor Mukadam was beheaded in July 2021. The headline of the BBC News' 24 February 2022 story about the case is misleading as Mukadam's killer, Zahir Jaffer, was sentenced to death on that date.