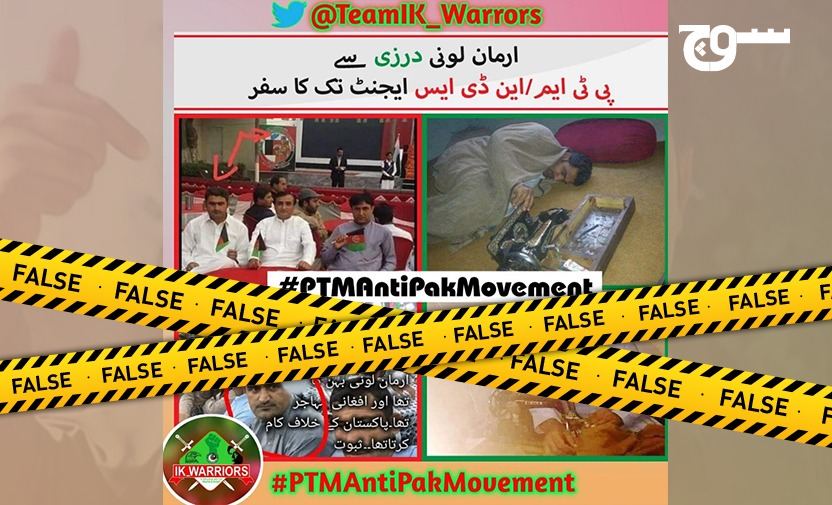 Arman Loni was a Natural-Born Pakistani Citizen, Not an Afghan Refugee
CLAIM: Deceased Pashtun poet and academic Arman Loni was an Afghan immigrant.
FACT: Although Pashtuns can be referred to as ethnically 'Afghan', Arman Loni was born in Pakistan and is therefore not an immigrant.
VERDICT: False
The Pashtun Tahaffuz Movement (PTM) was once again trending on Twitter on Sunday, January 12, after the Pashtun Long March to Bannu. To supporters, the PTM-organised protest was meant to highlight injustices faced by Pashtuns in the aftermath of Pakistan's war on terror. A picture was shared on Twitter claiming that popular Pashtun poet and academic Arman Loni was an Afghan immigrant. We believe this misinformation about a deceased public figure could be harmful, given the negative stereotypes concerning Afghan immigrants in Pakistan.
Muhammad Ibrahim Arman Loni, commonly known as Arman Loni, was a celebrated Pashtun poet and a professor of Pashto literature. He was also one of the leaders of the PTM. Loni died in February 2019 under dubious circumstances after a protest at Loralai Press Club resulted in a violent confrontation between the protesters and the police.
The image in question was shared over 60 times in a repost. 500 tweets from the hashtag in the image reached more than a million people. We tried to follow the image to its source account, @TeamIK_Warriors, but we were unable to do so as the account has now been suspended by Twitter.
The bottom left frame of the video is captioned "Arman Loni [explicit] tha aur Afghani Muhajir tha. Pakistan ke khilaaf kam karta tha." This translates to "Arman Loni was a [explicit] and an Afghani immigrant. He used to conspire against Pakistan."
We reached out to his sister, activist Wrranga Loni, to confirm whether it is accurate to label him an 'Afghan immigrant'. She sent us evidence of his Pakistani citizenship, namely his national identification card (NIC) and his certificate from the Election Commission of Pakistan. We have blacked out personal information.
Interestingly, she also clarified that although it is inaccurate to label Loni an immigrant, Afghan by itself is a general ethnic term that can be used to refer to Pashtuns in both Pakistan and Afghanistan. The term 'Afghan', in this context, would denote ethnicity without saying anything about which country they belong to. In the same way that 'Punjabi' is an ethnic group in both India and Pakistan.
One of the common templates for misinformation in the discourse surrounding PTM is the allegation of popular figures of the PTM being supported by, being originally from, or being somehow beholden to, the state of Afghanistan. This is because of a complicated intersection between Afghanistan and Pakistan's turbulent political histories. Moreover, the role of Pashtuns speaking out against what they identify as the Pakistani state's mistakes in the war on terror, is further used to propagate this narrative. Many Pakistanis believe that PTM is an Afghan-funded effort to undermine Pakistan's national security by invoking unrest in its most vulnerable areas. More often than not, the belief is upheld on the basis of a racist assumption that ethnic Pashtuns who are unable to prove their unconditional allegiance to Pakistan, automatically become aligned with Afghanistan.
At times, the state has agreed with this foreign-funding narrative, and other times, it has recognized the validity and importance of addressing the issues that PTM brings to light in securing a peaceful future for Pakistan's northern areas.
Summary: Arman Loni was a natural-born Pakistani citizen, not an Afghan immigrant