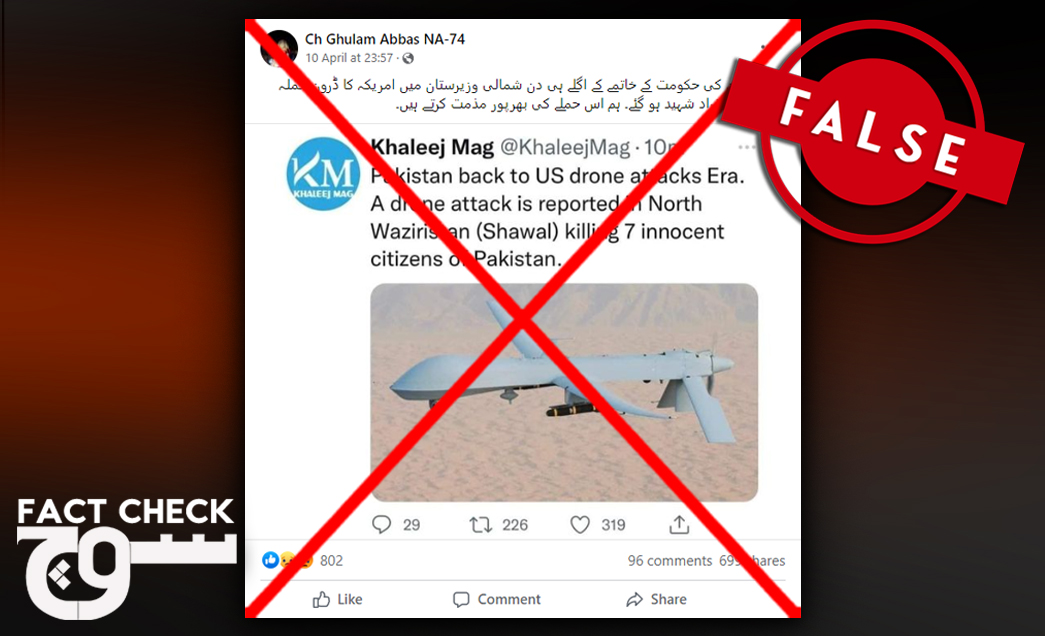 Waziristan was not struck by drone attack on 10 April 2022
North Waziristan Deputy Commissioner clarifies no such attack occurred
Claim: A drone strike killed sevenin Shawal, District North Waziristan on 10 April 2022.
Fact: There was no drone attack in Waziristan in April 2022. 
Pakistani social media was flooded by the news of a drone attack that allegedly took place in Shawal Valley killing seven people on the night of 10 April 2022.
A screenshot of a post by Khaleej Magazine's Twitter account, stating,  "Pakistan back to US drone attack era. A drone attack is reported in Waziristan (Shawal) killing 7 innocent citizens of Pakistan," is doing the rounds.
Fact or Fiction
The Deputy Commissioner of North Waziristan released a video clarifying that no such attack has occurred and that the news being spread about the attack was false. The journalist who claimed to have broken the story also issued a video statement saying he could not verify the news on the ground and instead relied on his sources that fed him false information.
Virality
A CrowdTangle analysis revealed that with almost 700 shares, this post on Facebook by user  Chaudhary Ghulam Abbas received the most interactions, while this ticker — initially run by Abb Takk News and shared on Facebook — received 284,000 views, the most views on a Facebook post related to the alleged attack.
The caption on the former post read:
"عمران خان کی حکومت کے خاتمے کے اگلے ہی دن شمالی وزیرستان میں امریکہ کا ڈرون حملہ جس سے 7 افراد شہید ہو گئے۔ ہم اس حملے کی بھرپور مذمت کرتے ہیں۔".
The caption on the Abb Takk News post that read:
"As soon as ImranKhanPTI left, US drone strikes started again in Pakistani territory. According to the Abtak News TV channel, 7 people were martyred in US drone strikes in Shawal Tehsil of North Waziristan."
On Facebook, a total of 275 posts were shared mentioning "Waziristan" and "Drone" receiving a cumulative 13,978 interactions, with this being the oldest relevant post. Other examples of the post can be seen here, here, here, and here. The false news was predominantly spread by accounts and groups with visible signs of support for former prime minister Imran Khan.
Examples of YouTube videos about the alleged drone attack can be seen here, here, here, and here. Posts also emerged on Twitter that spread the false news further. Examples of relevant tweets can be seen here, here, here, and here.
Conclusion: There was no drone attack in Shawal, North Waziristan, on 10 April 2022. The posts claiming otherwise are false.