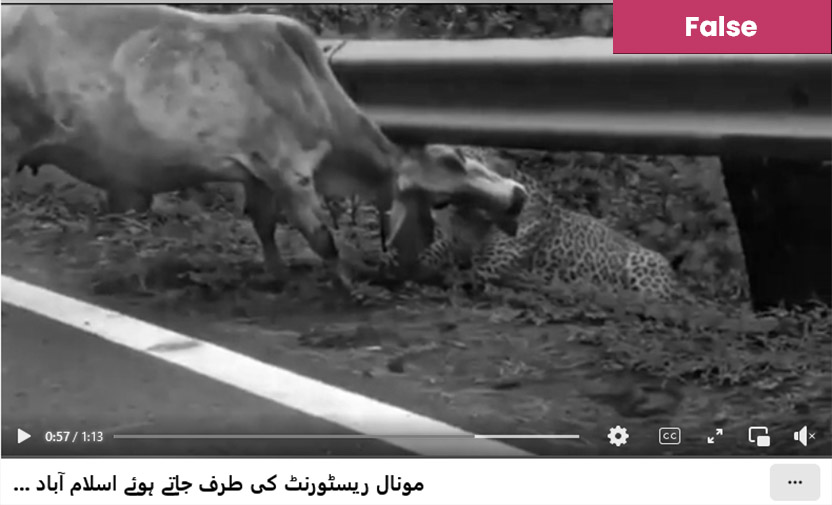 Viral video of leopard attacking cow is not from Pakistan
The incident happened in India's region of Uttarakhand
Claim: A viral video of a leopard attacking a cow on the roadside is being shared with claims that the incident happened near Margalla Hills, Islamabad
Fact: The claim is false. The video is from India and was first shared by Indian Forest Service officer, Saket Badola on Twitter before going viral in Pakistan.
On 22 August 2022, Pakistani journalist Mohsin Raza Khan posted a video on Twitter that shows a leopard attacking by holding on to a cow on the other side of the railing. The journalist shared the video with an Urdu caption that, when translated to English, reads; "On the way to Monal Restaurant, Islamabad".
Monal is a restaurant located at Pir Sohawa Road in Margalla Hills, Islamabad.
Fact or Fiction?
Soch Fact Check decided to investigate the video after a few Twitter users questioned if it was actually shot in Pakistan.
A keyword search on Google turned up India's news channel ABP Live article published on 19 August 2022. The news title is "Leopard Attacks Cow From Underneath Road Railing In Spine-Chilling Video". The report features the same video and states that the incident happened in the Uttarkhand region of India.
Further research revealed that the video was first shared by Indian Forest Service officer Saket Badola on 15 August 2022 to his verified Twitter account.
Another Indian news channel Ranikhet News uploaded a longer 1 minute 27 seconds version of the video. In this version, the person filming can be heard saying that a leopard killed the cow near Takula, Basoli, an area located in the Uttarkhand region of India.
Virality
An organic search on Facebook showed that the same video has been allegedly linked to Nathiagali, Khyber Pakhtunkhwa.
Soch Fact Check conducted a CrowdTangle analysis for 30-days period from 27 July – 26 August 2022 by using the following search terms:
"مونال ریسٹورنٹ کی طرف جاتے ہوئے اسلام آباد"
"نتھیاگلی سے ایبٹ آباد جاتے روڈ پر شیر نے گائے کا شکار کر لیا"
The first key term received 100 interactions across 4 posts and is available here, here, here and here on Facebook.
The second search term garnered 94,000 interactions across 200 Facebook posts between 21 -26 August. It can be found here, here, here, here, here, here, here, here, here, here, and here.
Conclusion: The video of a leopard attacking a cow is not from Pakistan. The incident happened in India and is being falsely linked to the northern region of Pakistan.