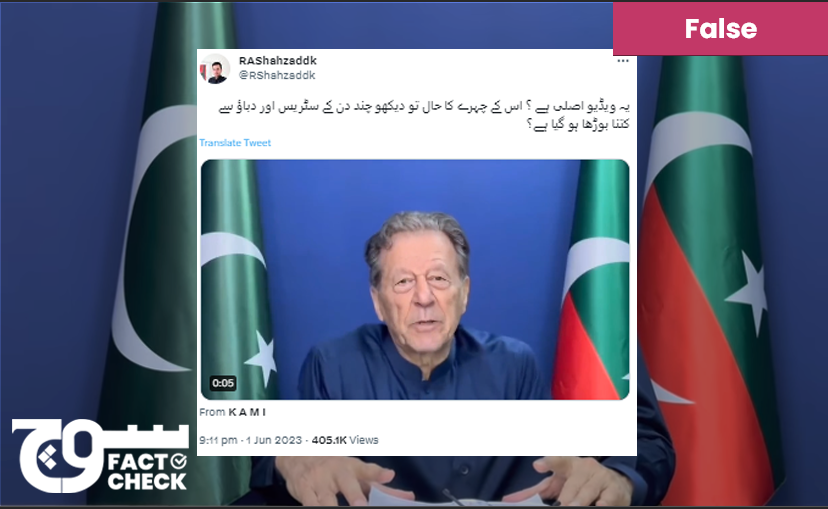 Viral video clip of Imran Khan looking older is AI-generated
It was doctored to make Imran Khan appear older than he is
Claim: Imran Khan appeared older than usual in a recent video clip, most probably due to stress and anxiety.
Fact: An AI generative filter was used on a recent video of Imran Khan to make him appear older than he is. 
On 2 June 2023, several social media users uploaded a 9-second video clip of Imran Khan saying, "Imran Khan akela ho chuka hai, Imran Khan ke you ird gird ab koi bhi nahi hai. Na mein kisi ko telephone kr sakta hu na mein kisi se baat krskta hun kiunke sab chhupay huay hain" [Translation: Imran Khan has now become lonely, there is no one around him. I can not call anyone or talk to anyone because they are all hiding.]
In this video clip, Imran Khan appears to have more grey hair and wrinkles compared to his recent public appearances. Several users shared this video with captions claiming that Imran Khan appears older because of stress and anxiety. 
Fact or Fiction?
Through reverse image search, Soch Fact Check found that the keyframes of this video clip match those of a recent video of Imran Khan's public address to the nation, streamed live on YouTube on 1 June 2023. LIVE | Chairman PTI Imran Khan's Important Address to Nation
At the timestamp 20:58 onwards, Imran Khan repeats the same sentences as those mentioned in the claim, wearing the same clothes, with the same colour of wall and the same flags in the background.  
Virality
The tweets, some of which can be found here, and here, reached more than 4,734 interactions on Twitter and were viewed more than 471,000 times.
On Facebook, we found that this video was shared here, and here.
Conclusion: A video clip showing Imran Khan with more wrinkles and gray hair is AI-generated. 
To appeal our fact-check, please send an email to appeals@sochfactcheck.com