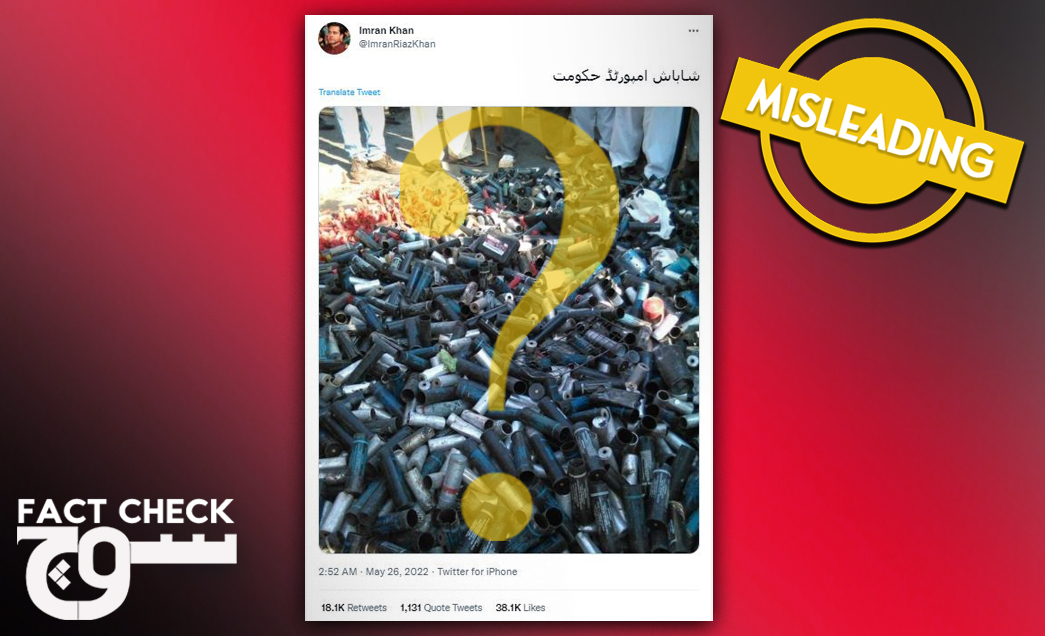 Viral photo of a pile of tear gas shells is old
The photo is actually from a 2014 protest
Claim: A photo depicts a pile of tear gas shells used by police against Pakistan Tehreek-e-Insaf's supporters during the Long March led by Imran Khan on 25 May 2022. 
Fact: The photo is actually from a protest held in 2014.
Fact or Fiction?
On 26 May 2022, journalist Imran Riaz Khan shared a photo of tear gas shells on Twitter with the caption, "شاباش امپورٹڈ حکومت [Well done imported government]. 
The phrase "imported government" appears to be a reference to the administration of new Prime Minister Shehbaz Sharif, who came into power following former Prime Minister Imran Khan's ouster in April. 
Soch Fact Check found the claim to be misleading because the photo shared by Khan dates back to 2014. While media reports suggest that police did use tear gas to disperse protestors at former Prime Minister Imran Khan's rally on 25 May 2022, the photo in question is actually from a 2014 protest.
Twitter user Arif Qureshi posted the same photo to his account on 31 August 2014. He captioned it, "Ye Muzaherin par istimal ki he [This has been used on protestors]" but did not specify which protest he was referring to. 
A similar photo appears in an article by Dawn, "Conflict: Tear gas, batons and rubber bullets across Red Zone" published 31 August 2014.

The caption of the photo reads, "Pakistani protestors gather around a pile of empty tear gas canisters fired by police during a protest near prime minister's home in Islamabad, Pakistan on Sunday, Aug. 31, 2014 – Photo by AFP."
The images shared by both Qureshi and Dawn appear to have been taken at the same protest in 2014, based on similarities between the objects and shoes of people gathered around the pile of tear gas shells. This can be seen in the graphic below. 
Therefore, Soch Fact Check concludes that the original photo is from a 2014  Pakistan Tehreek-i-Insaf (PTI) and Pakistan Awami Tehreek (PAT) protest demanding the resignation of then-Prime Minister Nawaz Sharif. 
The credits in Dawn's story suggest that the photo belongs to the global news agency, Agence France-Presse (AFP).
Virality:
According to a CrowdTangle analysis conducted by Soch Fact Check, the search term "شاباش امپورٹڈ حکومت [Welldone imported government]" turned up 102 posts on Facebook which received 4,322 interactions over the seven-day period leading up to 31 May 2022. 
On Facebook, the photo was shared here, here, here, here and here. It was also shared on a handful of groups; here, here and here.
The analysis revealed that Dunya Ki Khabar's post is performing 1.56x better than other similar posts on Facebook with 310 likes and 313 shares. 
The oldest post dates back to 26 May 2022.
On Twitter, Khan's tweet sharing the image gained significant traction with 38,100 likes, 18,100 retweets and 1,131 quote tweets.
Conclusion: The image shared by journalist Imran Riaz Khan does not show a pile of tear gas used by police to disperse protestors at PTI's Long March. It is in fact an old photo from 2014 when Nawaz Sharif was in power.