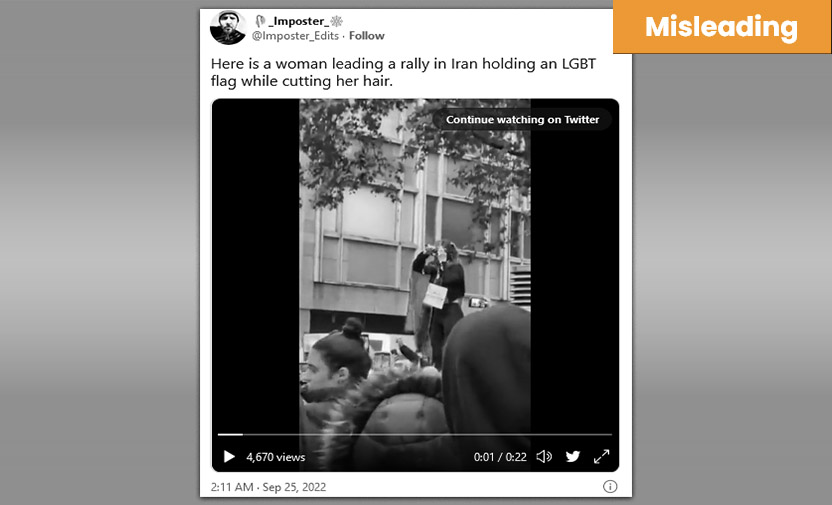 Video of woman cutting hair at a protest is not from Iran
Protests in Germany shared as video from Iran
Claim: A social media video claims that it shows a woman cutting her hair and protesting in Iran.
Fact: The claim is misleading. The video is from Germany, where protesting in solidarity with Iranian women.
On 25 September 2022, a Twitter user posted a video with the caption "Here is a woman leading a rally in Iran holding an LGBT flag while cutting her hair."
The 20-second video shows people protesting in a crowd and a woman chanting slogans while cutting her hair.
The video went viral amid the ongoing protests in Iran after the death of a woman in police custody. The anti-government demonstrations have spread to more than 80 cities and towns across Iran since the funeral of Mahsa Amini on 17 September.
Fact or Fiction?
At the video's 1-second mark, a building can be seen with the name "Karstadt" written on it. A keyword search on Google shows that Karstadt is a departmental store chain in Germany. As of 30 July 2016 the company had 114 stores in Germany.
A Google Lens search of the Karstadt keyframe from the video showed the image source from GALERIA Hamburg Mönckebergstraße, Germany.
Further search shows a Persian language tweet of the same protest. The 1-minute video is recorded from a different angle but on the same location and the caption states it took place in Hamburg, Germany.
A German journalist Bamdad Esmaili posted the same video on Twitter with the caption "@Hamburg, demonstration against the regime in #iran".
The same video with misleading claim can be found here on Facebook and here on Twitter.
Conclusion: A video of a woman cutting her hair during a protest is not from Iran. The protest was organised in Hamburg, Germany in solidarity with Iranian women.