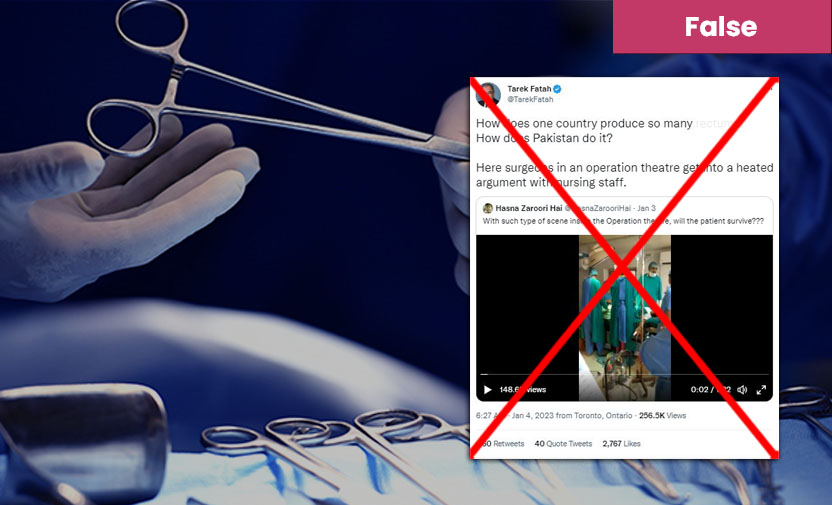 Video of doctors arguing in OT is from India, not Pakistan
The video was shot in Jodhpur in August 2017
Claim: A video shows surgeons arguing with nursing staff inside an operation theatre in Pakistan. 
Fact: The video depicts an incident from Umaid Hospital, Jodphur, Rajasthan in India in August 20177. It is not from Pakistan. 
Fact or Fiction?
On 4 January 2023, Pakistani-Canadian columnist Tarek Fatah retweeted a video claiming that it shows surgeons in an operation theatre getting into a heated argument with nursing staff at a hospital in Pakistan.
Soch Fact Check found the claim to be false. A Google Reverse Image Search of keyframes led to an article titled, "India doctor fight during operation goes viral" published by BBC News on 30 August 2017.
The article states that the footage, which shows "doctors arguing while standing over a pregnant patient during an operation", is from the Umaid hospital in Jodhpur, north Rajasthan, India. After the video caused outrage, two doctors in India were temporarily released from their duties.
Other publications, including NDTV, Indian Express, Hindustan Times and Deccan Herald, also reported on the incident. 
Virality
Soch Fact Check conducted a CrowdTangle analysis for the three-day period leading up to 6 January 2023 using the following search term:
Surgeons in an operation theatre get into a heated argument with nursing staff



The search terms turned up one post with eight interactions. The claim was found here on Facebook.
On Twitter, it was shared here, here, here and here.
The video also surfaced on social media in 2020. It was shared here with the claim that it shows doctors arguing in an operation theatre at Karachi's Jinnah Hospital.  
Conclusion: The video is not from Pakistan. In fact, it is from Jodhpur's Umaid Hospital in India when doctors got into an argument while standing over a pregnant patient during an operation in August 2017.