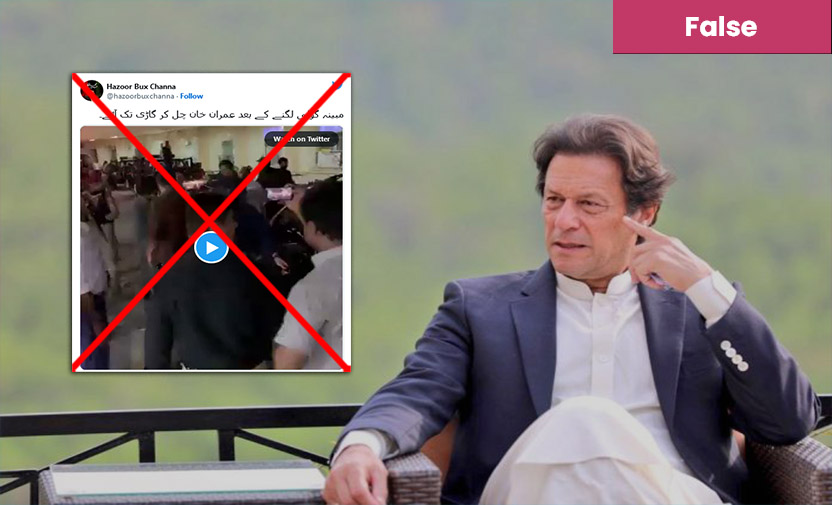 Video does not show Imran Khan walking out of hospital after getting shot
Old video from Civil Aviation visit resurfaced after the assassination attack
Claim: A video shared on social media after PTI Chairman Imran Khan was attacked in Wazirabad claims that it shows Khan walking out of the hospital after he sustained bullet injuries.
Fact: The video is old and resurfaced after the attack. The Pakistan Civil Aviation Authority building can be seen behind Khan in the video, not Shaukat Khanum Hospital.
On 3 November 2022, a Twitter user shared a video claiming that it shows Pakistan Tehreek-e-Insaf (PTI) Chairman Imran Khan walking out of Shaukat Khanum Cancer Hospital (SKCH) on the evening of the day his rally was attacked in Wazirabad. Khan was on his way to Islamabad, along with other long march participants, when his vehicle was attacked. Six party members were injured and one person died during the attack.
Fact or Fiction?
Soch Fact Check found the claim false as the video does not show Khan at SKCH. The building shown in the 7-second clip is a Pakistan Civil Aviation building, not SKCH. However, Soch Fact Check cannot confirm when the original video was shot outside the Civil Aviation building.
Soch Fact Check also spoke to the Shaukat Khanum officials and saw patient notes that confirmed that Khan remained in the hospital and was operated on the same night. Later, he conducted a press conference from the hospital on 6 November 2022.
Virality
Soch Fact Check conducted a CrowdTangle analysis for the 30-day period from 15 October to 16 November using the following search terms:
"مبینہ گولی لگنے کے بعد عمران خان چل کر گاڑی تک آئے"
The search term received 1,102 interactions across 19 posts on Facebook. The misleading video can be found here, here, here, here, here and here.
On Twitter, the video garnered 127.2k views, 950 retweets and 2,320 likes. It is also available here, here, and here.
Conclusion: The video of PTI chairman Imran Khan walking out of hospital despite being shot in his legs is false. The video is old; the building behind Khan is the office of the Civil Aviation Authority not Shaukat Khanum Hospital.