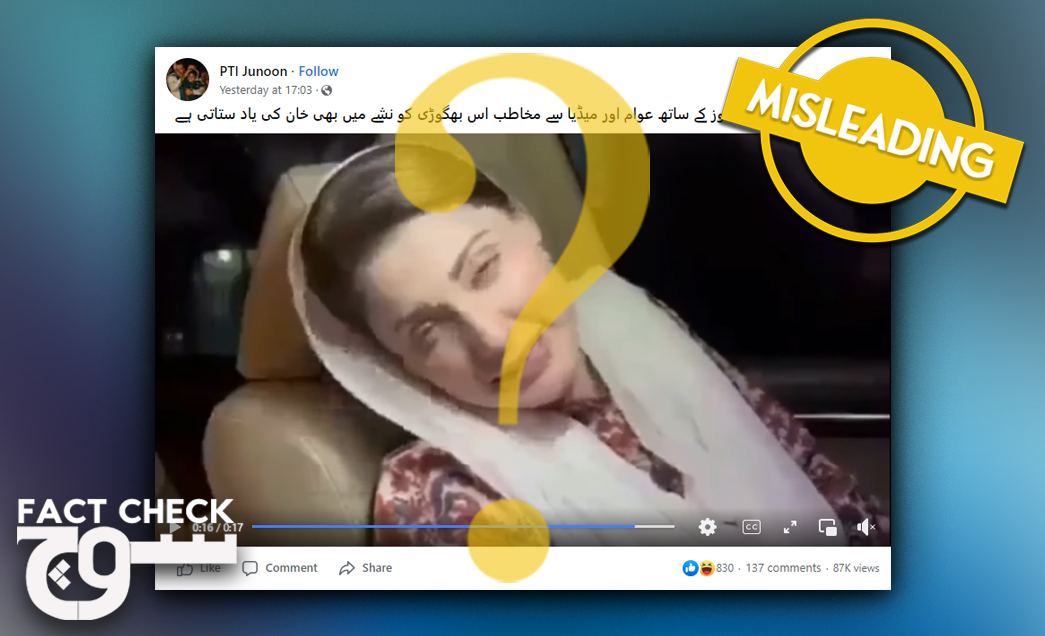 Video allegedly showing Maryam Nawaz intoxicated is doctored
Facebook user claiming to work for Meta first posted the doctored video
Claim: A video circulating online shows Pakistan Muslim League-Nawaz (PML-N) vice president Maryam Nawaz Sharif giving a video statement against Prime Minister Imran Khan while in a state of intoxication.
Fact: Maryam Nawaz's video statement was not recorded while she was intoxicated.
A video on Facebook allegedly showing Maryam Nawaz Sharif giving a statement against Imran Khan whilst intoxicated is doctored. The clip has intentionally been slowed down, making it look like PML-N vice president was intoxicated while delivering her statement.
The video has been shared on social media with a variety of different captions including:
نانی 420 شہد کی اوور ڈوز کے ساتھ عوام اور میڈیا سے مخاطب اس بھگوڑی کو نشے میں بھی خان کی یاد ستاتی ہے"
[Granny 420 (derogatory title aimed at her age) overdosed on honey addressing public and media. This deserter remembers (Imran) Khan even in an intoxicated state]

"

"

Patwarion hosh karo ap logon ki nani nashe men h si ko hush me lao [Patwarion (a political slang used against PML-N workers) wake up, your granny is intoxicated. Bring her to senses]
"–شراب حلال ھوگیی ملانہ فضلورحمان ملاقات کے بعد [

Alcohol has become halal after meeting with Maulana Fazlur Rehman

]"
Quoting a tweet—with 844 retweets and 1,317 likes—that included the doctored clip, the political secretary to Maryam Nawaz Sharif, Zeeshan Malik, shared the original video. In his tweet, Malik wrote in Urdu:
"لانگ مارچ کے دوران یہ رات ساڑھے تین بجے کے قریب انٹرویو دیا گیا تھا اور اس سے پہلے وہ دو جگہ پر تقریرکر چکی تھیں جس کی وجہ سے ان کا گلہ خراب تھا آپ ویڈیو کو ایڈیٹ کرکے شئیر کر رہی ہیں دونوں ویڈیوز میں فرق صاف ظاہر ہے آپ کے خلاف ایف آئی اے سائبرکرائم میں رپورٹ درج کروائی جائے گی
[This interview was given at 3:30 AM during the Long March and she (Maryam Nawaz) had given a speech at two locations because of which she had developed a bad throat. You are sharing this video after editing it. The difference between the two videos is very clear. A report will be filed against you at the FIA (Federal Investigation Agency) Cyber Crime Wing."
Malik shared the original video directly with Soch Fact Check as well and confirmed that the viral clip was doctored. The accounts that shared the doctored video were being reported to the FIA, he said.
Virality
A CrowdTangle analysis with the search term, "شہد کی اوور ڈوز کے ساتھ عوام اور میڈیا سے مخاطب [Addressing the public and media after an overdose of honey]," shows that 64 posts carried the video on Facebook, receiving 2,980 interactions.
The post with the most interactions has been viewed 86,000 times and shared 1,400 times.  An account run by Facebook user Muhammad Yaseen Jutt—who claims in their bio that they work for Meta (Facebook's parent company)—posted the video first at 3:05 PM on 30 March 2022.
The video was also shared in groups—including here, here, and here—by Facebook user Bilawal Shareef around 3:35 PM on 30 March 2022. The clip was also shared here, here, here, and here.
Conclusion: The viral video of Maryam Nawaz's statement regarding Prime Minister Imran Khan has been slowed down to mislead viewers into thinking that she was intoxicated at the time.