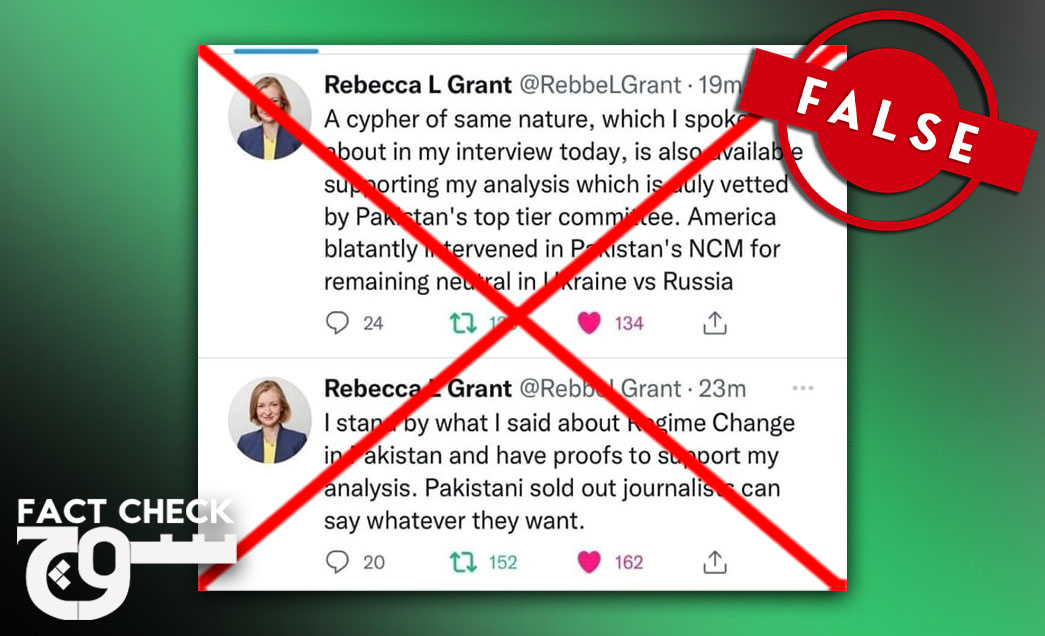 US security analyst did not tweet about regime change in Pakistan
Fake Twitter accounts attribute tweets to Rebecca Grant after a recent interview
Claim: A tweet attributed to American security analyst Rebecca L Grant states that America intervened in Pakistan's internal politics "for remaining neutral" in the Ukraine-Russia conflict. The tweet also claims that Grant has proof to back up her claims and that Pakistani journalists are not telling the truth about the regime change in Pakistan.
Fact: The tweets are false. After Grant's interview, multiple fake accounts emerged on Twitter purporting to be Grant with different usernames and the same tweet was posted from each account.
Fact or Fiction?
On 3 May 2022, a screenshot of tweets attributed to American national security analyst Rebecca L Grant started going viral on social media; the tweets claimed that America interfered in the no-confidence motion against PM Imran Khan in retaliation for Pakistan's neutrality in the Ukraine-Russia conflict.
The tweets started gaining prominence after Grant's interview on the show "Sunday Night in America with Trey Gowdy". In her interview, Grant argued that Pakistan should avoid the anti-American policies that were "part of the reason that Imran Khan… got voted out of office" and support Ukraine in the war against Russia. Grant did not state that the American government was behind the ouster of former PM Imran Khan.
After video of Grant's interview was released, different accounts purporting to be her started making the rounds on Twitter. Soch Fact Check received multiple images of the same statement tweeted by different usernames including @RebbelKR @RebbelKJ and @RebbeLGrant. The pictures of the tweets can be seen below:
However, the claim is false as Grant made no such statement on Twitter or any other social media platform. Grant's real Twitter account can be found here. The fake Twitter accounts have been suspended.
The profile image used on the Twitter accounts @RebbelKR and @RebbelKJ is not even a picture of Grant. A reverse image search shows that the woman in the profile picture is Dr Alexandra Phelan, assistant professor at Georgetown University. Her verified Twitter account can be found here.
Virality
Soch Fact Check conducted a CrowdTangle analysis to assess the virality of the post. A keyword search for the following term was carried out:
"I stand by what I said about Regime Change in Pakistan"
The keyword garnered 23,400 interactions across 200 Facebook posts from 3 May – 21 May 2022.
The posts shared here, here, here, here, here, here, here, here, here and here received the most engagement on Facebook.
The verified page of PTI member Alamgir Khan also shared the fake tweet here.
 Conclusion: US security analyst Rebecca L Grant did not tweet about the no-confidence motion and political change in Pakistan. The tweets came from accounts that appeared to be impersonating Grant.