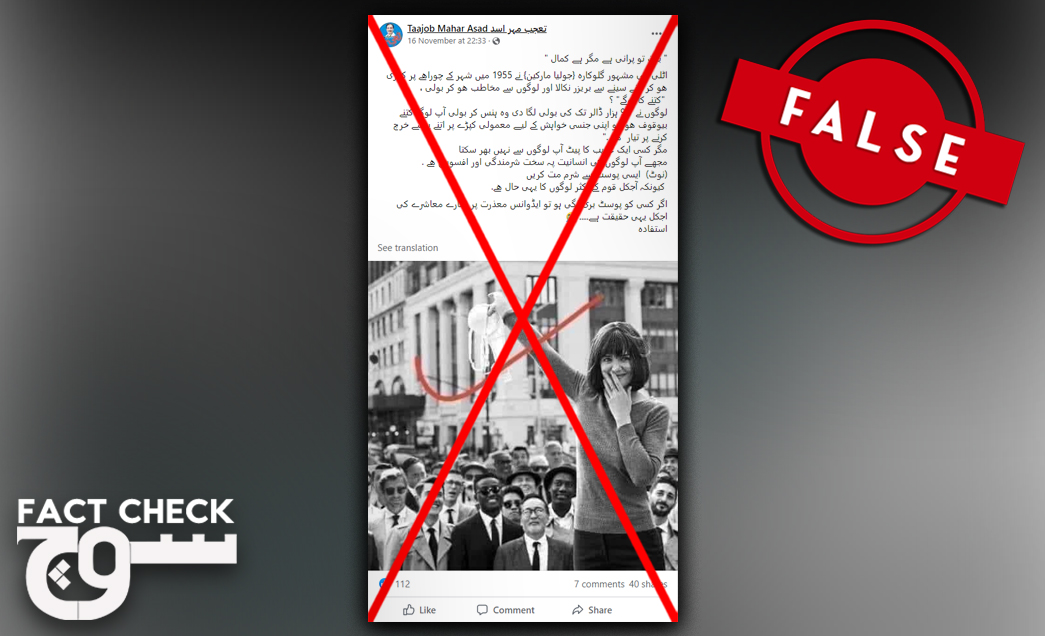 This is not an Image of an Italian singer selling her bra
Posts wrongly claim viral image is of Italian singer selling her bra
Claim: A viral image depicts Italian singer Julia Markin holding up her bra and asking people in a crowd how much they would be willing to pay for it.
Fact: The image is in fact of Hollywood actress Katie Holmes re-enacting a scene from a historic protest.
A facebook account run by user Taajob Mahar Asad shared an image with an Urdu caption that claims the picture is from 1955 when Italian singer Julia Markin "stood at a crossroads in the city, took out her bra and asked the crowd about how much they were willing to pay for it. When someone in the crowd said 90 dollars, Markin laughed and said you should be ashamed of yourself. You are willing to pay 90 dollars for a piece of worthless clothing because of your sexual desires yet you won't feed a hungry person on the streets."
The picture has been shared here, here, here and here along with the same caption and has also been part of a Sindhi explainer on Youtube.
The picture is, in fact, of Hollywood star Katie Holmes who was, in her own words, re-enacting a scene from a "bra-burning protest from the seventies". The picture was shot for an article in high street magazine Harper's Bazar. The protests refered to started as feminist prostests in the United States around 1968 and continued into the early seventies. Holmes was recreating a particular image that was taken outside a department store in San Francisco in 1969. The original image is also provided in the Harper's Bazar article. Footage of the protests has also been archived by San Francisco State University.
Conclusion: The claim that the person in the shared picture is Italian singer Julia Markin is false. The image is in fact of Katie Holmes recreating a photo from feminist protests in San Francisco in 1969.