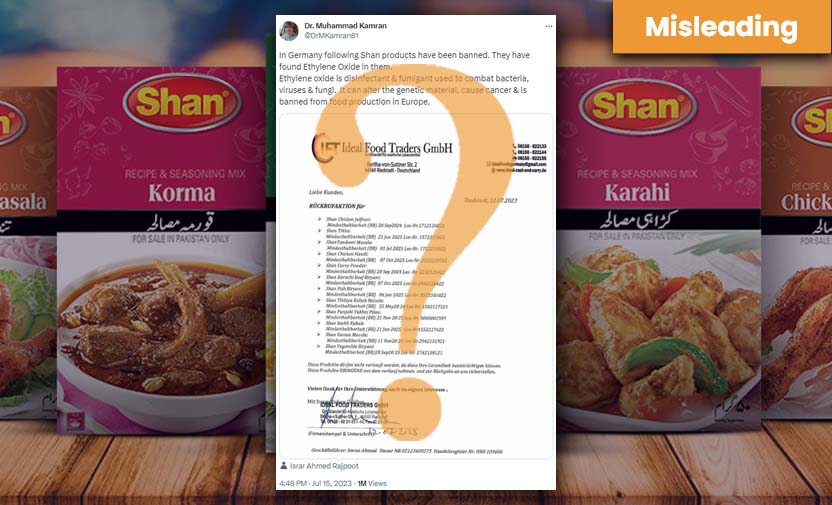 Some Shan spices have been recalled in Germany, not banned
Authorities say that these spices contain ethylene oxide
Claim: Germany has banned at least 12 spices manufactured by Shan Foods after ethylene oxide was found in it. 
Fact: At the time of publishing, Shan Foods' spices have not been banned in Germany. At least 12 spices with specific batch dates have been recalled after the authorities issued a warning that these products contain ethylene oxide.
Fact or Fiction?
On 15 July 2023, Dr. Muhammad Kamran (@DrMKamran81) posted a notification on Twitter with the claim that some Shan Foods' products have been banned in Germany after ethylene oxide was found in it.
"In Germany following Shan products have been banned. They have found Ethylene Oxide in them. Ethylene oxide is disinfectant & fumigant used to combat bacteria, viruses & fungi. It can alter the genetic material, cause cancer & is banned from food production in Europe," his tweet reads.
The notification issued by Ideal Food Traders, a German wholesaler of Asian foods, states that the following products with specific best-before dates must be recalled, urgently removed and stopped from being sold in the market as it may affect people's health:
Shan Tikka

Shan Tandoori Masala

Shan Chicken Handi

Shan Curry Powder

Shan Karachi Beef Biryani

Shan Fish Biryani

Shan Tikkiya Kabab Masala

Shan Punjabi Yakhni Pilau

Shan Seekh Kabab

Shan Garam Masala

Shan Vegetable Biryani
The notification does not mention any ban or that disinfectants or other toxic substances were found in these products. To investigate the veracity of the claim, Soch Fact Check reached out to Ideal Food Traders on Facebook.
They told us that only the products mentioned in the notification with the stated batch numbers are being recalled or stopped from being sold and all other Shan products are suitable for use and sale.
Soch Fact Check searched Google with the search term, "Shan-Produkte in Deutschland verboten [Shan products banned in Germany]." It led us to an article published by Frankfurter Rundschau, a German daily newspaper based in Frankfurt, titled, "Großer Gewürz-Rückruf wegen krebserregender Inhaltsstoffe: Weitere Produkte betroffen [Major spice recall due to carcinogenic ingredients: Other products affected]".
The article states that several spice mixtures have been recalled in Germany after The Federal Office for Consumer Protection and Food Safety (BVL) warned consumers that these products may contain residues of ethylene oxide. 
Soch Fact Check found that the internet portal lebensmittelwarnung.de added information about at least 12 spices by Shan Foods on 10 and 11 July 2023. The reason for the warning given is that these products contain residues from plant protection products and pesticides, "ethylene oxide".
An alert was also issued for Shan's Lahori Chargha spice on 30 June 2023, citing the same reasons.
On the website, consumers can find an overview of alerts and recall information concerning food, cosmetics, tattoo and consumer products issued in Germany. These recalls and alerts concern already distributed products that may have already reached the consumers and pose a health risk.
Star Food Impex, an international food wholesaler based in Germany and also the distributor of the products in question, had requested to remove the Fish Biryani spice by Shan Foods from being sold in the market in June 2023 after a report by the Institute for Hygiene and the Environment in Hamburg found that the product contains increased levels of ethylene oxide.
According to the German Federal Institute for Risk Assessment (BfR), ethylene oxide is banned in food in Germany. The BfR states: "The use of ethylene oxide in food production is prohibited because the substance can have a mutagenic and carcinogenic effect." It can only be used in the field of disinfection and sterilization outside of the food sector. 
Shan Foods' PR team confirmed to Soch Fact Check that the company's products have not been banned in Germany.
Virality:
On Twitter, the claim was also shared by journalists, including Hamid Mir and Sami Ibrahim, as well as parliamentarian Rabia Zafar Nizami.
It was also posted here, here, here, here and here on the social networking site.
The tweet by @DrMKamran81 gained significant traction with one million views, 573 likes, 423 retweets and 87 quotes.
The claim can be found here, here, here, here, here and here on Facebook.
Conclusion: Some Shan spices have been recalled in Germany after the authorities issued a warning that they contain ethylene oxide, but it has not been banned in the European country.