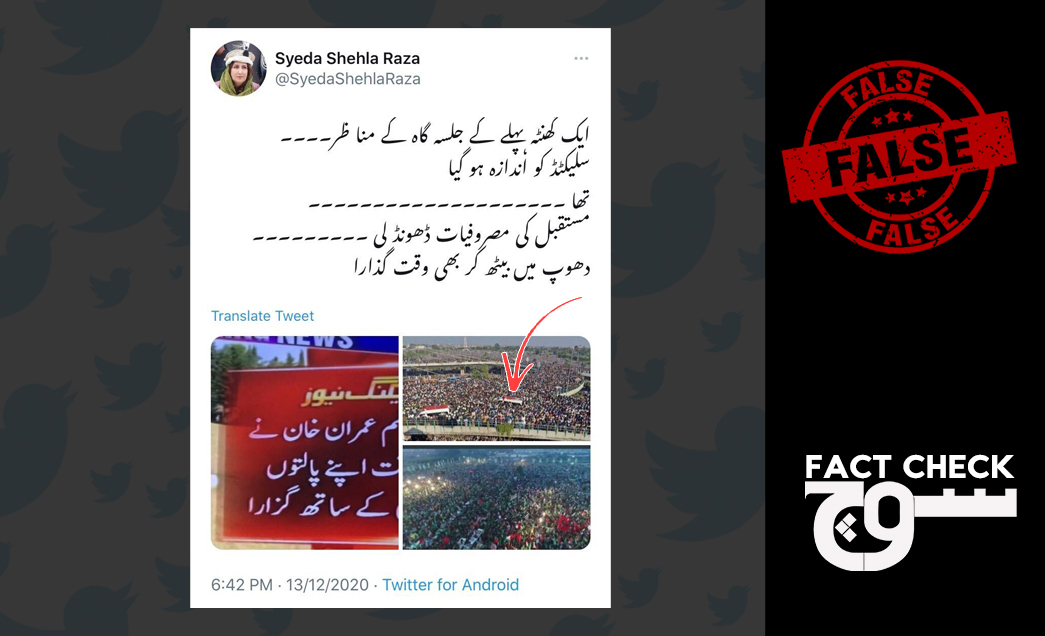 Shehla Raza posts photo of Khadim Rizvi's funeral instead of Lahore PDM Rally
Claim: Shehla Raza tweeted three photos of the 13 December PDM rally in Lahore.
Fact: One of these pictures is from Khadim Hussain Rizvi's funeral.
Member of the Pakistan Peoples Party, Minister For Women Development Sindh and Ex-Deputy Speaker Provincial Assembly of Sindh, Syeda Shehla Raza posted a tweet on 13 December 2020, claiming that these photographs were taken one hour before the beginning of the Pakistan Democratic Movement's rally being held at the Greater Iqbal Park which hosts the Minar-e-Pakistan, on the same day.
The tweet translates to "View of the venue for the rally an hour before it starts. The selected must have guessed. They found a hobby for the future. We have spent time sitting in the sun." Soch Fact Check confirmed that one of the images was posted is actually a photograph from Khadim Rizvi's funeral.
A simple Google Reverse Image Search clarified that this photograph was taken earlier in November 2020 at the funeral of Tehreek-e-Labbaik leader Khadim Hussain Rizvi. The image was posted on the website of Samaa TV on 21 November 2020.
In response to her tweet, a Twitter user commented that she had shared fake pictures of the PDM rally. Shehla Raza replied to this tweet admitting she was mistaken, saying "Just took one picture from the social media because in fact, I did not know since I am in Karachi. But the PTI is angry at the criticism of The Selected's future engagements." [translation]
Background
The PDM consists of 11 political parties, including the PPP, PML-N, and JUI-F. They planned to end their tour on December 13, with a large gathering in Lahore, in the hope that the PTI government will not be able to withstand a 3 month-long protest against its legitimacy.
In light of this, the movement has now announced that all the national and provincial lawmakers belonging to its constituent parties will hand over their resignations individually to the heads of their parties by Dec 31. CM Sindh Murad Ali Shah has also submitted his resignation to PPP Chairman Bilawal Bhutto Zardari who has announced that the final decision in this regard will be made on 27 December r2020.
In this political atmosphere, it is possible, and likely, that supporters on either side may share misinformation and disinformation about the progress of the movement.
Summary: PPP leader Syeda Shehla Raza posted a photograph of the Lahore PDM rally on 13 December 2020. However, Soch Fact Check discovered that this image is originally from the funeral of TLP leader Khadim Hussain Rizvi.