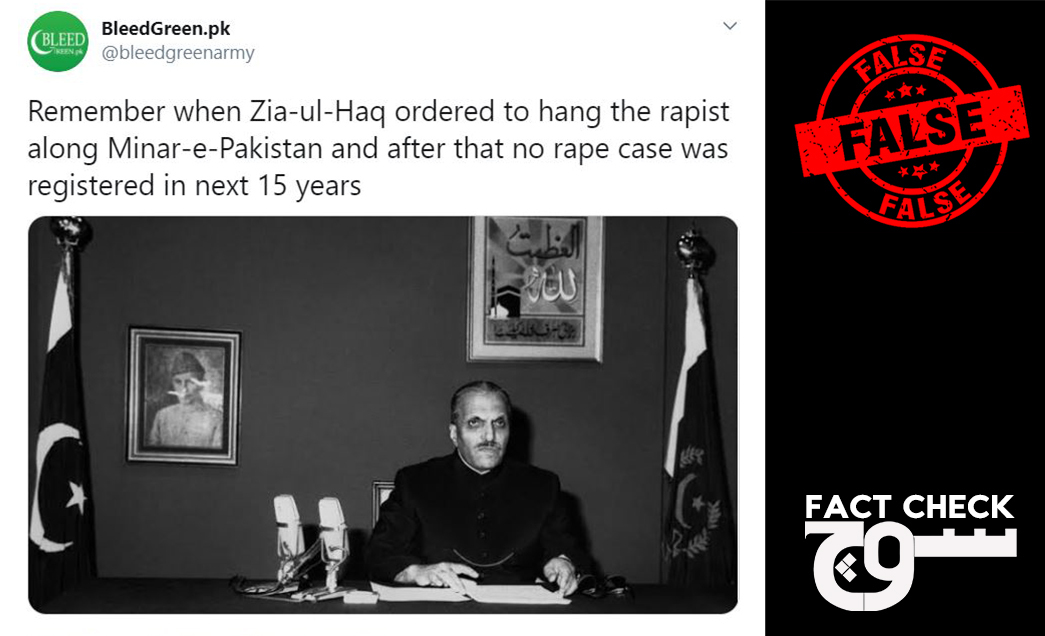 Public hanging during Zia's regime did not eliminate rape
Claim: No incidents of rape were reported after a rapist was publicly executed in 1983 during General Zia ul Haq's regime.
Fact: Several incidents of rape were reported after the public execution.
On 10 September, a woman was gang-raped in front of her children on the Lahore-Sialkot motorway. Following this incident, calls to publicly hang rapists became dominant within the public discourse.
Many people justified the need for capital punishment by citing an incident during General Zia ul Haq's reign where a (1977-1988), where a child rapist and murderer was publicly executed in 1983. There are several variations of the claim; some state that this public execution deterred any instances of rape from happening throughout General Zia's tenure, others say that no rape took place for ten years to fifteen years. Some versions of the claim say no incidents of rape were reported to the police during this period of time, while others state no rape took place at all.
However, Soch Fact Check found all these claims to be false. A public execution did take place in 1983, after the body of a young boy from Lahore was found. The boy, Pappu, had been sexually assaulted and then murdered, and the perpetrators were hanged publicly. However, false information regarding the implications of this incident has been circulating on social media, which in turn informs public opinion.
The Justice Project Pakistan, which is a non-profit organization that provides legal aid to vulnerable prisoners and advocates on their behalf, recently posted their findings on Twitter noting that this claim is false. They stated that eleven cases of rape committed against minors were reported between 1983 and 1992.
Saroop Ijaz, Senior Counsel for Human Rights Watch wrote for Dawn.com that after the public execution of the rapist in Zia's regime (1983), the body was hung for an entire day as a spectacle. Despite this, contrary to the claim, between 1983 to 1992, eleven cases of rape were recorded against minors. An article from The News also confirmed this and added that at least four of these cases were reported in the city where the public execution took place.
Soch Fact Check accessed the Human Rights Commission Pakistan's (HRCP) Archives for news reports from General Zia ul Haq's regime, and found three newspaper clippings reporting rape cases reported in 1984 and 1989. (find attached below)
On 17 May, 1984 a news clipping reported that in Multan, three men were charged with assault and abduction of a thirteen year-old. In 1989, a four year-old girl was raped and a case was registered by the Islampura police. On 15 August, same year, an eleven year-old was also reported to have been raped.
It is also important to note that Zia ul Haq passed the Offence of Zina (Enforcement Of Hudood) Ordinance in 1979 and made it compulsory by law for a rape survivor to produce four male witnesses in order for the case to be reported as 'rape', failure to do so would result in the case to be reported as 'adultery', which was a severely punishable offence. This draconian law prevented women from reporting incidents of rape.
Explaining this sentiment in her paper, Dr Rahat Imran, quotes the words of Tariq Rehman, a South Asian scholar and linguist: "What happened under Zia ul Haq was that if a woman delivered it was considered proof enough, and she could be given the maximum punishment for adultery. This could mean…that raped women could be punished, while rapists went scot-free. Moreover, as the evidence of women was not admissible, a rapist could rape a girl in a girl's hostel and still not get the maximum punishment, while the girl stood guilty".
In light of the recent motorway incident, and the popular call to hang rapists, the claim about Zia's decision to publicly execute a rapist preventing rape for a number of years has become extremely relevant. False information in this regard informs public opinion and shapes the country's approach towards addressing the condition of legal recourse for sexual assault.
Summary: Soch Fact Check discovered the claim about state-mandated public execution of a rapist during General Zia's regime leading to the elimination of rape from society, to be false. There were several instances of rape reported during his tenure, and ten to fifteen years after the public execution.
Research Associates: Areeba Fatima, Ammar Zardari