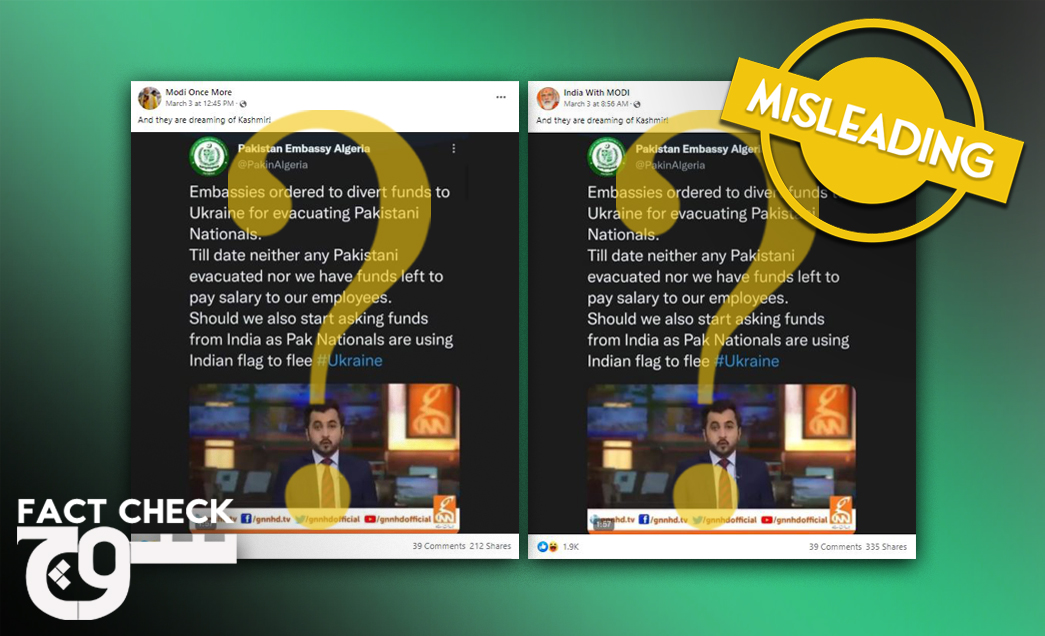 Posts carry Pakistan Embassy Algeria's hacked account's tweet as news
The tweet is about the evacuation of Pakistani students from Ukraine
Claim: Pakistan's embassies in Europe have been ordered to divert funds to Ukraine to evacuate Pakistani nationals from the war-torn country as no Pakistanis have been evacuated so far. The embassies are in need of funds; they cannot even afford to pay salaries to their employees. 
Fact: The official Twitter account of Pakistan's Embassy in Algeria (@Pakinalgeria) did share the above in a post on 2 March 2022, however, the Foreign Office has clarified that the account was hacked at the time.
Fact or Fiction?
On 3 March 2022, Facebook page Organiser Weekly shared a screenshot of a tweet which read, "Embassies ordered to divert funds to Ukraine for evacuating Pakistani Nationals. Till date neither any Pakistani evacuated nor we have funds left to pay salary to our employees. Should we also start asking funds from India as Pak Nationals are using Indian flag to flee #Ukraine."
Multiple other pages apparently based in India shared the claim including here, here, here, here and here, among others. 
The tweet, which has now been deleted, was shared from the Embassy of Pakistan in Algeria's account at 7:01 AM on 2 March 2022. The tweet contains a clip of a report by news channel, GNN.
The claim is misleading because the Foreign Office issued a clarification on 2 March 2022 stating that the social media accounts of Pakistan's Embassy in Algeria have been "hacked" and the post was not published by the embassy. 
"The Twitter, Facebook and Instagram accounts of the Embassy of Pakistan in Algeria have been hacked," the spokesperson of the Ministry of Foreign Affairs said on Twitter.
The Pakistan Embassy Algeria reiterated that the "baseless and unwarranted news/stories" spread through their hacked account have "no truth in them". It also stated that the embassy's account was restored on 2 March 2022 at 1000 hours Algerian Standard Time. 
As far as the evacuation of Pakistanis from Ukraine is concerned, the Pakistan Embassy in Ukraine says they have evacuated 98% of its citizens as of 4 March 2022. Soch Fact Check has not independently verified this number.
Virality
According to a CrowdTangle analysis conducted by Soch Fact Check, the search term "Pakistan embassy Algeria" turned up 87 posts on Facebook which received a cumulative 8,606 interactions over the thirty days leading up to 10 March 2022.
Organiser Weekly's post received 116 likes and 49 shares, India with MODI's post received 1,900 likes and 335 shares and Modi Once More's post received 1,300 likes and 213 shares.
Meanwhile, Op India's post is performing eight times better than other similar posts on Facebook, with 1,300 likes and 126 shares. Their Facebook page carried the story with the headline, "Pakistan embassy deletes tweet after suggesting their govt to seek funds from India to pay salaries." The Indian right-wing news portal's website used the headline, "'Students already using Indian flag to escape from Ukraine, ask funds from Indian govt to pay our salaries': Pakistani embassy tweets."
The claim was also shared by different Twitter accounts.
Conclusion: The posts carrying claims about the evacuation of Pakistanis from Ukraine are misleading as they are based on a tweet posted by the Pakistan Embassy Algeria's account when it was hacked. A March 4 update states that the Embassy of Pakistan Ukraine has safely evacuated 98% Pakistanis from the war-torn country. However, Soch Fact Check has not independently verified the number of Pakistanis evacuated.