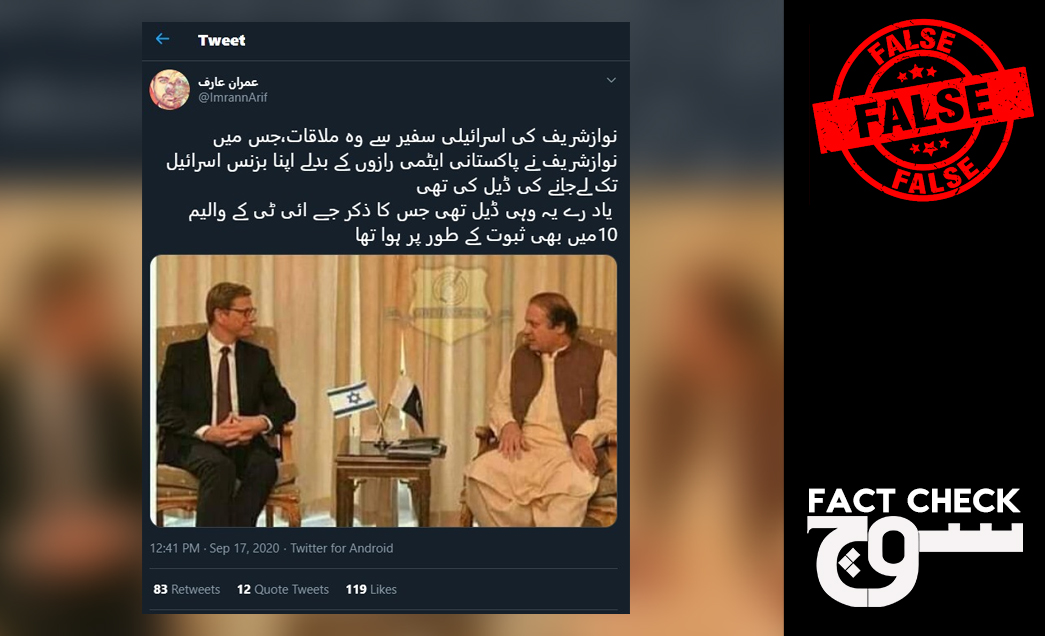 Photo of Nawaz Sharif meeting Israeli Ambassador is doctored
Claim: A picture is being shared on social media apparently showing Nawaz Sharif meeting with the Israeli Ambassador during his tenure. 
Fact: The picture is doctored; the original image shows Nawaz Sharif meeting the German Foreign Minister Guido Westerwelle on June 8, 2013.
An image was shared on Twitter on September 17, apparently showing former Prime Minister Nawaz Sharif meeting an Israeli diplomat. The photo featured an Israeli flag alongside the Pakistani flag.
The tweet also claims that the photo is from the meeting where Nawaz Sharif shared secrets about Pakistan's nuclear program to Israel so that he could expand his business into Israel. The tweet goes on to allege that the business he wanted to expand to Israel is the same business mentioned in the JIT report. This news comes amidst the ongoing controversy surrounding Sharif's Panama Papers case.
Soch Fact Check found that the image in question has been doctored. A Google Reverse Image Search revealed that the original photo was uploaded by Getty Images and features Nawaz Sharif meeting the German Foreign Minister during a meeting at the Prime Minister House in Islamabad on June 8, 2013.
Research Associate: Rahul Hasnain