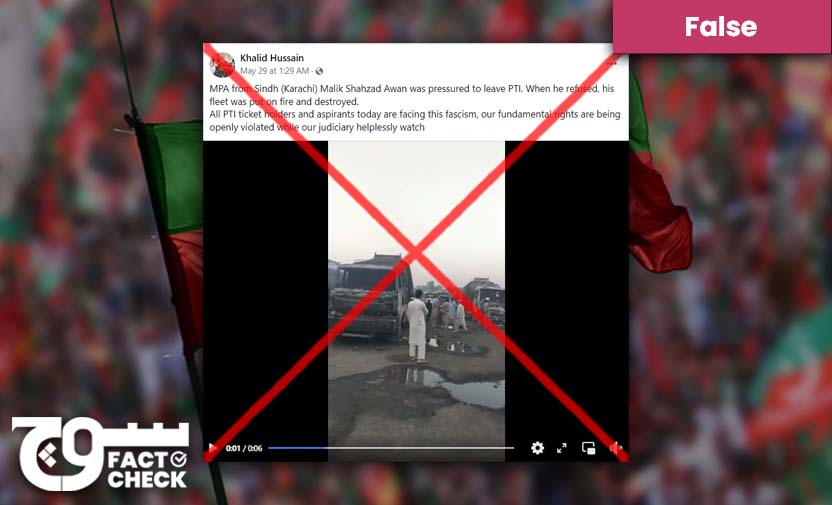 Old video wrongly linked to PTI lawmaker's fleet being burned
The video is from Nowshera district, Peshawar
Claim: A video shows the oil fleet of Pakistan Tehreek-e-Insaf (PTI) MPA from Sindh being set on fire and destroyed because he refused to quit the party. 
Fact: The video is from 1 May 2022, when a massive blaze engulfed the Tarojaba oil depot in Nowshera district, Peshawar.
Fact or Fiction?
The former prime minister and PTI chief Imran Khan posted a video recently on Twitter claiming that it shows his party's MPA from Sindh Malik Shahzad Awan's fleet being put on fire and destroyed after he refused to leave PTI.
"Our MPA from Sindh (Karachi) Malik Shahzad Awan was pressured to leave PTI. When he refused, his fleet was put on fire and destroyed. 
All PTI ticket holders and aspirants today are facing this fascism, our fundamental rights are being openly violated while our judiciary helplessly watch," the now-deleted tweet reads.
A keyword search on Facebook turned up multiple videos posted on 1 May 2022, including here, here, here and here.
The caption of the posts suggests that multiple oil tankers were completely burnt due to a fire in the Tarojaba oil depot in the Nowshera district. 
The comparison visual below highlights some markers that show similarities in both.
Soch Fact Check found that Dawn also reported on the incident on 1 May 2022. Their report states that a massive blaze gutted at least 20 oil tankers and one person was injured, according to police.
Virality:
Soch Fact Check found the claim was posted here and here on Facebook.
The video was also shared by PTI's official account on Twitter but the tweet was taken down later.
Conclusion: The viral video is unrelated to the PTI lawmaker. In fact, it shows a massive blaze engulfing an oil depot in Nowshera district, Peshawar, in May 2022.