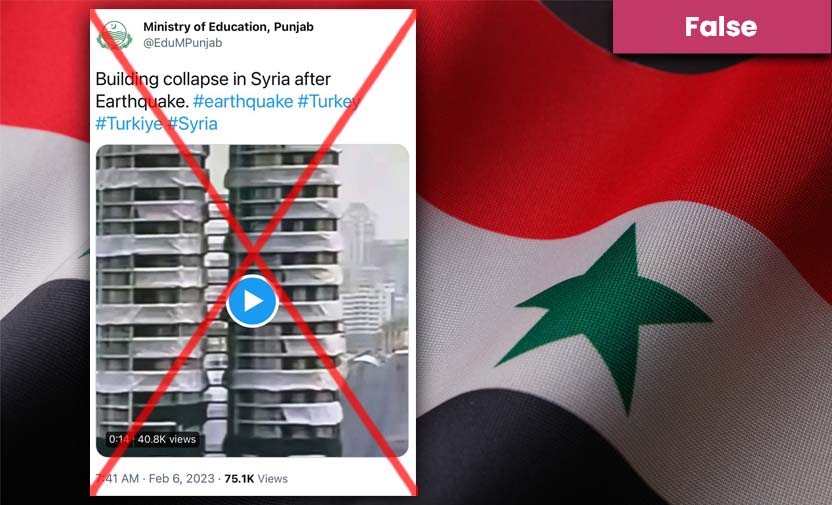 Old video from India wrongly linked to earthquake in Syria
It shows demolition of twin towers in Noida, Uttar Pradesh in 2022
Claim: A video shows a building in Syria collapsing after the massive earthquake that struck Syria and Turkey on 6 February 2023.
Fact:  The clip is, in fact, from 2022 and shows the demolition of the Supertech twin towers in Noida, Uttar Pradesh, India.
A massive 7.8 magnitude earthquake struck southeastern Turkey and northwestern Syria in the early morning of 6 February 2023, killing over 50,000 people and injuring tens of thousands.
Fact or Fiction?
On 6 February 2023, a Twitter user @EduMPunjab posted a video claiming that it shows a building collapsing in Syria after the earthquake. 
The tweet was captioned as follows:
"Building collapse in Syria after Earthquake. #earthquake #Turkey #Turkiye #Syria"
An Indian journalist Richa Lakhera pointed out in the comments that the video shows a "controlled demolition of Noida twin towers in India".
Taking a cue from this, Soch Fact Check searched Twitter with the keywords "Noida twin towers" and found a similar video posted by NDTV on 28 August 2022.
"Watch: Noida Twin Towers Demolished #TwinTowersDemolition, " the tweet reads.
NDTV also posted the video on YouTube stating that the Supertech twin towers in Noida were brought down in a massive explosion lasting about nine seconds.
The twin towers in Noida, Uttar Pradesh, were demolished on the orders of India's Supreme Court because of serious violations of building codes. 
Virality:
The video posted by the Twitter user — @EduMPunjab — gained significant traction, with over 40,800 viewing the video, as well as 62 retweets, and 89 likes, as of writing time.
In the context of the earthquake in Turkey and Syria, the user shared several other misleading and false videos. Their account has now been suspended. 
Conclusion: The video was not shot in Syria. In fact, it shows the 28 August 2022 demolition of the twin towers in Noida, Uttar Pradesh, India. 
---
Background image in cover photo: Engin Akyurt