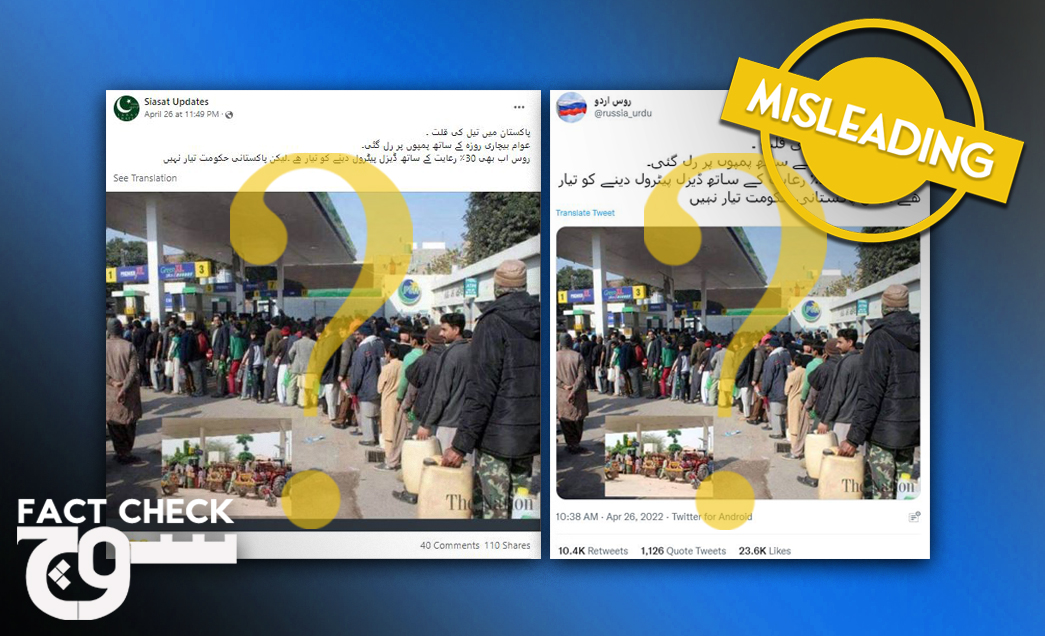 Old photo linked with claims of fresh fuel crisis in Pakistan
The photo is from 2015.
Claim: A photo circulating on social media shows people queuing up at petrol pumps as Pakistan faces a fuel shortage. 
Fact: The photo is actually from January 2015. It shows people standing in a long queue to buy petrol at a fuel station in Lahore as the city faced an acute shortage of petrol. 
Fact or Fiction?
On 26 April 2022, Facebook page Siasat Updates shared a photo with the claim that people are suffering at fuel pumps during Ramzan in the midst of a fuel shortage in Pakistan.
The photo depicts people queued up at a Pakistan State Oil (PSO) petrol pump carrying plastic bottles and cannisters. 
The caption of the post reads, پاکستان میں تیل کی قلت" عوام بیچاری روزہ کے ساتھ پمپوں پر رل گئ۔ 
روس اب بھی 30٪ رعایت کے ساتھ ڈیزل پیٹرول دینے کو تیار ھے ۔لیکن پاکستانی حکومت تیار نہیں [Fuel shortage in Pakistan. People suffer at pumps while fasting. Russia is still willing to give diesel and petrol at 30% discount but Pakistan's government is not ready]."
Multiple pages also picked up the claim, including here, here, here, here and here.
Soch Fact Check found the claim to be misleading and ascertained that the photo is actually from 2015. Dawn published a report on a petrol crisis in Northern Punjab and Khyber Pakhtunkhwa on 17 January 2015 with the headline, "Fuel crisis to last at least another week."
The cover photo of the article captioned, "LAHORE: People queue up to buy petrol at a fuel station on Friday as the city faces acute shortage of petrol —PPI" is the same as the viral photo. 
As can be seen in the graphic below, it appears that the petrol pump in both the photos is the same based on similarities between the people visible, a building seen in the background, and an ATM sign, as well as other signs inside the station.
The misleading photo started doing the rounds on social media after Finance Minister Miftah Ismail ruled out an immediate hike in fuel prices in the country on 25 April 2022. 
Virality
According to a CrowdTangle analysis conducted by Soch Fact Check, the search term "پاکستان میں تیل کی قلت" turned up 21 posts on Facebook which received 4,138 interactions over the last seven days leading up to 28 April 2022.
The analysis revealed that on Facebook, Zartaj Gul PTI DG Khan's post is performing 1.71x better than other similar posts with 1,400 likes and 801 shares, while Imran Khan Force and Siasat Updates' posts received 649 likes and 323 shares and 146 likes and 109 shares, respectively. 
Further, the content of the posts shared by various pages is exactly the same, indicating that the claim was reshared word-for-word. 
On Twitter, the claim was shared here, here, here, here and here. روس اردو post gained significant traction on the microblogging site with 10,400 retweets, 1,126 quote tweets and 23,600 likes. 
Conclusion: The image allegedly depicting people queuing up at a petrol pump amidst a fresh fuel crisis in Pakistan is in fact from January 2015.