Notification ordering liquor shops in Islamabad to reopen is fake
Claim: Liquor shops have been directed to reopen by the excise and taxation department Islamabad under lockdown.
Fact: Deputy Commissioner Islamabad M Hamza Shafqaat clarified on Twitter the notification is fake. Liquor shops have been shut since lockdown began in Islamabad.
On 20 May 2020, the following image of an alleged government notification dated 19 May 2020 was received by Soch Fact Check on Whatsapp.
The claim crossed platforms and was widely shared on Twitter. It was also shared by Kheeal Das, a PML(N) Member of the national assembly. The most popular posts reached hundreds of people.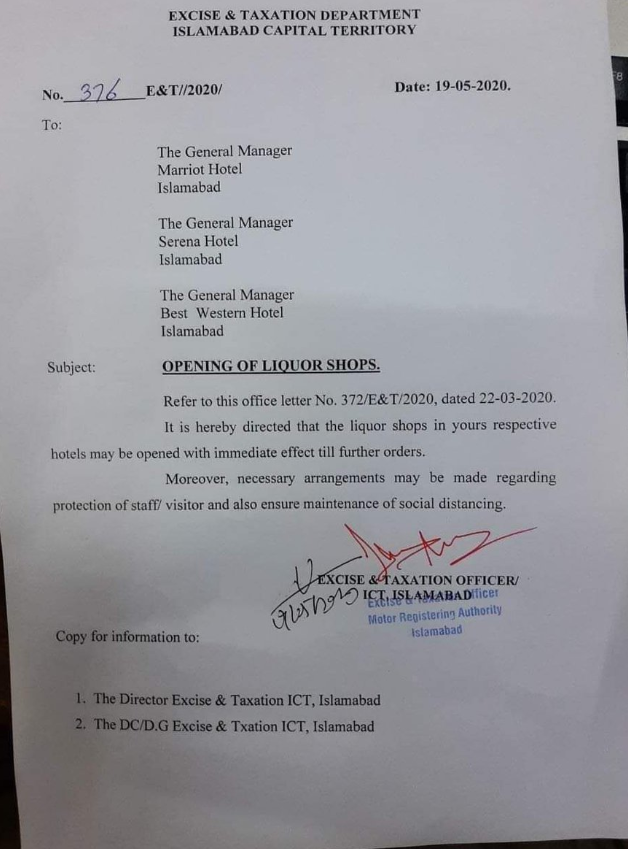 The notification was posted to a web forum PakNews on 19 May 2020. It was also shared by one of Pakistan's most reliable newspapers, Dawn News.
We fact checked this image because it was shared on various Twitter accounts with high reach and could encourage people to go out of their homes unnecessarily during the pandemic.
We found Deputy Commissioner of Islamabad Muhammed Hamza Shafqaat has responded to some of the tweets sharing the image. He clarified the notification is fake.
On 20 May 2020, the director of excise department Islamabad Bilal Azam also issued a statement on the excise department Islamabad's Facebook page.
Translation: Important Notice. A government letter being spread on social media showing the Excise Department ordering hotels to open wine shops is fake. Neither did the Excise Department give such permissions nor issue the letter being spread. Bilal Azam, Director Excise Islamabad.
Summary: The viral notification directing hotels in Islamabad to open liquor shops is fake, according to both DC Islamabad and Islamabad Excise Department.