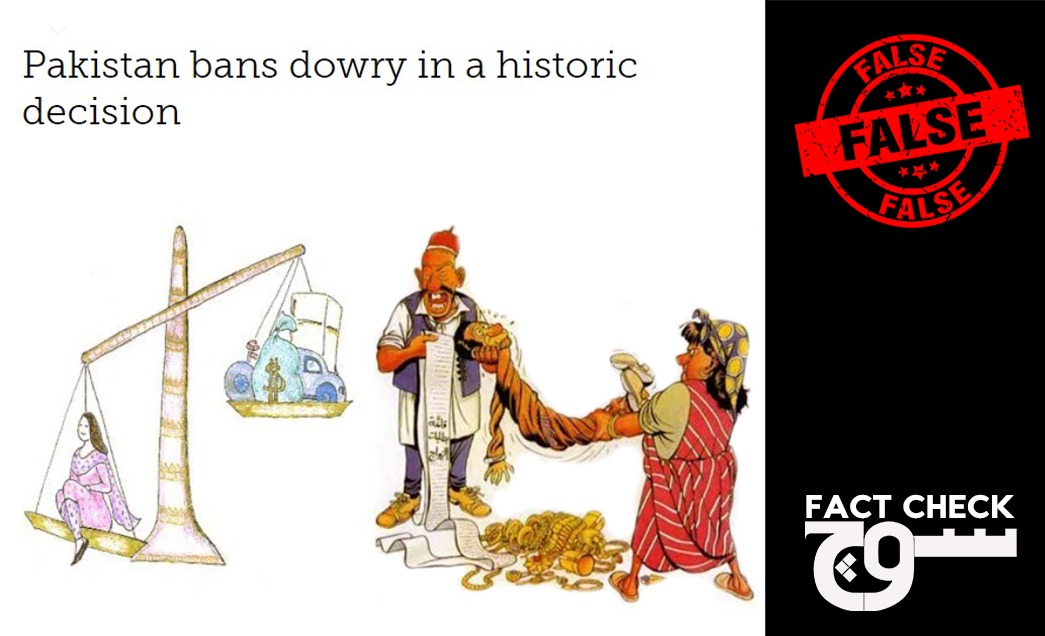 No, dowry has not been banned in Pakistan
Claim: Dowry has been banned in Pakistan by a new law making Pakistan the first Muslim country to criminalise the practice.
Fact: Dowry has not been banned all over Pakistan and there has been no legislation on the topic recently. Moreover Bangladesh, a Muslim country, has already banned dowry in 1980.
On October 8, news regarding the banning of dowry in Pakistan began circulating on social media. A handful of websites published news articles claiming that the federal government had made dowry and the exchange of bridal gifts "illegal" and that Pakistan was the first Muslim country to do so. They further went on to claim that according to the "new law" dowry will only consist of clothes and bedsheets'; and in case of divorce, the groom's side will have to return all gifts and dowry to the bride.
Soch FactCheck found these news reports to be false and misleading. All new laws that concern the entire country have to be passed by the National Assembly. However, no such records of a new law exists on the NA's website. Furthermore, Bangladesh, which is a Muslim majority country, banned dowry many decades ago through the 'The Dowry Prohibition Act, 1980' making the practice a punishable offence.
Furthermore, according to the 18th amendment – a bill introduced in 2010 to devolve power from the federal to the provincial governments – dowry and marriage are matters that do not fall within the ambit of the federal government to legislate upon. This means that only provincial assemblies can pass laws regarding dowry to be implemented in their respective provinces.
Brief History:
Regarding matters of dowry, Pakistan passed a law called the 'Dowry and Bridal Gifts (Restriction) Act' in 1967. This Act prevented dowry property to exceed Rs 5000 and failure to comply with this provision could result in imprisonment and/or a fine upto Rs 10,000. After this, due to the 18th amendment, there has been no federal legislation on the topic, because the matter fell under the jurisdiction of the provincial governments.
In 1981, the provincial government in Balochistan passed the Balochistan Dowry and Bridal Gifts (Restriction) Rules 1981 which built on the previous 'Dowry and Bridal Gifts (Restriction) Act, 1967 and provided guidelines on how to go about seizing dowry items exceeding the limit stipulated by the 1967 Act and submitting them to a jahez khana.
In Punjab, the display of dowry has been prohibited by a provincial statute called the Punjab Marriage Functions Act but there are no restrictions on dowry itself. Efforts by the PML-N party have been made to ban it altogether, but there has been no legislation.
Similarly in Sindh, a bill submitted in 2017 by the Women Development Department called the Sindh Restriction of Dowry Act, 2017 was debated upon in 2018. This bill sought to punish those asking for dowry with an imprisonment of one year. During the Sindh Assembly's session, Chief Minister Murad Ali Shah said that the suggestions within the bill were difficult to adhere to and that laws should be formed in a way in which those who ask for dowry are looked down upon. Thus, the bill was not passed.
In 2018, the Khyber Pakhtunkhwa Marriage Functions (Prohibition of Ostentatious Displays and Wasteful Expenses) Act was passed which made the claiming of dowry a punishable offence. It says that anyone from the groom's side asking for dowry will be punished with imprisonment for 2 months or a fine of Rs 300,000, or both. This is the only legislation on matter which stipulates punitive measures to be taken against those who ask for dowry.
Current Situation:
Within this context, the claims regarding a "new law" that bans dowry in Pakistan are misleading at best and false at worst. On October 8, the Ministry of Religious Affairs merely made a recommendation to the Federal Government to ban dowry. Mr. Abdul Samee Lakho, PS to Parliamentary Secretary within the Ministry of Religious Affairs said that, "No such law has been passed, we have no knowledge of this."
Furthermore, in an interview with HUM TV News, the Chairman of the Council of Islamic Ideology, Prof. Dr Qibla Ayaz can be seen talking about the proposed law, and the kind of punishment that should accompany it lest it becomes a criminal offence. This proves that there has been no latest legislation on the matter of dowry in Pakistan.
Summary: Dowry has not been banned in Pakistan and the Federal government does not have the jurisdiction to legislate on the matter. Historically, except for Khyber Pakhtunkhwa, all other provincial governments have tabled bills that have proposed banning the practice. An official from the Ministry of Religious Affairs has confirmed that no "new law" banning dowry has been passed.