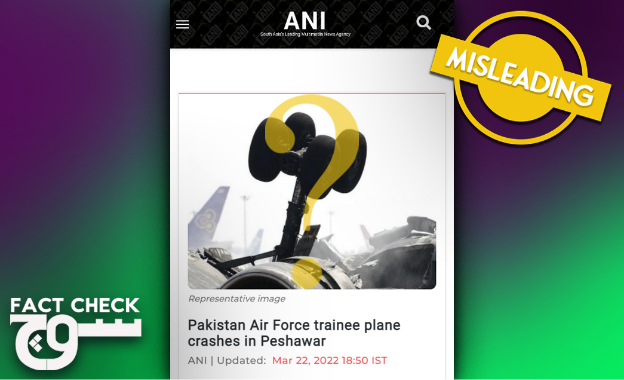 Reports on crashed PAF trainer aircraft carry misleading images
News published by multiple outlets in Pakistan and India carried images of unrelated aircraft
Claim: Pictures of various different fighter jets run with news of Pakistan Air Force (PAF) trainer aircraft's crash.
Fact: The pictures are not of the plane that crashed on 22 March 2022 near Peshawar.
On 22 March 2022, the spokesperson of the PAF informed the media about the crash landing of a PAF trainer aircraft in which two pilots lost their lives.
The news was published by multiple news organisations in Pakistan and India. Although the contents of the story were accurate, Soch Fact Check found that several news outlets ran the story with images of aircraft unrelated to the crash.
This story published by the Hidustan Times carried the picture of an F-16, a fighter jet in service of the PAF. India Today also ran the story with a picture of an F-16. This story by Gulf News also carried a picture of another fighter jet. The Instagram account of Pakistani newspaper Dawn News TV published a picture of a Dassault Mirage V with the story.
The social media accounts of Times of Islamabad, Maalai Malar News, Pak Affairs, Geo News English, and Dawn News also carried pictures of unrelated aircraft.
The trainer aircraft currently in service of the PAF are the PAC MFI-17 Super Mushshak, Cessna T-37, and Hongdu K-8.
Conclusion: Although the stories regarding the crash of a PAF trainer aircraft near Peshawar are factually correct, the pictures shared with many of the stories are unrelated to the crash. The pictures suggest that the aircraft involved in the crash was a fighter jet, when in fact it was a trainer aircraft.