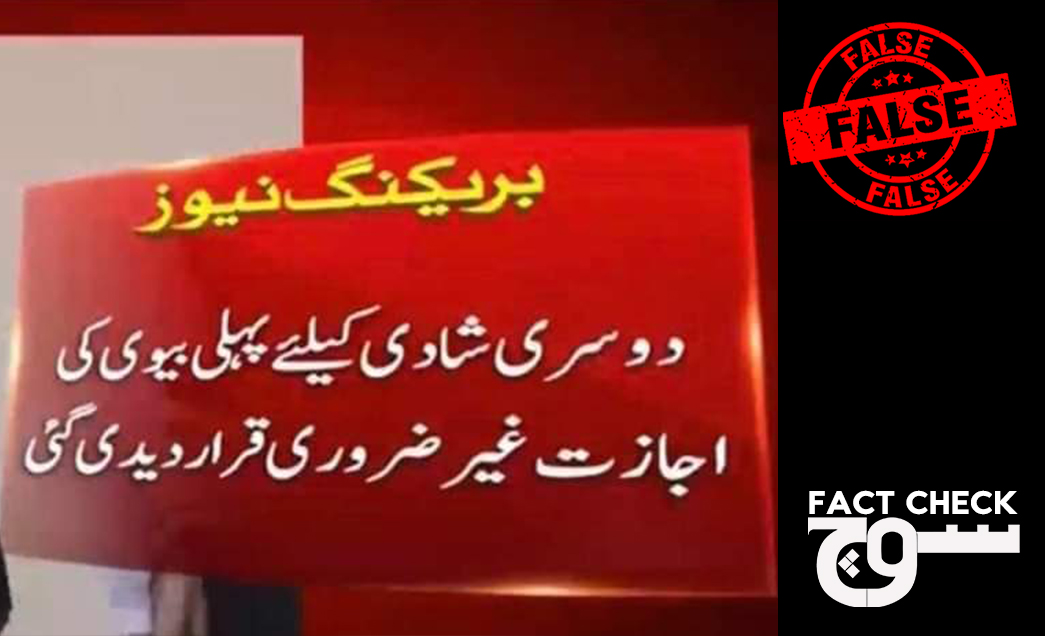 Men cannot remarry without permission from first wife
Claim: The Council of Islamic Ideology decided that permission from the first wife is not required by law for a man to marry again.
Fact: The Muslim Family Laws Ordinance, 1961 requires a man to submit written permission from his first wife to an arbitration council for permission to marry a second time.
On 17 July 2020 two screenshots of a TV news headline that said "the Islamic Ideology Council has prescribed it is legal for any man to keep nikkah with 4 women," and, "It has been decided that a man can enter a second marriage without the permission of his first wife" were shared on Twitter and Facebook.
Soch Fact Check decided to look into these false claims because they were shared hundreds of times on .;Twitter, and an Islamic Ideology Council recommendation from 2014 was taken out of context. It is a legal requirement for a man to provide both reasoning for the second marriage and provide permission from the first wife to an Arbitration Council to enter a second marriage in Pakistan.
According to the Muslim Family Law Ordinance 1961 Section 6, sub-section 1: "(1) No man, during the subsistence of an existing marriage, shall, except with the previous permission in writing of the Arbitration Council, contract another marriage".
Sub-section 2 of Section 6 elaborates that consent of the existing wife is required: "(2) An application for permission under sub-section (1) shall be submitted to the Chairman in the prescribed manner, together with the prescribed fee, and shall state reasons for the proposed marriage, and whether the consent of existing wife or wives has been obtained thereto".
Under certain, very strict conditions, a first wife's permission can be bypassed if a request is submitted to the union council for final approval. Otherwise, a person who enters into a second, third or fourth marriage without his first wife's permission, as the viral headline screenshots claimed, could be punished by the law.
On July 15 2019, a Lahore court sentenced a man to 11 months in prison for getting married for the second time without the permission of his first wife. A fine of Rs 250,000 has been imposed on him too. The court said that his prison sentence will be extended by four months if he fails to submit the said amount.
In March 2014 Islamic Ideology Council made a recommendation regarding laws on permission for second marriage. They asked the government to repeal the requirement of permission from the first wife to marry a second time, citing that such a requirement was not compliant with Shariah. It is important to note that the Council's recommendations are not legally binding, they are simply recommendations that lawmakers can choose to ignore or take into consideration.
Headlines regarding the recommendation are often taken out of context and used to claim that the requirement for permission from the first wife has been removed. Such a headline from 2014 was shared on Facebook on 15 July 2020 out of context.
This claim is a common myth which confuses readers every now and then. News reports regarding the story have previously clarified the law to readers who are unsure about the legality of this practice due to online misinformation on 13 February 2020 and 15 July 2019.
Summary: Section 6 of the Muslim Family Laws Ordinance, 1961 states that a man is required to submit written permission from his first wife if he wishes to marry another woman. And only after the arbitration council's approval can a legal marriage be carried out.
Research Associate: Ammar Zardari