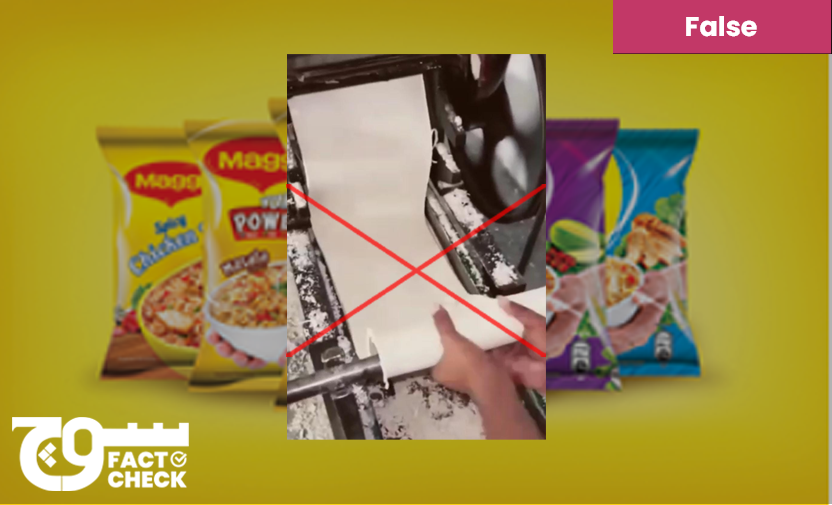 Maggi and other instant noodles are not made from rotten flour and pig marrow
Video claiming Maggi noodles are made from rotten flour and pig marrow is false
Claim: A viral video on WhatsApp claims that Maggi instant noodles are manufactured from flour that has rotted for four to five days as well as pig marrow.
Fact: The claim is false and based on a misleading video which does not show Maggi's actual manufacturing process. The instant noodles sold in Pakistan are halal, and the factories where they are produced, whether in Pakistan or India (in the case of Maggi), do not look like what was shown in the video. 
On July 18 2023, Soch Fact Check received a video that was widely shared on WhatsApp groups claiming Maggi noodles are made from rotten flour and pig marrow. The video shows  an informal and unhygenic manufacturing operation and alleges that this is how big brands such as Maggi make instant noodles.  The video also claims that the noodles are harmful to health and can cause cancer.
Fact or Fiction?
Soch Fact Check investigated the claims and found them to be false. Firstly, Maggi does not contain pig marrow. Nestle's official website claims that the Maggi that was sold in Pakistan was manufactured in their Kabirwala factory in Multan, where Maggi was produced, certified as halal by the IFANCA Pakistan Halal Apex Private Limited. 
It is an independent organisation accredited by the Pakistan National Accreditation Council (PNAC) that verifies the compliance of food products with Islamic dietary laws. They do not contain any pig marrow or any other animal-derived ingredients.
There have been reports that Nestle has shut down production of Maggi in recent years. According to an article published in the Profit Magazine, a Nestle official anonymously said "Yes, we discontinued Maggi by the end of 2018. The divestment is part of Nestle's strategy to manage its multi-product portfolio." 
Even if we consider that Maggi was imported from India after production in Pakistan shut down, according to the Food Safety and Standards Authority of India (FSSAI), companies must label their vegetarian and non-vegetarian products with a green or red dot. Maggi has a green dot on all its packets, except for the chicken flavour. This means that it does not contain any animal-derived ingredients.
Secondly, the claims in the video about Maggi being harmful to health are based on a misleading video that does not show how Maggi instant noodles are manufactured in Pakistan. Through Google search, Soch Fact Check found the same video has also gone viral in India, where it was shared by India Today, on 20 January 2023, with a different caption and context. This version has the original audio, and does not mention Maggi in the voice over or caption. India Today and Times Now, identified it as a small scale factory producing Hakka noodles, a  street food in India.
Furthermore, by searching for images relevant to the keywords "Maggi factory" on Google Image Search, Soch Fact Check found pictures of a nearby Nestle factory in Sheikhupura available online. These images show they use automated machines and modern technology to make the noodles. The factories look nothing like the video which shows an informal workshop with poor hygiene, wooden equipment and bare stone walls.
The video does not provide any evidence or source to verify its claims. It also does not mention the location, name of the workshop, or the brand of the noodles being produced there.
Virality
We found the claim was marked with the "forwarded many times" tag by WhatsApp, indicating that the video was widely circulated among users.
We also found a similar claim fact-checked by India Today. A video posted by the Facebook page Secret Indian TV claimed to reveal the truth behind Maggi and said the flavour enhancer used in packaged food is made from pig fat. The video was viewed around 630,000 times and shared more than 9,000 times.
This type of claim about noodles has been made many times in the past. For example, in August 2020, a video claiming Maggi noodles contain wax and caused cancer went viral on social media. However, the video was debunked.
Conclusion: The claim that Maggi instant noodles are made from rotten flour and pig marrow is false. The instant noodles sold in Pakistan are halal and noodle factory's do not look like the video in question.