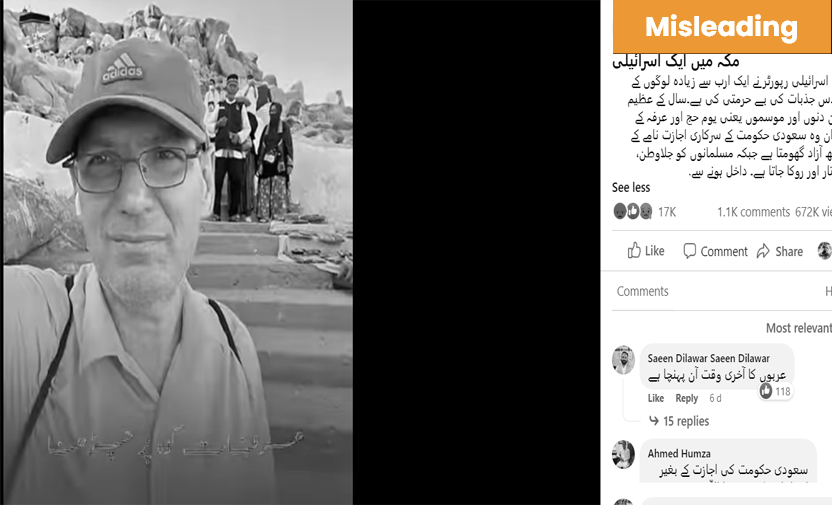 Israeli journalist was not given a permit by Saudi government to visit Makkah
Israeli journalist was not given a permit by Saudi government to visit Makkah Israel's Channel 13 reporter Gil Tamary appears to have entered Makkah unlawfully with the help of a Saudi citizen
Claim: An Israeli journalist visited Makkahand Madina in July 2022 during the time of Hajj (7-12 July) on a permit issued by the Saudi government.  
Fact: Israeli journalist Gil Tamary entered Makkah unlawfully with the help of a Saudi man who was later arrested by Saudi authorities. 
On 20 July 2022, a Facebook page called سعودیہ کی حقیقت [The Reality of Saudi] posted a video claiming that an Israeli man managed to acquire a government-issued permit which allowed him   to visit Makkah and Madina in July 2022 during the time of Hajj, the annual pilgrimage to Mecca performed by Muslims. 
The video contends that the Kingdom of Saudi Arabia granted permission to visit Makkah and Madina to a non-muslim from Israel, while in Israel Muslims are oppressed. The video condemns the decision of the Saudi government to grant the permit and claims that Gil Tamary, the journalist who visited Makkah and Madina, offended millions of Muslims through his actions. 
Caption: 
مکہ میں ایک اسرائیلی
ایک اسرائیلی رپورٹر نے ایک ارب سے زیادہ لوگوں کے مقدس جذبات کی بے حرمتی کی ہے۔سال کے عظیم ترین دنوں اور موسموں یعنی یوم حج اور عرفہ کے دوران وہ سعودی حکومت کے سرکاری اجازت نامے کے ساتھ آزاد گھومتا ہے جبکہ مسلمانوں کو جلاوطن، گرفتار اور روکا جاتا ہے۔ داخل ہونے سے.
[Translation] 
An Israeli in Mecca 
An Israeli reporter religiously offended more than 1 billion people on the most auspicious occasion in the year i.e. during the pilgrimage of Hajj. He also visited Mount Arafat and roamed around freely with an official permit given to him by the Saudi government. While Muslims are deported, arrested and prevented from entering.  
Fact or Fiction?
Using a Google Reverse Image Search, Soch Fact Check found that the image of a man in a cap which appears in the video is of Israeli journalist Gil Tamary, who works as the Chief International News Editor and Commentator for Channel 13 in Israel. 
The Kingdom of Saudi Arabia forbids non-Muslims from entering Makkah. However, the video in question suggests Gil Tamary visited the city and climbed up Mount Arafat, a holy site 20 kilometres southeast of Makkah. 
According to Aljazeera, Israel's Channel 13 News ran a 10-minute report on Monday, 18 July 2022, featuring Gil Tamary visiting the Grand Mosque in Makkah and Mount Arafat. Tamary claims to be the first Jewish-Israeli reporter to have ever recorded the ritual of Hajj. On the Channel 13 News website, Tamary wrote in Hebrew, "Road signs also change: they declare in red that non-Muslims must get off this road immediately… We decided to drive straight on, on a road intended for Muslims only. After the security check, the Saudi policeman ordered us to continue driving towards Makkah."
The Guardian reported on 22 July 2022 that the Saudi citizen who was seen in Gil Tamary's videos as his guide and driver in Mecca was arrested for helping a non-Muslim enter the city of Makkah. This suggests that contrary to the claim in the video, Tamary was not granted a permit by the Saudi authorities to visit the city. 
The Saudi Press Agency (SPA) posted on their website a press release confirming that a Saudi citizen who was complicit in transferring and facilitating the entry of a (non-Muslim) journalist into Makkah was referred to the Public Prosecution by the Makkah police on Friday, 22 July 2022.
Later Gil Tamary also tweeted an apology on 22 July 2022, stating that it was not his intention to offend the Muslim community and that he just wanted to showcase Makkah to people in Israel.
Based on the above, we can conclude that Gil Tamary was not given any special permission by the Saudi government to travel to Makkah. In fact, the Saudi citizen who helped him was arrested and handed over to Public Prosecution by the local police. 
Virality
Soch Fact Check conducted a CrowdTangle analysis for the video in question.. At the time of publishing this article, the viral video had received 18,100 interactions and 672,000 views on Facebook. 75,072 like and 206,449 people follow this Facebook page, سعودیہ کی حقیقت.
Conclusion: A viral video falsely claims that a non-Muslim Israeli reporter received a government-issued permit to visit the holy city of Makkah and Mount Arafat. Soch Fact Check found this to be false. It appears Israeli journalist Gil Tamary from Channel 13 News entered Makkah city unlawfully with the help of a Saudi citizen who was later arrested.