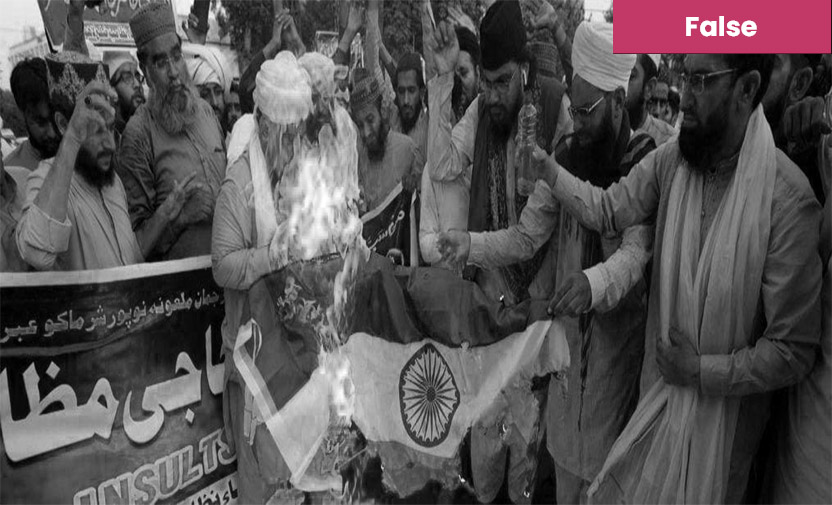 Indian Muslims did not burn the Indian national flag
Picture of protest in Pakistan over recent BJP remarks wrongly linked to Indian Muslims
Claim: An image shared online allegedly shows Muslims in India burning the Indian flag after recent anti-Islam remarks by BJP leaders.
Fact: The claim is false. The image actually shows people in Pakistan setting an Indian flag on fire during a protest over the BJP leaders remarks.
Fact or Fiction?
On 10 June 2022, Facebook user Tarun Soti posted an image with the caption "Peaceful Muslims burning Our Tiranga (National Flag) today in India."#HindusUnderAttackInIndia
The image in question was also shared here and here on Twitter.
The image shows people burning the tri-color national flag of India. A banner featuring language critical of the Indian government is also visible in the photo.
The image went viral just days after Bharatiya Janata Party (BJP) spokesperson Nupur Sharma and party leader Naveen Kumar Jindal made remarks that were seen as insulting the Prophet Muhammad (PBUH), prompting international backlash.
To investigate the authenticity of the image in question, Soch Fact Check conducted a Tin Eye image search. The results included a Yahoo News article which was published on June 9, 2022 and features the image in question. The headline of the article reads, "Pakistanis rally to denounce India over remarks about Islam", which confirms that the image used in the article is from Pakistan, not India.
Conclusion: The viral image does not show Muslims in India burning the Indian national flag. The image in fact shows people in Pakistan setting the flag alight during a protest over recent remarks by BJP members considered to be insulting towards the Prophet Muhammad (PBUH).