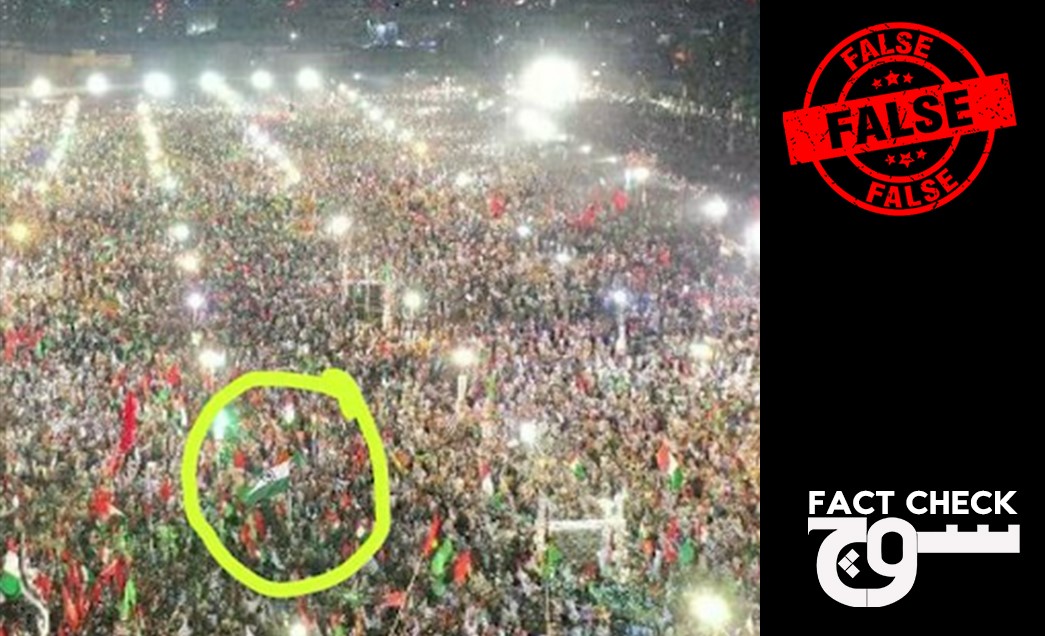 Indian flag not raised at PDM rally
Claim: The Indian flag was raised at a Pakistan Democratic Movement (PDM) rally.
Fact: The Indian flag was doctored into some images of crowds at the PDM rally.
The Pakistan Democratic Movement (PDM) held a rally in Karachi as a part of their plan to oust Imran Khan's government on allegations of election interference. On 20 October, political uncertainty increased after many Sindh Police officers requested leave in protest against apparent/alleged political and military interference in their department. Sindh IGP Mushtaq Mahar then decided to defer his own leave and ordered his officers to set aside their leave applications for ten days, pending the conclusion of an inquiry into Captain Safdar's arrest.
Following these events, in what appears to be a coordinated disinformation campaign, many Indian Twitter users are attempting to take advantage of the political uncertainty in Pakistan at the moment.
Soch Fact Check found that the Indian flag was not raised at a PDM rally, in fact, the flag was doctored into the photograph. A simple Google Reverse Image Search reveals that the original picture, without the Indian flag, can be found online as early as 18 October 2020, while the edited version appears online three days later, on 21 October 2020.
Moreover, some Twitters users are sharing the original, unedited photo but circling other flags found in the crowd and claiming they are Indian flags.
However, the flags circled in the image above are clearly not Indian flags, as the tricolour stripes are vertical rather than horizontal, and the 24-spoke navy blue wheel is not present at the centre of the flags in question.
Background
The Karachi Rally was the second stop of the Pakistan Democratic Movement (PDM). The PDM consists of 11 political parties, including the PPP, PML-N and JUI-F. They plan to end their tour on December 13, with a large gathering in Lahore, in the hope that the PTI government will not be able to withstand a 3 month-long protest against its legitimacy.
Following the PDM rally at Mazar-e-Quaid, a case was filed against Captain Safdar, husband of PML-N leader Maryam Nawaz, for allegedly violating the sanctity of the Quaid's mausoleum. Bilawal Bhutto has publicly alleged that the Inspector General of Police, Sindh was woken up in the middle of the night and pressured to arrest Captain Safdar without the Sindh Governments knowledge. In protest to this alleged interference by political and/or military forces, numerous Sindh Police officers asked for leave on 20 October 2020.
In this political atmosphere it is possible, and likely, that supporters on both sides, as well as critics from neighbouring countries, may share misinformation and disinformation about this new movement.
Summary: The Indian flag was not raised at the PDM rally, some images being shared are doctored.