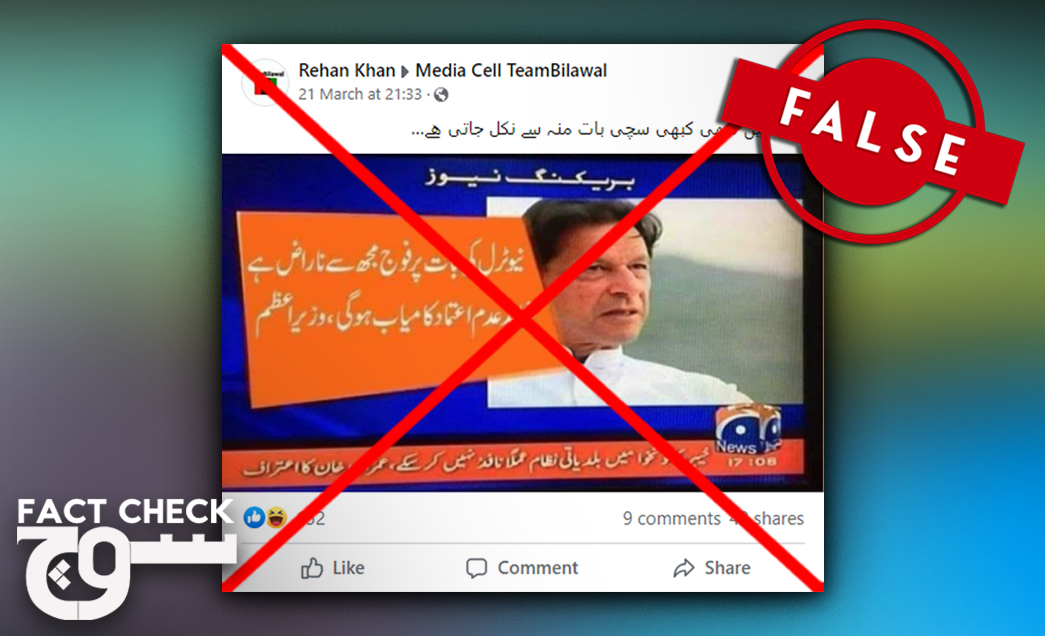 Imran Khan did not say Pakistan Army 'is upset with me'
Doctored image comes amid talks of a no-confidence vote against Khan
Claim: An image shows a TV screen broadcasting Geo News' bulletin in which the news card quotes Imran Khan as saying, "After the neutral comment, the army is upset with me. Maybe the vote of no confidence will succeed."
Fact: Khan did not make any such statement as is shown in the picture. The image, however, is doctored and the original one states, "Did not get to know for a year what was going on in Khyber Pakhtunkhwa."
A doctored image is being shared on various social media platforms claiming that Prime Minister Imran Khan said, "After the neutral comment, the army is upset with me. Maybe the vote of no confidence will succeed."
The image has been shared on WhatsApp groups, as well as on Facebook and Twitter. According to a CrowdTangle search, the most viral post carrying the image is by the verified account of PML-N member of the Khyber Pakhtunkhwa Assembly Ikhtiar Wali Khan; the post has  more than 1,200 shares and over 4,500 interactions. The image has been shared on Facebook here, here and here. On Twitter it has been shared here, here and here.
The text on the image has been written in the graphics format of Pakistani news channel Geo News. Soch Fact Check ran the picture by photo editing and manipulation professionals Ateeq Khan and Asmar Hussain who said it was "a clear case of bad photo manipulation" and that "the text was superimposed on an old screen grab of Geo News."
The assignment desk at Geo News also termed the image "fake". According to them, the text was superimposed on a screen grab of this story that was run by the channel in September 2017.
Below is a comparison of the doctored and original images of the news run by Geo News in 2017:
Conclusion: The image being shared on social media attributing to Imran Khan the quote, "After the neutral comment, the army is upset with me. Maybe the vote of no confidence will succeed," is doctored. The prime minister has not issued any such statement.