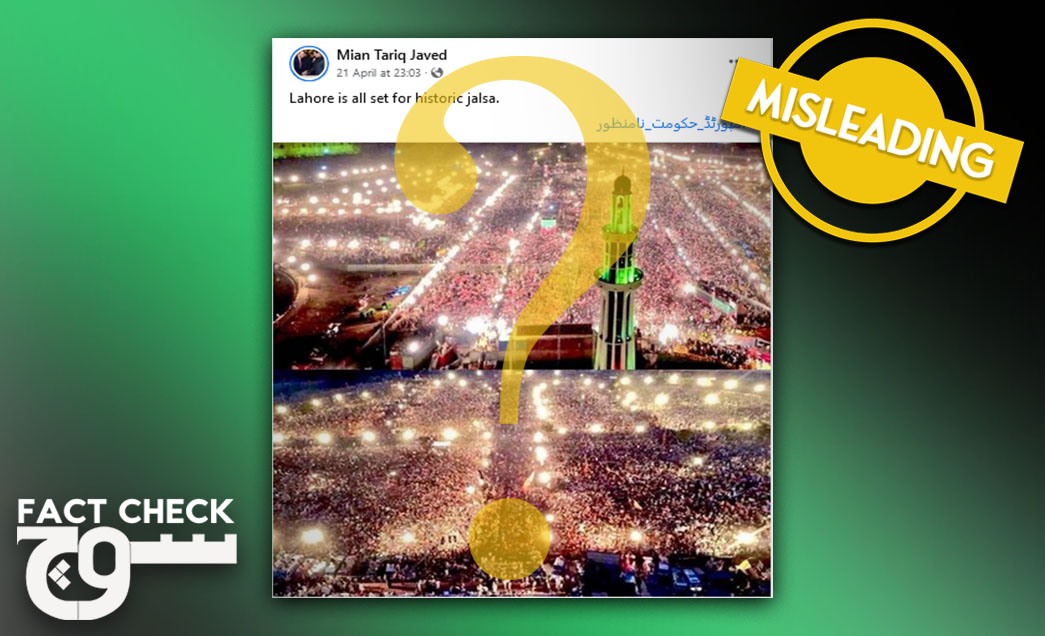 Image of PTI Lahore rally is from April 2018, not April 2022
The image allegedly shows people rallying in support of ousted former Prime Minister Imran Khan
Claim: An image of a mass gathering in Lahore, Pakistan, is being shared on social media platforms with the claim that it shows a Pakistan Tehreek-e-Insaf (PTI) rally that took place on April 21, 2022, following Imran Khan's ouster. The Minar-e-Pakistan monument can be seen in the foreground of the photograph shrouded in green light. There is a sea of people surrounding the monument and a large number of PTI flags can be seen.
Fact: The claim that the image is from an April 2022 rally is false. The image is, in fact, from a PTI rally that took place in Lahore in 2018, not 2022.
Fact or Fiction?
On 21 April 2022, social media users posted an image of a rally in Lahore, with the claim that it showed people coming out in support of ousted former PM Imran Khan. The image is being shared with the trending hashtag #امپورٹڈ_حکومت_نامنظور (English translation: Imported government disapproved).
The image, however,  is from a PTI rally that took place in April 2018.
The image with the false caption was posted here, here, here and here on Facebook
A Tin Eye Image search showed that the image was in fact first shared in 2018. Jang Newspaper posted the image on 29 April 2018 with a story on Imran Khan's 2018 election campaign program.
Imran Khan posted the image to his social media account on the same day.
The editor of Pakistan Passion, Saj Sadiq, posted the images to his Twitter account on 30 April 2018, with a caption that reads: "Incredible scenes at the PTI jalsa in Lahore. Must feel like the MCG in 1992 for Imran Khan."
There was a PTI rally that took place in Lahore on 21 April 2022. However, the lighting and details of the images from that rally are different. The images of the April 2022 rally can be seen here.
Soch Fact Check previously refuted false claims regarding a rally allegedly held in the United States in support of Imran Khan.
Conclusion: The image showing a large gathering in Lahore is not from a 2022 PTI rally held to support ousted former PM Imran Khan. While a PTI rally did take place in Lahore on 21 April 2022, the image in question is in fact from a 2018 PTI rally.