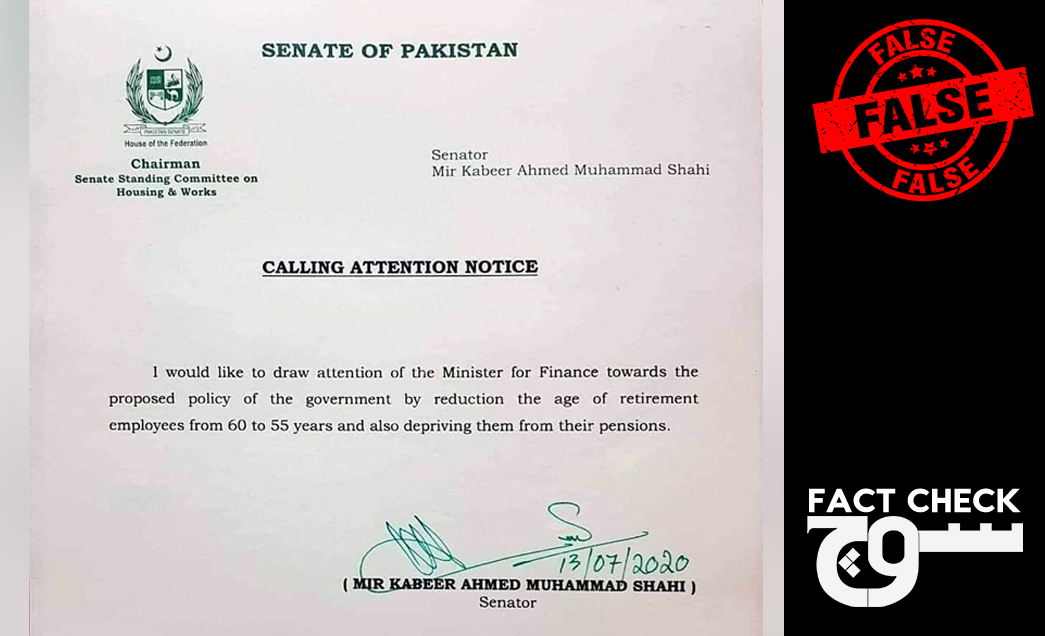 Government is not reducing retirement age or cutting pensions
Claim: The PTI government is considering a policy to reduce the retirement age of government employees from 60 to 55 years and end retirees monthly pension.
Fact: On 17 July 2020 PTI Minister Ali Muhammad Khan shared a notice from the finance department clarifying that no such proposal had been entertained by government.
13 July 2020 Senator Rehman Malik penned a parliamentary memo by Senator Rehman Malik calling attention to a government policy proposing lowering the retirement age for government employees and ending the monthly pension for retirees.
The claim was originally reported by Bol News on their website and social media on 11 July 2020. The claim was also repeated on Twitter as well as Facebook. The article claimed "the formulation of a new policy is underway", but the government has denied this.
On 17 July 2020, in a senate parliamentary session, senator Ali Muhammad Khan from PTI clarified the governments position on the matter. His statement is attached below.
Translation: I want to say that the finance division was called into attention. A response was sought from both the cabinet and the finance division. And both, the cabinet has to make the decision and the finance division has to, subsequently, release funds. On this matter, I would want to say that the finance department is very categorical on this. Today, on 17th July, I received the following response from them: No proposal regarding reduction of enhancement of age has been received, nor any proposal of such nature is under consideration in the finance division. Consequently, no question of reduction in pension annual increments arises. … You must also be aware as well that Section 13, Civil Servants Act 1973, is categorical. Cabinet division's response is that this has been determined by an act of a parliament. If there may be any chance of this being brought up, in the future then it will be in the parliament, and will be brought up here in the Senate
Regarding the cabinet and finance divisions which are the concerned departments regarding this policy change, he said that the retirement age and pension are guaranteed and set by the Civil Servants Act 1973, and therefore cannot be changed without an act of parliament.
Summary: No proposal to change the retirement age or pensions of government employees is under consideration as clarified by the Finance Ministry's statement shared by senator Ali Muhammad Khan in parliament.
Research Associate: Ammar Zardari