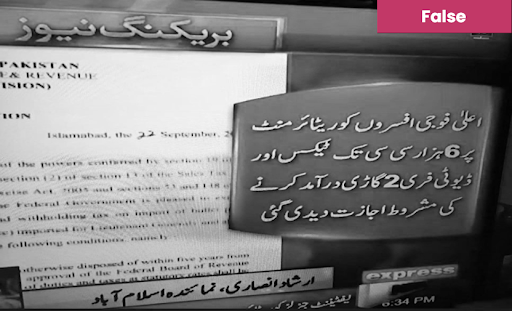 FBR did not allow tax-exempt import of 6000 cc cars for military officials
Although the tax exemption has been approved by the Federal cabinet, FBR has clarified it is still subject to approval from the PM. No notification of the effect has been issued officially so far.
Claim: An Express News bulletin quoting a purported FBR notification claimed the federal government exempted all taxes on the import of bulletproof vehicles for high-ranking military generals.
Fact: According to the FBR, no such notification has been formally issued yet, although the tax exemption is indeed under the Prime Minister's consideration. Since the policy hasn't been passed, the claim is false.
On 23 September 2022, television channel Express News aired a news bulletin with an FBR notification claiming the federal government has decided to exempt customs duties, sales tax, withholding tax, and federal excise duty on the import of bulletproof vehicles (up to 6000 cc) for lieutenant generals and above on retirement, subject to conditions.
Fact or Fiction?
The notification pictured in the news bulletin lacks an SRO number, which exists explicitly to prevent the forgery of government notifications.
The FBR published a tweet clarifying that no such notification has been issued recently, and a previous cabinet decision from 2019 has still not been implemented via notification. PEMRA also issued a show cause notice against Express News for airing fake news on national TV.
Virality
Soch Fact Check conducted a CrowdTangle analysis for the 5-day period since 23 September 2022 to 27 September 2022 using the following search terms:
"6000cc" "car" "army"

"گاڑی" "آرمی" "6000" 
Through these search terms, we found several Facebook posts sharing the tweets on Facebook. Some of these Facebook posts can be found here, here, here, here, here, here, here and here. The tweets can be found here, here, here, here, here and here. These tweets reached almost 3,857,628 followers and 11,109 Twitter interactions. 
Conclusion: The Federal Cabinet accepted the tax exemption in 2019, but the FBR has made it clear that the Prime Minister must still approve it. Officially speaking, the tax exemption has not yet been notified. The policy will not go into effect until approved by the PM and notified formally.