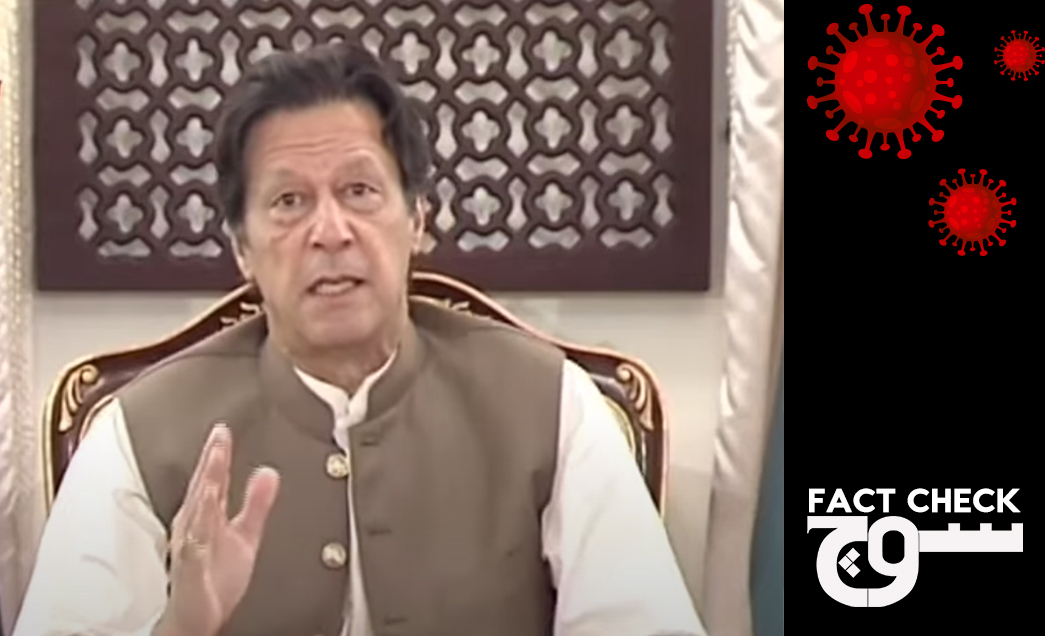 Fact Checking Imran Khan's Latest Covid-19 Speech
On June 1, Prime Minister Imran Khan addressed the nation after a meeting with the National Coordination Committee (NCC) regarding Covid-19. This address was delivered at a time when Pakistan is seeing the biggest spike in Covid related deaths since the beginning of the outbreak.
In his speech, Imran Khan said that the novel coronavirus (Covid-19) is going to stay, and people are going to have to learn to live with it until a vaccine is developed. The PM prioritized keeping the economy running over potentially overburdening the country's healthcare infrastructure. This, according to him, is owing to the struggling low-income population of Pakistan which has been affected adversely due to various lockdowns and the lack of social security nets.
We fact-checked the following claims made by Khan in his speech:
Pakistan has been locked down since day one.
30-35% of the population live in informal settlements.
The lockdown would only work if there's a vaccine.
The Federal government banned all large gatherings.
Elderly people, people with high blood pressure, and diabetic people are the only ones who are at high risk.
1- "We have enforced a lockdown in Pakistan since day one."
Verdict: False
At the start of his speech, Prime Minister Khan states that Pakistan imposed a lockdown from the beginning "when corona first came to Pakistan and 26 initial cases were detected". This is not true.
Pakistan's first two positive cases of Covid-19 were reported in Pakistan on 26 February. According to the federal government's Covid-19 dashboard, the tally jumped to 21 by the 12 March. By 20 March, the first Covid-19 related death was reported in Sindh, and the total number of cases across the country had jumped to 495. Both Sindh and Gilgit-Baltistan were locked down on 22 March.
On the same day, PM Imran Khan urged people to take precautionary measures in his address to the nation, further stating that a nationwide lock-down was not feasible. After this, Punjab's CM Buzdar announced a "partial" lockdown in the province.
On 1 April, when a total of 2,289 cases were reported, a nation-wide lockdown was finally imposed, after provincial governments imposed their own lockdowns. Many Pakistani's are still confused after constantly receiving mixed, sometimes contradictory, messages from the federal and provincial governments regarding various kinds of lockdowns. It can conclusively be said that Imran Khan's statement claiming that Pakistan went into lockdown since day one, is false.
2- 30-35% of the population in Karachi lives in katchi abadis:
Verdict: False
While arguing against the imposition of a strict lockdown, Imran Khan stated that 30-35% of Karachi's population lives in katchi abadis. We believe that this number is deflated because according to renowned urban planner Arif Hasan, around 60 – 62% of Karachi's population lives in katchi abadis. These numbers are also upheld by Seema Liaqat from the Urban Resource Center, which has been involved in research on Karachi's informal economy for the past three decades.
3- The Federal government banned all large gatherings.
Verdict: False
Tablighi Jamaat's Raiwind Ijtema was allowed to take place near Lahore on 10 March 2020, 14 days after Pakistan's first two Covid-19 cases were confirmed. The three-day congregation was attended by worshipers from all around the country and approximately 70,000 to 80,000 people according to a report by the Punjab Special Branch. However, the organisers of the event claim a whopping 250,000 people attended, including around 3,000 people who traveled to Pakistan from 40 different countries. A large number of Pakistan's Covid-19 cases have been linked to this gathering and over 20,000 worshipers had to be quarantined as a result.
Moreover, the Federal government imposed restrictions on mosques in order to contain the spread of the virus. However, these restrictions were rescinded on 24 April, just in time for Ramzan. On the other hand, the Sindh government – the only provincial government where PTI does not have a majority or coalition – placed a complete ban on prayers at mosques in Ramzan. However, no restrictions or bans imposed on mosques were adequately implemented.
4- The purpose of a lockdown is to contain the spread of the virus until a vaccine is developed:
Verdict: False
The purpose of non-pharmaceutical interventions such as lockdowns and social distancing is to bring the reproduction number (R0) to below 1. In epidemiology, the basic reproduction value describes the average number of people an individual can expect to infect. Pakistani researcher, Ammar Rashid, talks more about the matter here.
Pronounced 'R nought' or 'R zero', the measure is used to track how many people, on average, will be infected for every one person who has the disease. For example, if a virus has an R0 of three, it means that every individual who is infected will pass it on to three other people if no precautionary measures are taken Jonathan Ball, a professor of molecular virology told the Telegraph that this value is not only useful to get an idea of how many people the virus is likely to infect but also an idea of how effective government interventions need to be to end the outbreak.
At the start of March, the World Health Organisation estimated that the R0 for the coronavirus stands somewhere between 2 and 2.5 without mitigation measures. In New Zealand, this value has been reduced to 0.4 after adequate containment measures, due to which the country has slowly begun to come out of a strict lockdown and restrictions might be completely lifted by next week.
However, it is important to note that the R0 is a speculative value, yet it is one of the only metrics for guessing at how well lockdowns and other policies are working, according to the New York Times. Therefore, PM Imran Khan's statement that the coronavirus cannot be curtailed unless a vaccine is invented is a misrepresentation of epidemiological research which can lead to grave consequences for the country.
5- Elderly people, people with high blood pressure, and diabetic people are the only ones who are at high risk.
Verdict: Incomplete Information
The Prime Minister stressed that most patients who contract Covid-19 suffer mild to moderate symptoms, while severely ill patients are mainly those belonging to high-risk groups. The Prime Minister states that high risk groups consist of people with diabetes, blood pressure and elderly people.
Due to the emphasis on the previously mentioned categories, other risk factors relevant to the Pakistani population were glossed over. Other risk factors that should be considered include blood related disorders such as Thalassemia, which affects at least 100,000 people in pakistan. Asthma and other respiratory illnesses like chronic bronchitis are also a high risk group. Immuno-compromised individuals such as those suffering from an autoimmune disease, which have high prevalence in Pakistan, are also at a higher risk.
On the other hand, it is also misleading to assert that only people who belong to high risk groups can be killed by the virus. Recently in Pakistan, a healthy 26 year old doctor passed away from Covid-19. Earlier in the year, another doctor with no underlying conditions succumbed to the virus in Gilgit Baltistan. Covid-19 can also be seriously harmful even if you do not become critically ill, or you might be someone who transfers the virus further without feeling any symptoms. Therefore, the prime minister's omission created misinformation about how Covid-19 spreads.